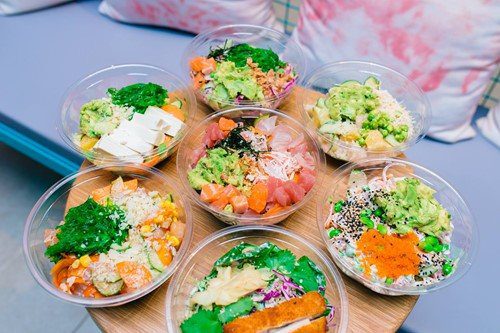 This article was posted on our original site – My City Life, back on the 25th July, 2017.
If you haven't yet had the chance to pop down to SUKI at South Bank, then boy oh boy, you're missing out. Luckily, they've opened a second venue to get your poke-bowl fix on the bustling Oxford Street in Bulimba.
Since opening in South Brisbane just a few months ago, the deliciously healthy build-your-own poke (pronounced po-kay) bowls and sushi burritos have become a totally Instagram-worthy foodie trend. Specialising in seafood bowls traditionally from the Aloha state, SUKI blends diced raw fish (typically tuna, salmon and kingfish) with a selection of vegetables including radish, cucumber, avocado, edamame beans and even orange, topped with a Japanese inspired sauce of your choosing. 
And the best thing? It's all totally customizable. You can order what you want with seven base choices, eight types of fish and over fifteen toppings. Not feeling like rice? Then choose the quinoa & kale or a kelp noodle base. Raw fish not your thing? Then dig into some organic tofu or sticky beef. 
If you're like us though and are known to be a bit indecisive, you can also select from one of SUKI's signature bowls or burritos (there are even vegan options available).
Taste aside, SUKI's second addition is sure to become a local favourite simply because of its good-looking appearance thanks to the vibrant ingredients! Making it even easier to order, SUKI have just launched an online mobile app letting you pre-order and making you feel like a VIP every time you skip those lines during peak periods.
Open 7 days a week from 11am till 9pm, you can expect to find us trying a new bowl combination every week!