I don't know about you, but it's taken me years to perfect my wind-down routine to enable me to stress less and get a good night's sleep. It's such a delicate balance between getting everything you need to get done before the end of the day, and allowing yourself time to unwind and relax before trying your hand at sleep. Not to mention finding products and processes that help me control my (and my skin's) stress levels. Because when you're stressed, it usually shows up on your face.
After trying just about everything on the planet (and spending a fortune in the process), I've settled on a few handy tips when it comes to getting a good night's sleep and calming yourself (and your skin) down.
1. Set the scene with scents
Aromatherapy might seem a little airy-fairy but there's lots of studies to back that it can help when it comes to creating a calming atmosphere and possibly even regulating mood. Anecdotally I can confirm that the scents I surround myself with seem to play a big role in helping me feel a certain way. Invest in candles, an aromatherapy diffuser or different room sprays with scents you connect with. I gravitate towards fresh smells like cotton or linen, or lavender when I really need to stress less or get myself ready for bed. I don't know if it's just a pavlovian response now, but whenever I put on my L'Occitane Lavande Hand Lotion (300ml $40) , I know it's time for my body to start winding down. Other favourites in the scent department include Palm Beach Linen-scented candle (ahh fresh sheets!), or when I want to fill my room with a scent fast, the Palm Beach Stone Aromatherapy Diffuser ($99.95) with their exclusive Palm Beach Sleep Essential Oil ($29.95). Utter bliss!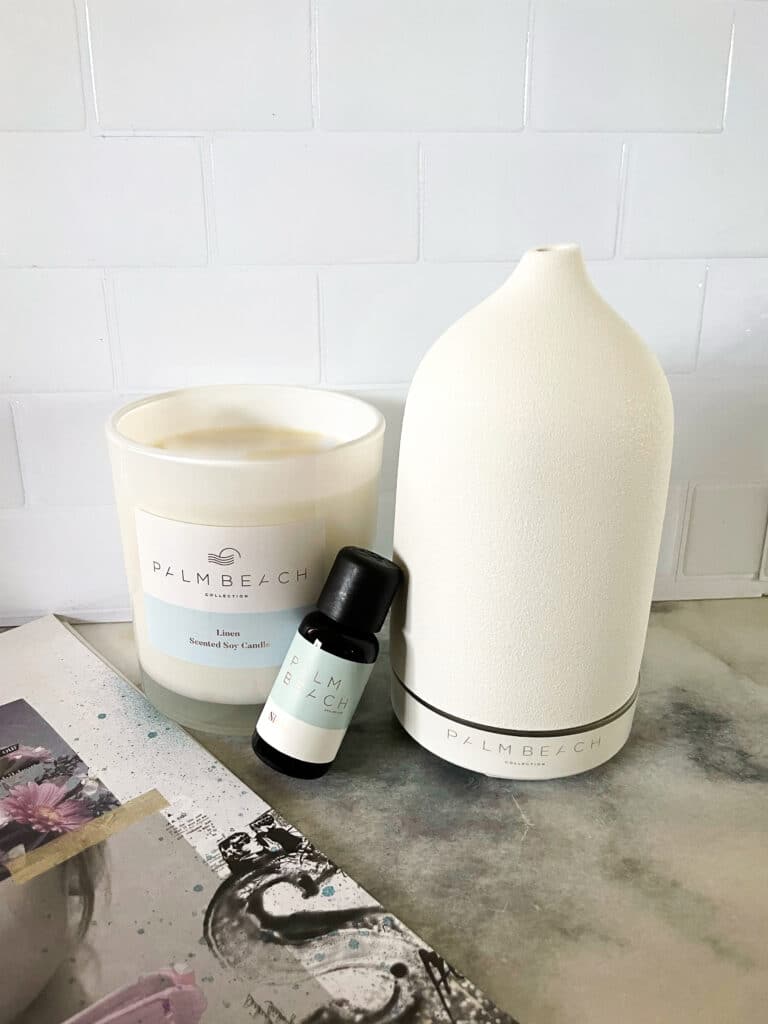 2. Take a bath or create a relaxing shower routine
I've honestly turned down rental homes over the fact that they don't have a bath as that's such a big part of my wind-down routine. To be fair, a shower can also be beneficial, but there's just something about a bath that warms my bones and settles my soul. Piggybacking off the scent point above, it helps to choose products with scents that are calming rather than invigorating at night. So that's a no to citrus or minty scents and a yes to more calming scents such as lavender, jasmine, bergamot, chamomile, and sandalwood. The This Works Deep Sleep Shower Gel (250ml $37) sits top of my list for helping to calm my farm. This is also the time to do your facial cleanse.
Then it's on to hair and I am a big fan of evo Lockdown Smoothing Treatment ($50) mainly because it means less work tomorrow! The leave in formula fights frizz and locks in moisture, allowing for much simpler and quicker styling the next morning. Hello sleep in!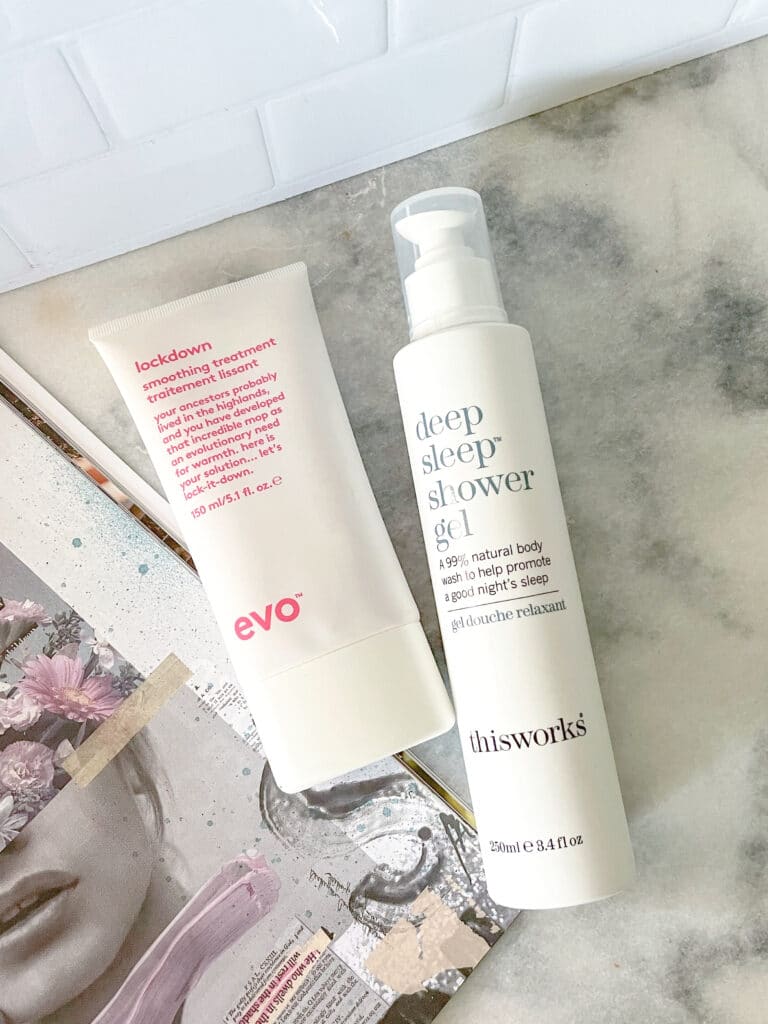 3. Set up a good skincare routine with products that de-stress the skin
One of the things that defines a good skincare routine is one that not only gets results but that the process itself is a form of self-care. My body knows that when I start that skincare regimen after the sun's gone down, it's time to start relaxing. It's methodical, it's a mini-massage and it's about as close as I get to mindful meditation.
There are a number of products that I use religiously, chopping and changing as needs be. (Definitely don't use all these products at once as your skin will have a panic attack, but a selection of these help me get a good night's sleep and wake up looking radiant.)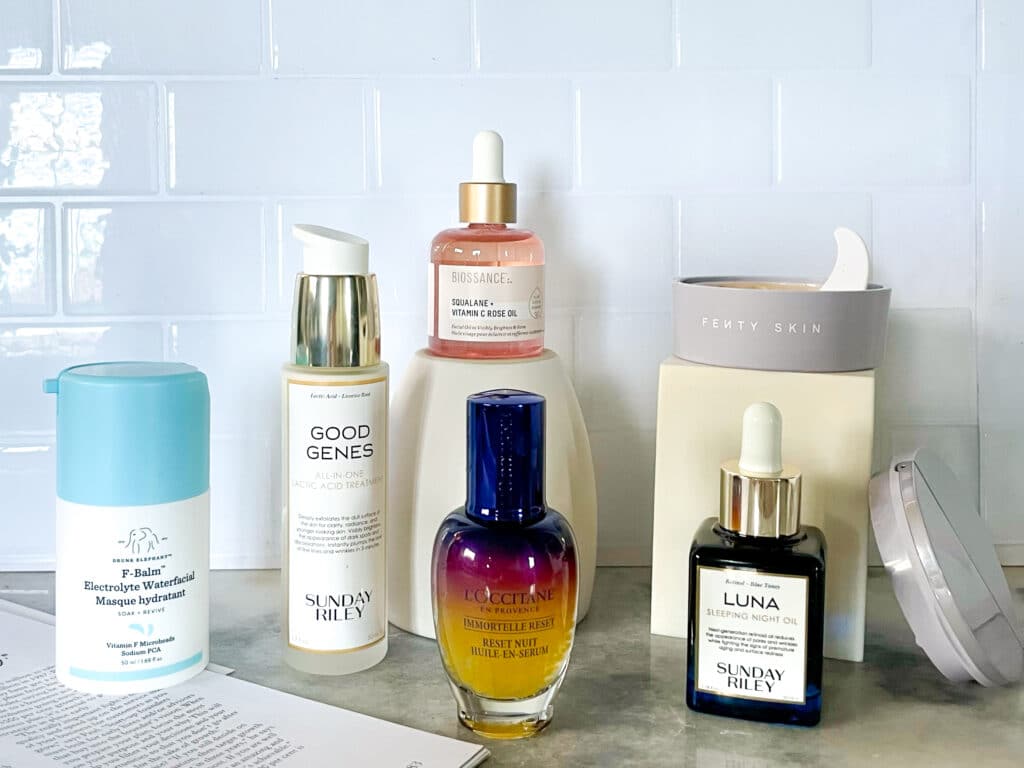 Serums
Now that my face is squeaky clean post bath, I am ready to exfoliate and I love Sunday Riley's Good Genes (15ml from $72) to get that done. The lactic acid exfoliating serum works to refine and clarify the skin by nixing all those dead skin cells, leaving you with smoother, more radiant skin. If you want to feel super luxe (and I often do), then you can't go past L'Occitane's Imortelle Overnight Reset Serum (30ml from $99). With a unique oil-in-serum formula, this serum helps your skin by smoothing its fine lines, giving it a healthy glow and allowing it to soothe and recover from daily stress factors (thanks antioxidants!). It's the ultimate beauty sleep serum.
Facial oils
If you're more of a facial oil person, I have a couple of top picks for you depending on what you want to achieve, each excellent at assisting you to relax and unwind while keeping your skin in tip top shape. Firstly Sunday Riley's Luna Sleeping Night Oil (15ml from $82). This is an evening retinol oil that targets fine lines, skin discolouration and signs of dryness. The addition of blue tansy and chamomile evens out your complexion and soothes any irritation. It truly is a dreamy serum.
Or if you need a burst of brightening vitamin C in your routine look no further than Biossance's Squalane + Vitamin C Rose Oil (30ml $110). Vitamin C is a powerful antioxidant that can fight free radicals, visibly brighten, reduce the appearance of hyperpigmentation, and boost the skin's firmness by jumpstarting collagen production. This dreamy rose oil formula joins with the squalane to help fight fine lines and has fast one of my faves to apply before bed (and in the morning!). Whenever I use these oils, I add a face roller or gua sha to supercharge the relaxation in this step by adding facial massage and feeling my troubles melt away.
Overnight masks
Then to lock all that goodness in, I will finish with an overnight mask. Some masks won't work well with oils (especially if they are water-based) so this is one of those times where sometimes it's an either/or situation. One of my current obsessions is the ever hydrating Drunk Elephant F-Balm Electrolyte Waterfacial (50ml $78) (and not just because the name sounds like F-bomb… but also a little bit because of that). This is the overnight mask dreams are made of. You just apply four or so pumps of F-Balm all over your face and neck before you go to bed, and you wake up stunning. This is thanks to niacinamide that helps repair the skin's barrier function and helps prevent pigmentation, and ceramides to help stressed out skin.
I also love Fenty Beauty's Instant Reset Overnight Recovery Gel-Cream (50ml $60). As the name suggests, this is a gel/cream hybrid, also featuring wonder ingredient niacinimide. A month of using this left my skin so glowing and bouncy smooth that no one asked if I was getting enough sleep that week, which is a WIN. This is marketed as a moisturiser but I pop on a slightly thicker layer and use it as an overnight mask and voila: hydrated, refreshed, de-stressed skin come morning time.
4. Have a magnesium oil moment
I suffer from restless leg syndrome, and even before I developed it, I tossed and turned before my body was able to unwind and fall asleep. Then I discovered the absolute miracle that is Salt Lab's Magnesium Oil Rest and Recharge Spray (200ml $34.99). Magnesium plays a huge role in the body in terms of lowering stress, helping sore muscles and joints, reducing inflammation and most importantly helping you get a good night's sleep. I just spray some onto my legs, stomach and sometimes my feet before bed and voila, good night's sleep.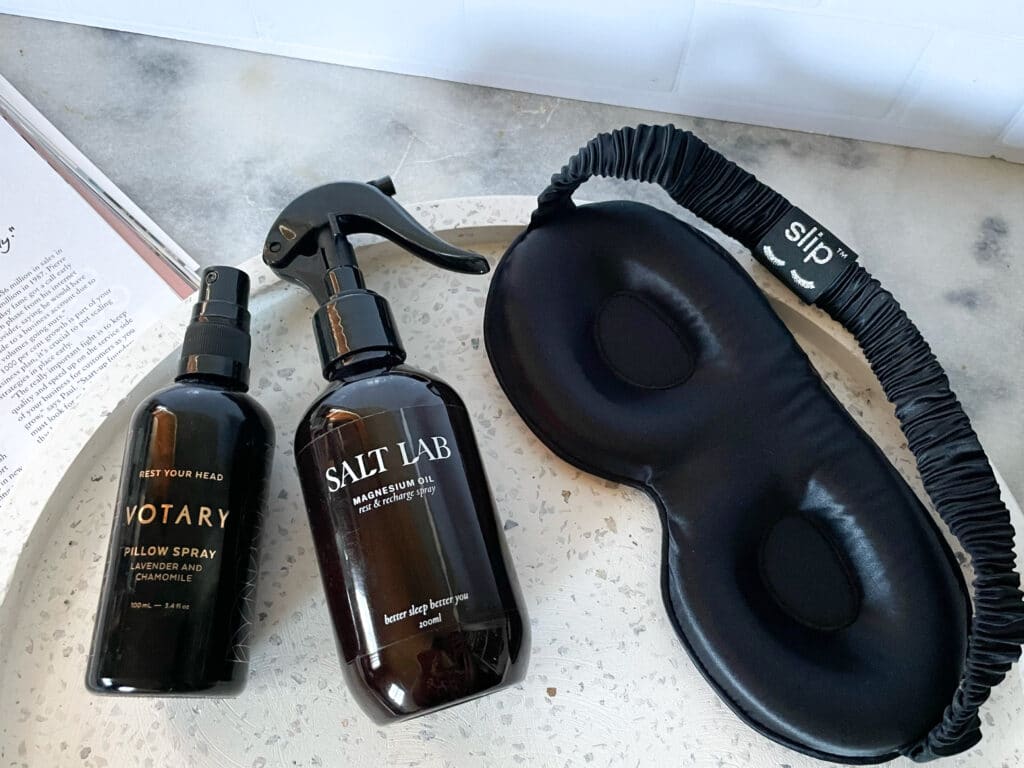 5. Make your bed a sanctuary
Lastly, it's imperative that your bed is your happy place, equipped with things to make your sleep a beauty sleep. I upgraded my bed to a sleep and beauty haven with the addition of a Slip Silk Pillowcase, which not only feels divine, but helps battle hair frizz and fight wrinkles while you sleep.
Then to help me really block out the world and wind down, I pop on a Slip Silk Eye Mask, specifically the Contour Eye Mask ($50). It blocks out light and unwanted distractions, while also not putting pressure on my eyes (aaand leaving space for my lash extensions to not get crumpled).
And lastly, a spritz of sleep spray with lavender or chamomile (or both!) on my pillow, and my trusty L'Occitane Lavande Hand Lotion and I am relaxed and ready to drift off into calming scented bliss.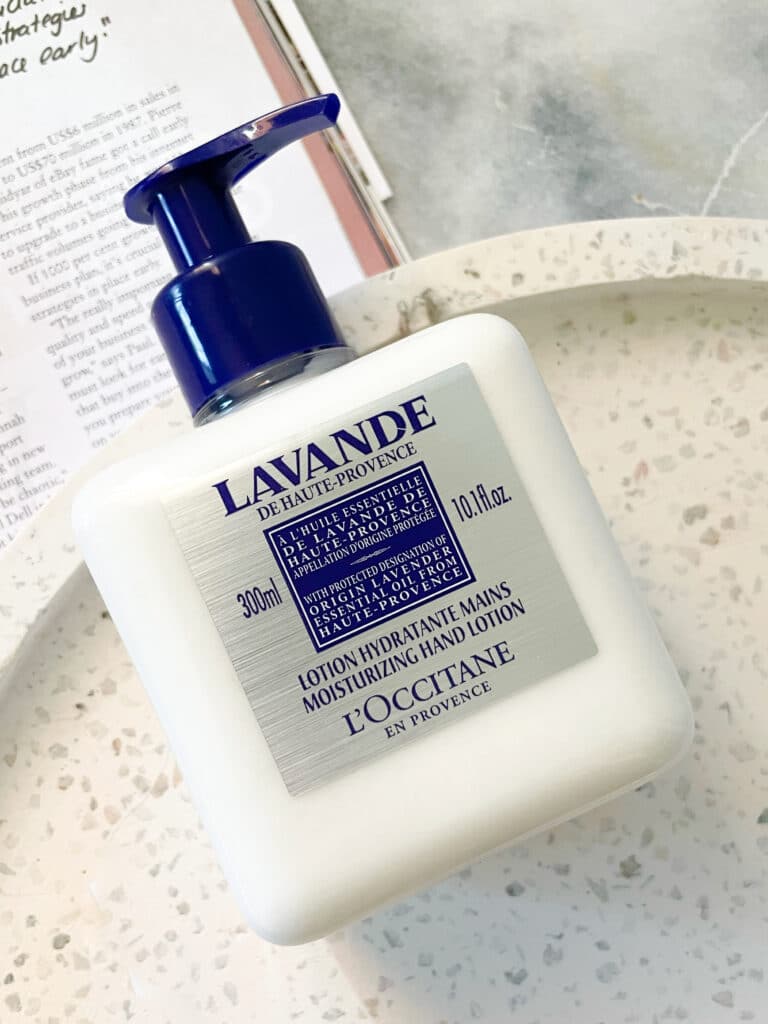 Of course, some people don't want to do alllllll these things; I know, it feels like a lot of steps. For me, the methodical nature of it, and knowing the routine is coming at the end of the day is part of what helps calm me.
But even picking one of these amazing products or following your own end of day routine can really help when it comes to calming yourself and getting a good night's sleep.