I don't normally wear makeup to the gym. It's not because I don't want to; honestly, I turn into such bright red traffic light when I get on that spin bike that I'd love to cover it up if I could. No, I don't usually wear it because by the time I'm done running and lunging and crunching, my pores have either swallowed the makeup up or it's in a sweaty puddle on the floor.
But recently the CliniqueFIT range came to my attention and let me tell you pretties, I was INSTANTLY interested. Now before I start, let me just say I know the idea of makeup at the gym can be a polarizing one, and that no one should feel like they HAVE to wear it. You wanna wear it? Go ahead! Not your thing? Fine too. But if you ARE interested in rocking a look while sweating it out, then you need to give CliniqueFIT a look in.

This makeup line has a number of products that are specifically designed to both hide your post-workout shiny redness, and to withstand the rigours of a gym sesh at whatever level you like to exercise. Sweat resistant makeup? What sorcery is this? I had to give it a go.
The first item I tried was the CliniqueFIT Workout 24-Hour Mascara. As well as adding volume and defining lashes, this lush formula claims to be budge proof for 24 hours. YES, 24 HOURS. I can't even get my regular mascara to last through a night of enthusiastic dancing to 90s pop tunes in the clubs. It's also said to be sweat-resistant, humidity resistant. I wiggled the mascara wand at the base of my lashes (because you have to wiggle it, just a little bit, to coat them properly; yep I have a 90s thing going on right now, just go with it) and swished it on. Nice texture, no clumpiness and didn't appear to suck all the moisture from my eyelashes either. Good start, Clinique, good start.

Next, I pop on some of the Post-Workout Mattifying Moisturizer. Now I know it says post-workout, but the website says "refreshes during your workout and beyond" so on it goes before I hit the gym. The moisturiser is oil-free so that's a plus, and won't clog pores if you get too sweaty Betty, and is said to control shine. We'll see, magical moisturiser, we'll see.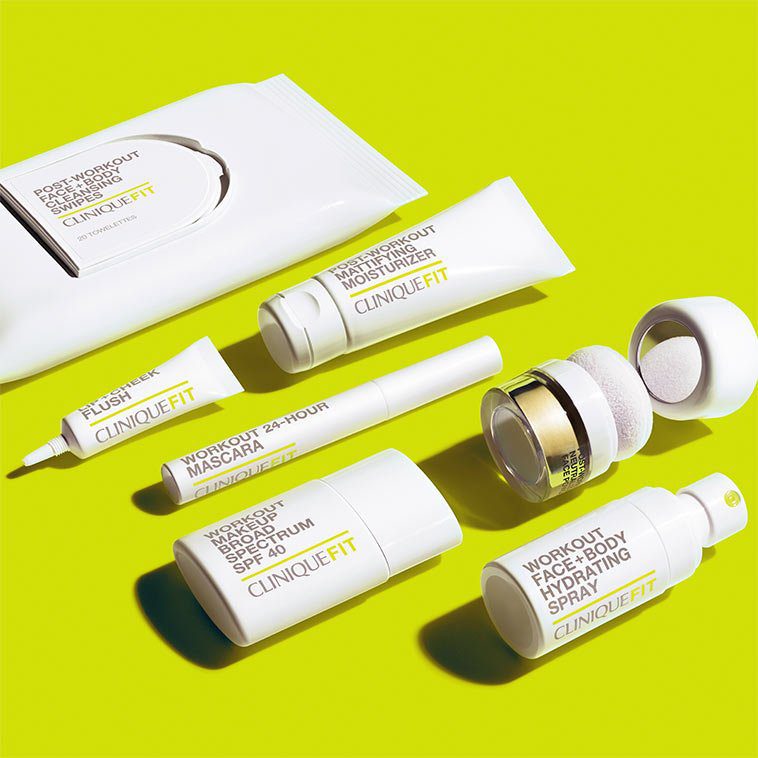 The Lip + Cheek Flush is all about giving yourself a post-workout glow without the workout, BUT it also says it's fade resistant, life-proof and endurance tested so I'mma chuck some of that on too. Plus the colour is super cute and the whole look is very "I live at the gym and drink smoothies all day" pretty.

Now the other two items from the range are a Post-Workout Neutralizing Face Powder and Post-Workout Face + Body Cleansing Swipes. It literally makes no sense to try either of these out during the exercise session so I save them for after.
If I was really going to put this stuff to the test I was gonna have to work up a serious sweat. Which, you know, shouldn't be hard for me since I am not really a fit person and walking upstairs has been known to exhaust me. I start with a light warm-up of some stretches, followed by a slow, moving to brisk walk on the treadmill. So far so good. I then increase my speed to a jog. This is when things start to get dicey – for me, not the makeup. As I mentioned before, exercise is not normally my friend.
After about 20 minutes of jogging, I hop off the treadmill and glance in the mirror. Where there would normally be rivulets of sweat running down my face, instead is a slightly glistening and still pretty matte face. I mean, I am red as heck, but everything seems to be holding up nicely.
Then comes the ultimate test: the rowing machine. That thing is the devil incarnate and never ceases to make me break a massive sweat. I adjust my foot straps, pick up the handlebars, and row.

When it's over I am sweating like crazy, breathing super heavy, and very aware of how sore my arms are going to be tomorrow. But when I look in the mirror, damned if that mascara hasn't budged. My lip and cheek stain is still intact (I think, either that or I've gone super red and can't tell). And the moisturiser, while not sweat proof, did keep me much more matte for much longer than usual.

I hoof it to the change rooms and whip out my face and body wipes. They're so refreshing I reckon I can just about get away without a shower if I wanted to… But since I am paranoid I shower anyway. But if you're pressed for time, these would be an excellent way to mop up the post-gym perspiration before heading out.
Lastly, I pop on a bit of the Neutralizing Face Powder to get rid of that horrid flush that creeps up my skin after moving pretty much anywhere at all. And… it's pretty good! Not as good as a full coverage foundation but definitely more colour correcting.
So yeah, two enthusiastic thumbs up from me for the whole CliniqueFIT range. I mean, I will probably wear it to brunch in my activewear rather than exercise in it again but it's great to know that I could and still look cute after all that exertion.

The range is available online only, and you can get some here.