Hi my name is Elizabeth and I am addicted to my nighttime beauty routine. ("Hi Elizabeth!") Seriously, I actually look forward to going through the process of my cleansing, toning, serums moisturiser regimen each night because it feels like my little "treat yo'self" moment of the day. Plus, nighttime is when our bodies regenerate and repair themselves, and that includes your skin, so having a good PM routine is the perfect way to ensure that process goes smoothly.
So when someone told me sleeping masks were a thing that could help my little beauty sleep schedule along its merry way, I got a little excited.
But then the questions started popping into my head. What is a sleeping mask? When do I put it on in my routine? Do I have to sleep on my back all night to avoid it ending up smeared all over my expensive silk pillowcase? Once the images of waking up in a tangle of mask-stained sheets had had their moment in my head, I decided to start doing some research.
What is a sleeping mask?
Sleeping masks come from the Korean beauty trends that have taken the skincare world by storm. They're usually lightweight, even though they pack a huge beauty punch. They work differently to your regular masks because they have been designed to provide prolonged, deep treatment as you sleep. The product has all night to absorb so it can really get into your skin and work it's magic. Think of it both as a super-effective and potent moisturiser that can also be used to lock in the goodness of all the other products you've popped on your face before bed.
When do you use them in your routine?
Save the best for last with sleeping masks. That's right, these babies are best used as the very final step of your beauty routine, right before bedtime. So feel free to use all your normal magic potions such as toner, serums, moisturisers and even oils. BUT make sure you washed your face before all of this. Without proper cleansing, almost none of these amazing ingredients can make their way into your skin thanks to blocked pores.
And remember, skincare stops at your chest; you should already be using all your facial products right down past your neck to your decolletage and sleeping masks are no different.
Will it rub off in the night and wreck my bedding?
If you're imagining a clay mask like I was, get that out of your head immediately. Overnight masks usually have the texture of a light gel, or cream that absorbs quickly. As long as you ensure you apply the mask about 15 mins before you lay your head down, your pillow will be fine.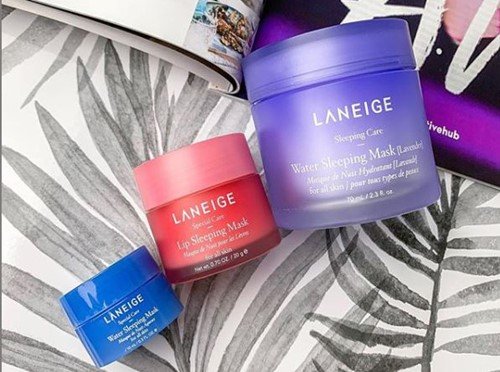 What are some good ones?
Well that depends on your skin type. Got dry skin? Look for ingredients such as ceramide and argan oils that fix your skin's moisture barrier while keeping it al bouncy. If you're battling breakouts, you may want to look at sleeping masks with a moisture focus featuring ingredients such as hyaluronic acid. But if it's fine lines you're fretting over, then you'll be all about skin elasticity, cell renewal and texture, so pick sleeping masks with active ingredients such as retinol or derivatives of vitamin A.
When I was trying out different masks for this story, there were a few that shot to the top of my list. One that's been all over the Insta-world is Glow Recipe's Avocado Melt Sleeping Mask ($69 Mecca Maxima). My skin had been a bit wind-burnt by all the blustery days we've been having lately and the Avocado Melt Mask's soothing ingredients such as avocado (of course), honey and exfoliating PHA really calmed all that down. Not to mention the creamy smooth skin in the morning. I am talking cashmere soft.
I had a similarly excellent experience with the Dr Jart+ Cicapair Night Re.Pair ($75 Sephora), which features soothing centella asiatica, which calms damaged and irritated skin and addresses redness. The lightweight gel formula also comes in 30 little individual use sachets making it easy to portion out (and keeping it safe from bacteria that can come with products in jars).
In terms of the most moisturising, I love, love, love the Laneige Water Sleeping Mask ($40, Sephora). The most cost effective of the bunch, this formula aims to leave skin well hydrated and looking well rested (which, god knows I need). This was one of the first sleeping masks to hit the mass market and there's a reason everyone has jumped on board. A few days using this each night and I wake up with skin that's glowing just a tiny bit more from the night before. And unlike a bunch of other masks, this one is aimed at ONLY hydration and it does it really well, rather than doing a bunch of things just competently.
So if you love taking care of your skin, and want your regular sleep to be transformed into a bona fide beauty sleep, then get your mitts on a sleeping mask. You'll thank me later, I promise.