The opening night of the ST. ALi Italian Film Festival featured The Ties (Lacci), directed by Daniele Luchetti. The 2020 drama, based on the novel by best-selling Italian author Domenico Starnone, follows the story of a dysfunctional couple, grappling with boredom and betrayal. Starring Alba Rohrwacher, Luigi Lo Cascio, and Linda Caridi, the film takes you on a journey of marriage, love, loss, grief, jealously, and resentment.
A 12-year relationship built on the foundation of two people too scared to look for anything more, settling for what can be perceived as comfortable and socially acceptable, rather than a commitment of love, lust, or want. The film shows the long-term effects of that sacrifice, not just on the husband and wife personally, but as a family, and the burden it places upon the children involved in the situation
Based in Italy during the 1980's, the film was shot in a way that captured the audience, bringing you in to feel like you were involved in their lives. The settings and the costumes set a realistic scene of that era. The chemistry between the cast made the plot seem like real life, as they meshed together with the script in a way that felt authentic. How the characters were portrayed as individuals away from their partners gave the audience the opportunity to see how different each person's perception was, and the consequences of that miscommunication.
The Ties (Lacci) felt like piece of art, more so than a film, allowing you to feel the intimate emotions that come with living, and loving. It is a wonderful representation of Italian film.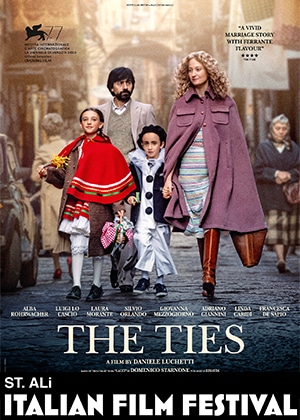 ST. ALi and the Palace Barracks theatre held a wonderful opening night, with gift bags and treats to make you feel like you were right there in Italy, despite being a world away.
The ST. ALi Italian Film Festival is on now, running through to the 14th of November at the Palace Barracks Theatre. For general information, running times, and tickets: https://www.italianfilmfestival.com.au/about/welcome
Latest posts by Madeline Turner
(see all)