Have you found yourself thinking, my goodness, how is it the end of March already and how have I not made a start on any of my health and fitness goals for 2022?
You're not alone, and in fact, most of the population finds it hard to set, or stick to, those new year resolutions for health and fitness. So the 2022 Brisbane Cycling Festival couldn't come at a better time – with people settling into our hybrid work routines and kids schooling looking a bit more stable over the next few months – the time is now to start exploring ways to shift away from screen time and plan to get more active with friends and family in our cooler Queensland months.
The 20 days of the Brisbane Cycling Festival has something for everyone. From cycling enthusiasts through to those of us that aren't really into cycling at all! The beauty of this kind of festival is that it's focused on bringing the fun back into exercise and activity. Showing up to one of these events connects you with a community of people committed to health and fitness and has an inspirational effect helping to kick off your upward spiral for improved health and fitness.
There are opportunities to watch our elite cyclists in the 2022 Oceania Championships (BMX, MTB, Road and Track) and our Aussie cyclists in the Track National Championships at the Anna Meares Velodrome. There are also opportunities for those of us who are more a part of the casual cycling sandshoe brigade, there's a range of participation events for friends and families, and an Active Lifestyle Expo for those of us who wouldn't know the back from the front of the bike, but are keen to find out more and get active!
There are free and paid events, most of the events are ticketed so jump on the website and secure your spots before you miss out.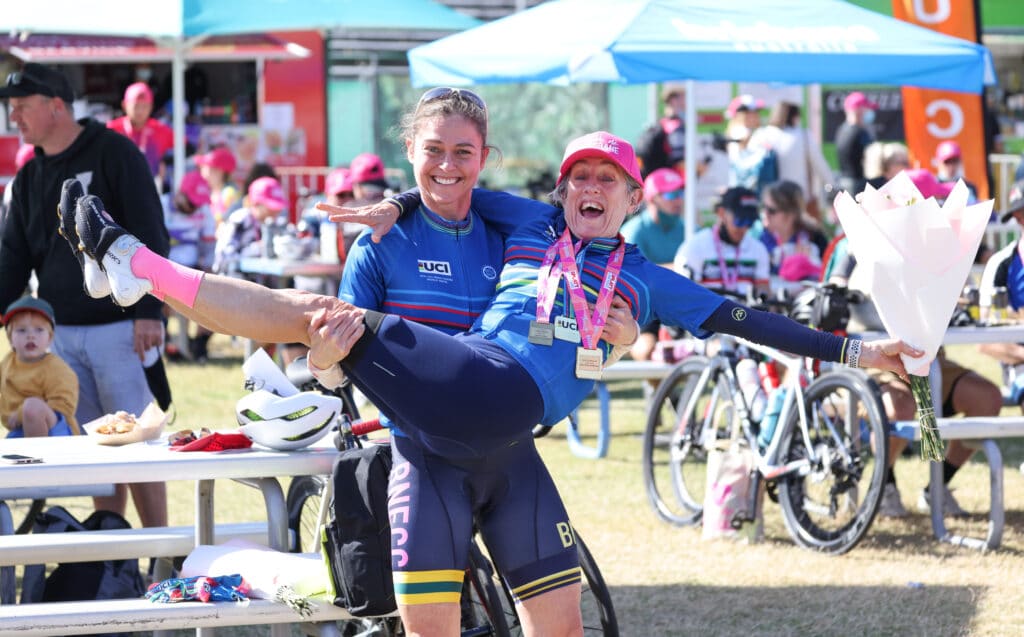 For a glimpse of what's on offer to kick start your active journey, we've picked out some of the top events:
The Active Lifestyle Expo presented by Flip Insurance is the place to go for wellness, nutrition, health, fitness, education, cycling, new trends, products and more. It's a perfect time of the year in Brisbane to get outdoors and soak up the sun. It is a free community event – family, friends, neighbours and furry pals welcome. Check out further info and plan your visit, head to the Active Lifestyle Expo webpage: https://www.brisbanecyclingfestival.com/events/active_lifestyle_expo-village
This is the kind of event where you will cycle your butt off, but because you're having such a great time with family and friends you won't even realise you've raised a sweat. Inspired by the very popular colour-runs, the Colour Your Ride event is supported by the Love Me Love You Foundation, the event will see participants ride the 1km track alongside family and friends to help raise awareness for mental health and get coloured from head to toe in all the colours of the rainbow. To
register and buy tickets head to event page here: https://www.brisbanecyclingfestival.com/events/colour-your-ride
Sponsored by Brisbane Jaguar Land Rover, these skills programs run by Auscycling are free for a few days during the
Brisbane Cycling Festival (coinciding with school holidays). Give your young ones the gift of cycling skills and set them up for a life of sport and/or active travelling. For more info and get your tickets for the free Festival Wheely Fun Camps head to the event page here: https://www.brisbanecyclingfestival.com/events/wheely-fun-camps