Beauty gadgets, tools, thingamajigs… whatever you want to call them, I love adding a device or two into my routine to help me get the best out of my skincare routine and to keep on top of my life in general.
But which ones work? How do you choose the tools you need vs the ones that will gather dust in your drawers? As a beauty editor I've tried a lot of beauty and wellness tools and gadgets, and I've compiled my faves that I still use time and time again to get results, help me relax and make life easier.
Microcurrent devices really hit their stride in 2020, when at-home care was all we had thanks to lockdowns galore. These devices use electric current to stimulate cell renewal, which in turn lifts, tightens, and smooths your skin, while also training muscles beneath the surface. FOREO entered the market with their BEAR device (pictured above) and suddenly the beauty world was buzzing… and not just because this device adds T-Sonic Pulsations to the microcurrent treatments. With ergonomic (and aesthetically pleasing) Swedish design, the BEAR fits snuggly in your hand for the ultimate in comfort treatment. FOREO says this device is the strongest on the market, and as such, standard treatment time is just three minutes. Moreover, they have anti-shock technology, which is virtually unheard of with microcurrent devices! The handy app connectivity shows you exactly how to use your little device, so you can't go wrong; just mix with FOREO's Serum Serum Serum as a conductivity gel and you're ready to go. Use once every 24 hours for maximum results… think of it as a daily three-minute workout for your face!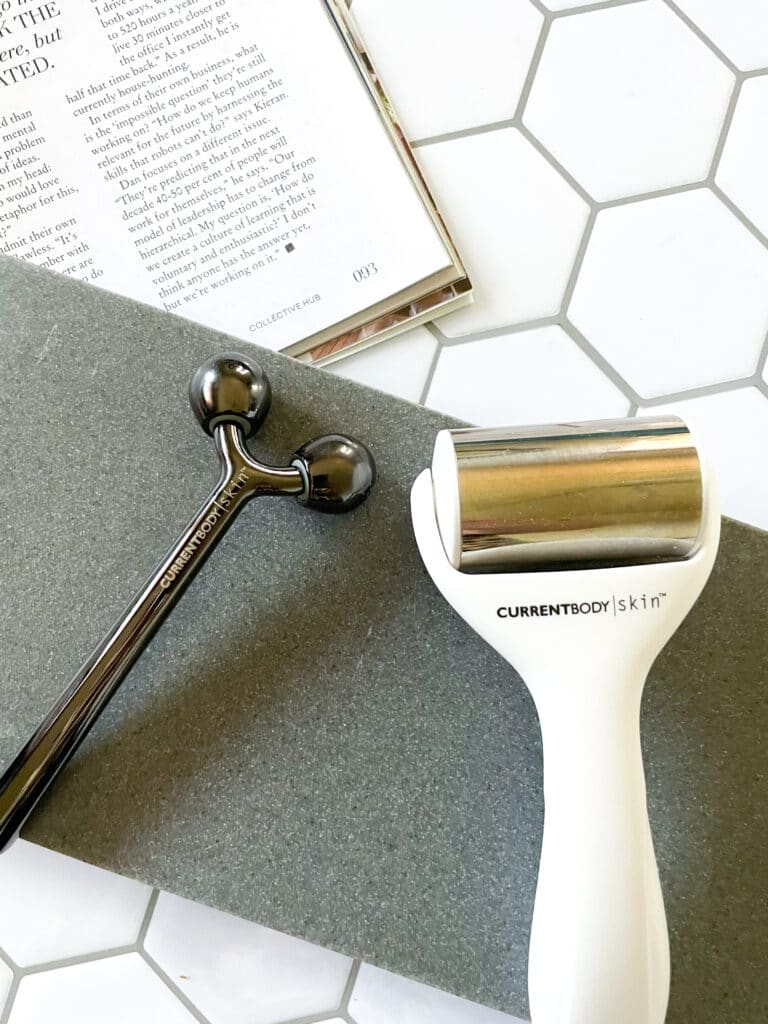 These handy tools can be used at the start and end of the day to promote lymphatic drainage, sculpt your face and just plain make you feel good. Firstly let's talk about the CurrentBody Skin Facial Sculptor, a staple that's missing from your beauty regimen. In just a few minutes a day, achieve a sculpted and more contoured complexion. The two rotating heads hug your face to tone, firm and boost circulation for healthier-looking skin. Honestly I find this really helps with any facial tension I have as well (jaw clencher, right here!).
The Cryo Roller is the ULTIMATE ice facial without the melty mess. Store in your freezer and whip out whenever you need a bit of cryotherapy from the comfort of your own home. Rolling the cool, stainless steel roller over the face helps to sculpt, depuff and brighten your appearance (while also shrinking the appearance of pores!). The cold helps boost circulation and flush out toxins. Plus it's a godsend for getting rid of puffy eyes after a bad night's sleep.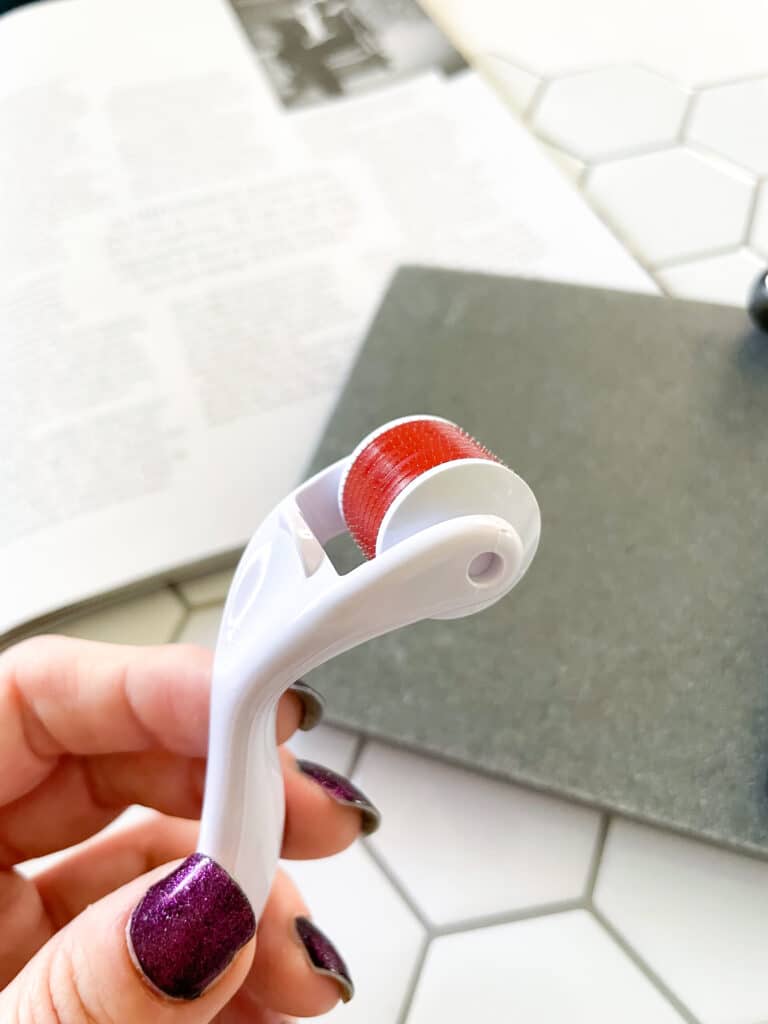 A derma roller is a device featuring a little wheel with tiny needles all over the surface. But before you freak out at the word "needle", these really are teeny tiny. When I first used it I was a bit nervous but honestly it just felt like exfoliating to me. Derma rolling helps get products through the skin barrier, making your skincare regimen more effective. After about a month or taking this little baby ona roll across my skin, I noticed a difference in issues such as dullness, pimple scarring, pigmentation and fine lines.
I've tried a bunch of sponges and none of them stack up to my trusty BeautyBlender. This little baby, when wet and squeezed out, blends my makeup and contouring to absolute perfection. It barely soaks up any of my product, leading to less wastage, plus it just feels fun to bounce, bounce, bounce across my face.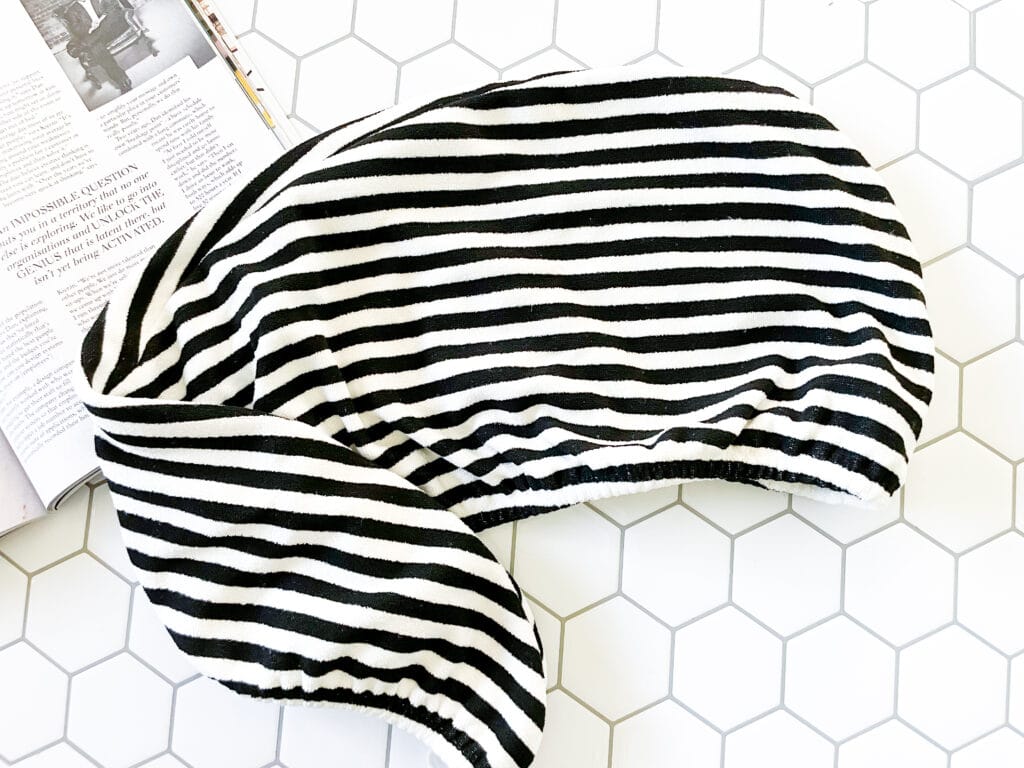 If you've never used a hair wrap instead of piling a whole bath towel on your head, you're doing it wrong. My fave brand of these has to be Louvelle. With stylish designs galore, these towels are made from super soft, super absorbent microfibre to optimise your hair drying experience.
Pop them over wet hair, twist, button it down and there you have it, a chic turban that won't budge and will dry your hair much more effectively than a towel. Plus, you'll look tres luxurious swanning about the house in these.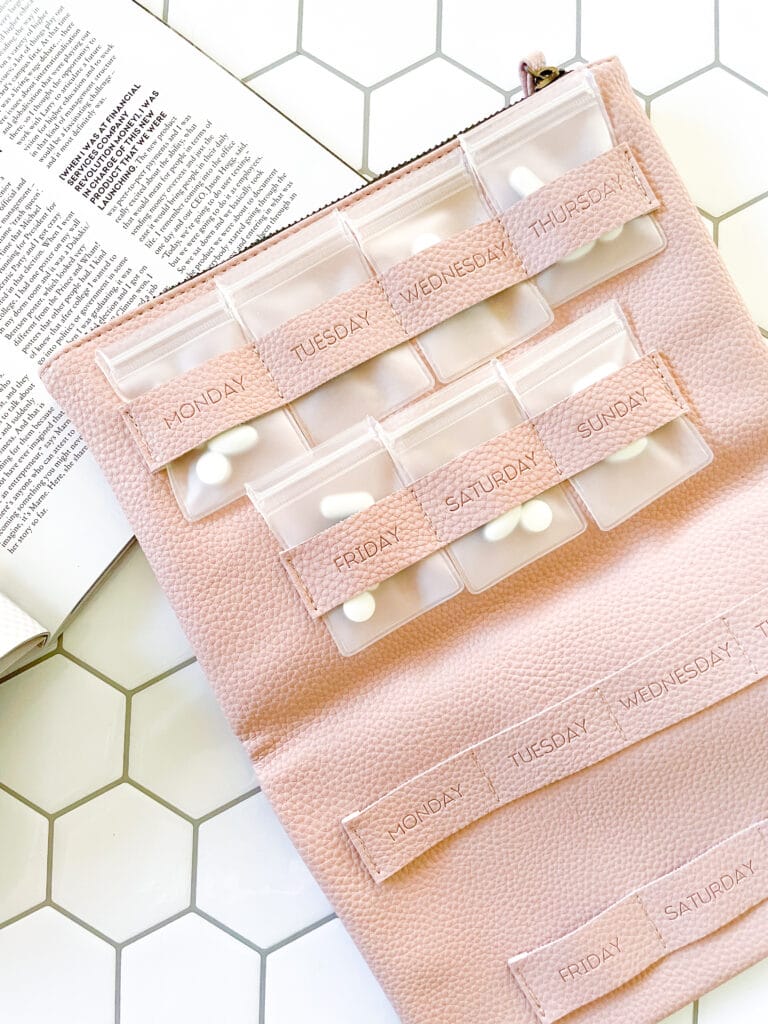 I honestly don't know how I lived without the Dosey Wellness Wallet in my life before now. And OK, I know it's not officially beauty BUT it definitely falls under the health and wellness banner. Plus, since I include my hair, skin and nails vitamins in the little pill pockets, it totally counts. Featuring pill organiser pouches for AM and PM through the week, plus a zip section to store important things such as prescriptions, this wallet is the ultimate in supplement and medication organisation. It's easy to pop in your bag when you need to go on a holiday, looks stunning on your vanity,
8. CurrentBody LED Mask
I love this one so much I did a whole story on it. You can read the rundown here: LED Light Therapy Masks: Do They Work?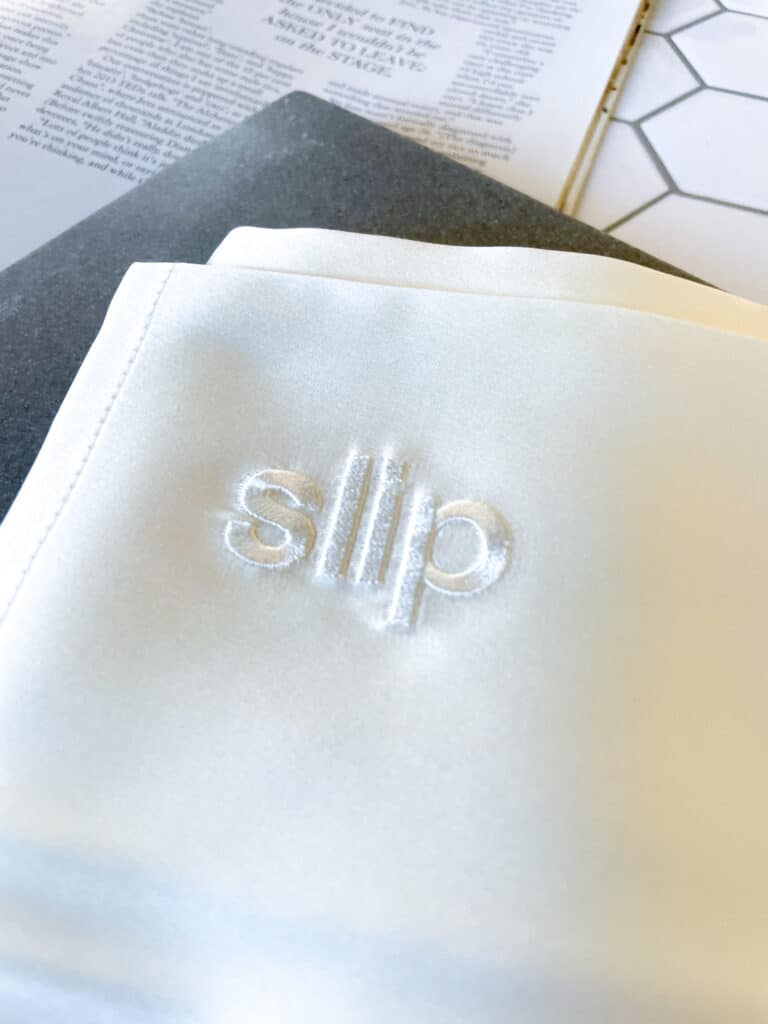 There's a reason Slip silk pillowcases are constantly on best of beauty lists. They fight wrinkles and bad hair in your sleep!. Bad hair days are a thing of the past after resting your head on these dreamy feeling silky fibres. No friction = hair smooth as…well, silk. Also the slippery surface gets rid of creasing on your face and unnecessary pulling and tugging on your skin. And as if that wasn't amazing enough, they're also naturally hypoallergenic and help regulate temperature. Plus they feel kind of amazing, and I wake up every day feeling like a princess.
By this point in the article, you know I LURVE a good massage, and what feels better than a scalp massage. Almost nothing, that's what. Not only does a massage from this handheld tool feel divine, but it helps scrub your scalp clean in a gentle way. Use dry on its own, or pair with your fave haircare products to supercharge your wash routine.