Celebrities used to be hired by big cosmetic companies to model their wares in the hope that a little star power might help their products worm their way into our hearts and carts. Now, more celebs are choosing to forge their own way in the beauty sphere, using their social media presence and influence to not only be the face of brands, but to spearhead their creative direction, too. But with so many beautiful people telling us what to buy, how do we know what products are actually good and which ones are just hype? Here are some of our favourite celebrity beauty brands and products, and why.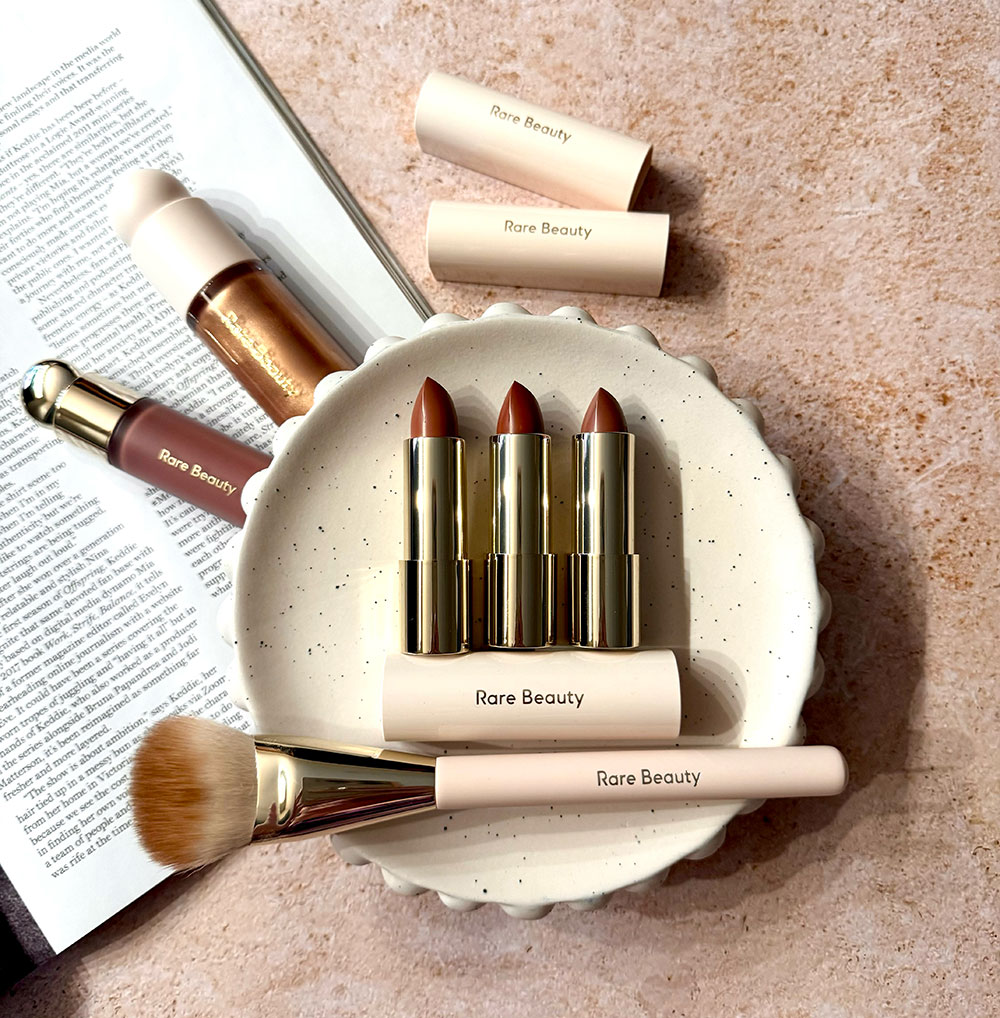 If you haven't heard of Rare Beauty, you definitely will have heard of its celebrity founder Selena Gomez. The brand launched with an impressive 133 products including foundation, lipstick, blush, eyeshadows and her signature eyeliner and mascara. And as a massive fan of Ms Gomez, I was thrilled to get my hands on all the products. I am happy to report that the formulas are silky smooth and the colour payoff is excellent—a little goes a long long way. The Perfect Strokes Matte Liquid Eyeliner is one of the few that I can wear with ZERO smudge, despite my oily eyelids. And the Soft Pinch Liquid Blush is a revelation. I normally shy away from cream blushes because they sit in my pores and smudge off easily, but this one can sit perfectly EVEN on TOP of a powder foundation—perfect for touch ups through the day. 
When asked why that name was chosen Gomez said in an Instagram story, "Rare is such a special word for me. It's all about eliminating the need for perfection and there is so much beauty in imperfection and my hope is that all of you can see that."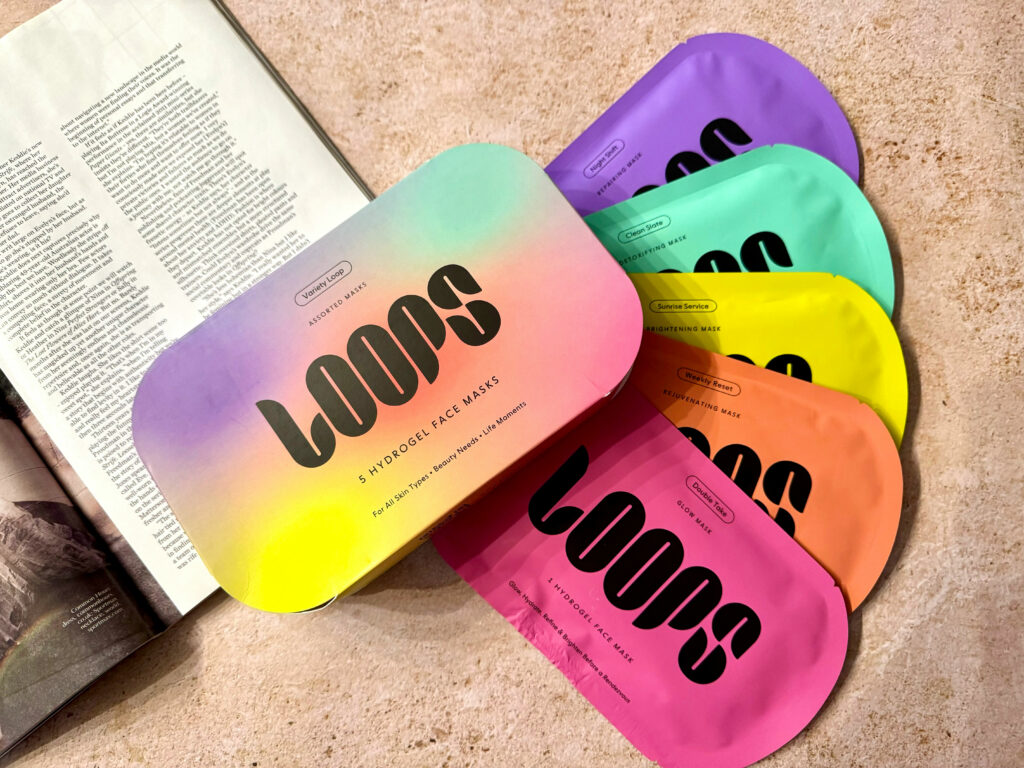 Camila Mendez of Riverdale fame has dipped her toes into the beauty market as the new Creative Director of LOOPS, a high-tech skincare brand that delivers targeted, dermatologist approved formulas to your face with targeted face masks.Each LOOPS mask is designed to target a specific skin need, and created to fit into the moment of your day when you might need it the most. The brand says that their hydrogel second skin allows for deeper penetration of active ingredients (than your regular serum routine), whilst also creating the perfect environment for collagen production and cell rejuvenation. The fact the masks are two pieces means they fit like a glove, so you can wear them and get on with your routine. Have a few issues you want to target? Then grab a variety pack and try all the different formulas (brigthening, glow, detoxifying and more) and find which works best! 
Camila says she's thrilled to be spearheading the direction of LOOPS. "I've always been a fan and love the face masks, so to be a part of its future development in this way is a dream. My skincare routine is where I really reset from the day and nourish myself. LOOPS helps me maintain my routine in the most effective way possible, so I'm excited to help grow a brand that is authentically part of my everyday life."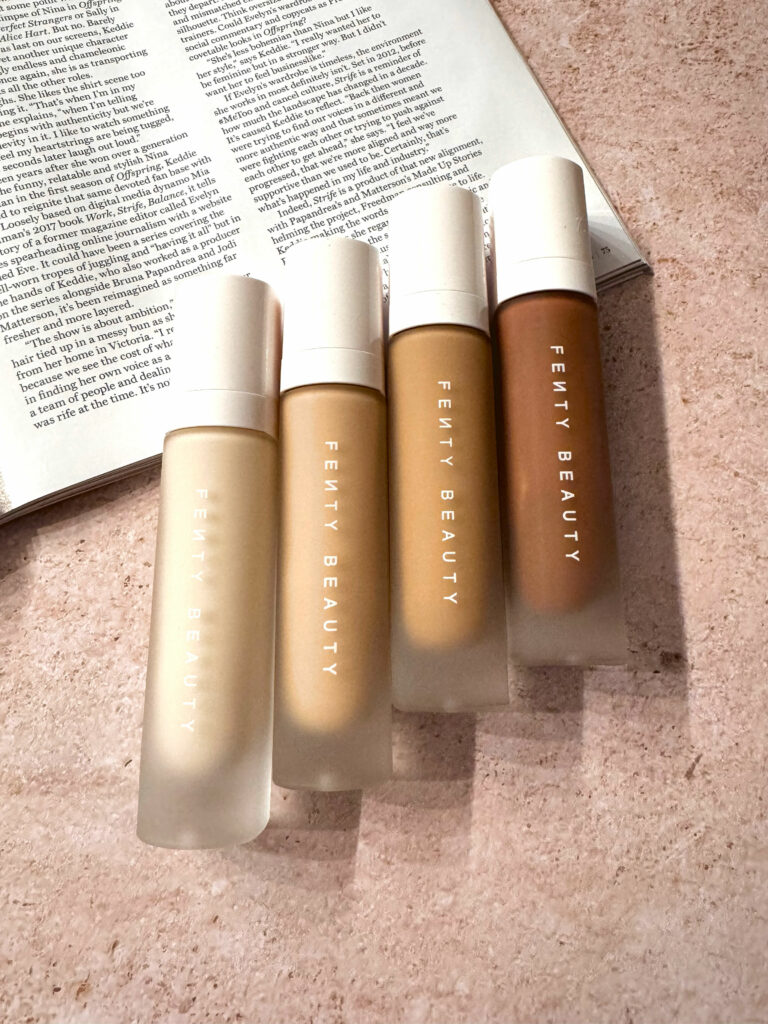 Rihanna set the beauty world alight when she first launched her beauty empire because at the time, she had one of the most inclusive foundation ranges on the market. She still does, mind you (other brands, STEP UP your game!) but it has gotten slightly better since she launched. Fenty Beauty was founded on the principles of inclusion for ALL women and it's a mantra the brand has operated by ever since. I can attest to the fact that the foundation is like a filter IRL for your skin—it smooths and blurs like no one's business when paired with Fenty Beauty Pro Filt'r Instant Retouch Primer and the Invisimatte Setting and Blotting Powder.  Fenty Beauty's Gloss Bomb lip gloss is also a massive hit in celebrity beauty circles for its universal lip luminizing and plumping qualities.
After the success of her beauty brand, Miss Riri launched Fenty Skin which was designed to make skincare uncomplicated for everyone. Special mention to my fave, the Butta Drop Shimmering Whipped Oil Body Cream which melts into my skin and smells AMAZING.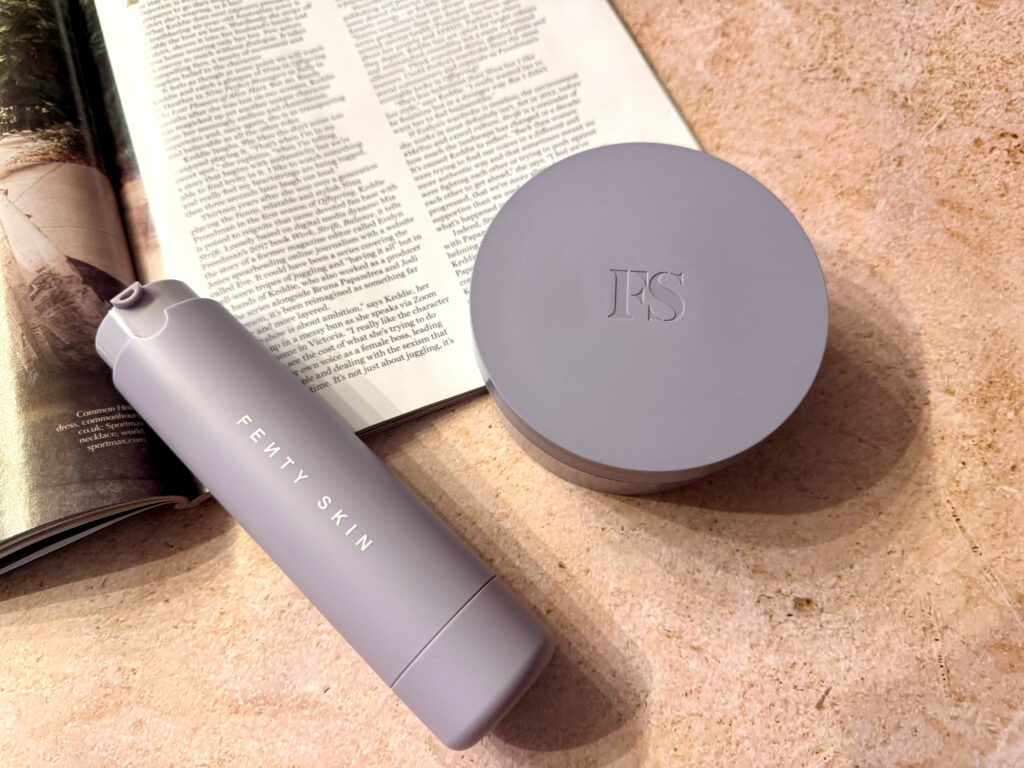 One of my very favourite things about the Fenty Skin is that the brand has eliminated boxes where possible, incorporated post-consumer recycled materials, and has many products that are entirely refillable. Sustainability win!
Gwyneth is known for her "out-there" wellness and health opinions but I have to admit… some of the goop products are actually kind of great. Like the Goopgenes All-In-One Supernutrient Face Oil. It's formulated with nine nutrient-dense oils including bakuchiol (a natural alternative to retinol), cacay and amla, plus extracts like Schisandra fruit and squalane that work together to help diminish the appearance of fine lines and wrinkles whilst improving firmness, overall skin texture for a soft hydrated glow. I feel like there's also a bit of magic in it, because after a week of use, I woke up with "I woke up like this" glowing skin. I can't wait to see what continued use can do.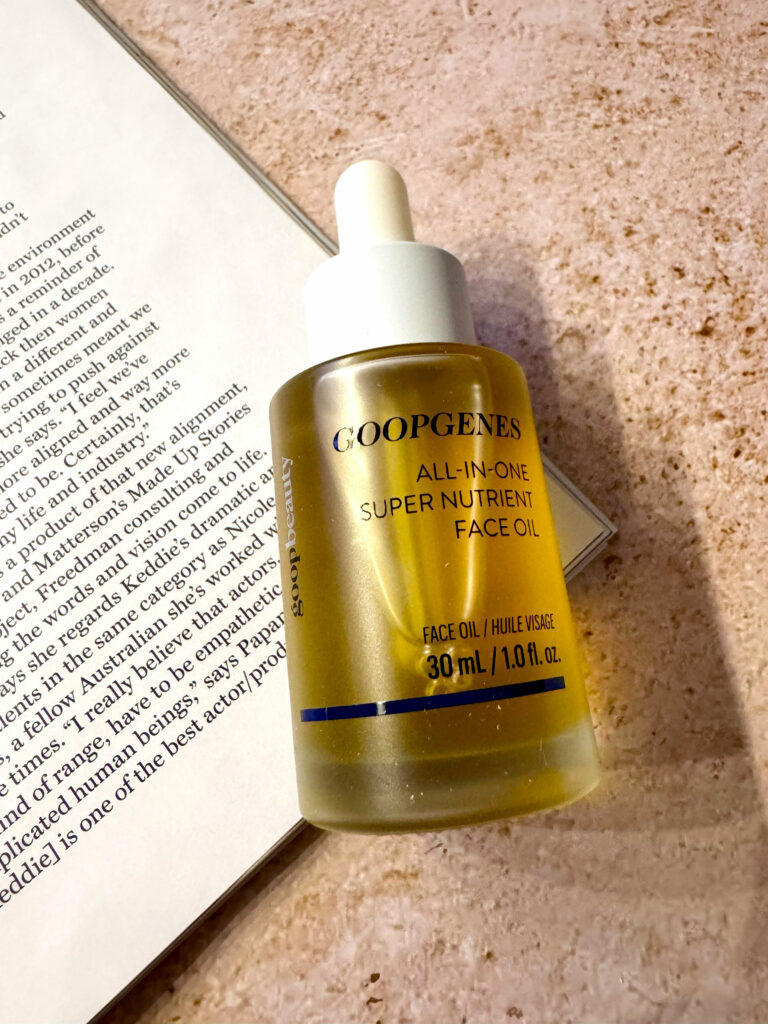 Another hero product is the Goopglow  15% Glycolic Acid Overnight Glow Peel. This is one of my favourite overnight peels on the market that gives skin like you've had an in-clinic treatment. It's full of glycolic acid (at 15% consistency), hyaluronic acid to hydrate, and a collection of extracts that span the whole fruit basket from mango, banana and Kakadu plum. The formula delivers on its promise to give refine, retexturise and brighten your skin during your beauty sleep.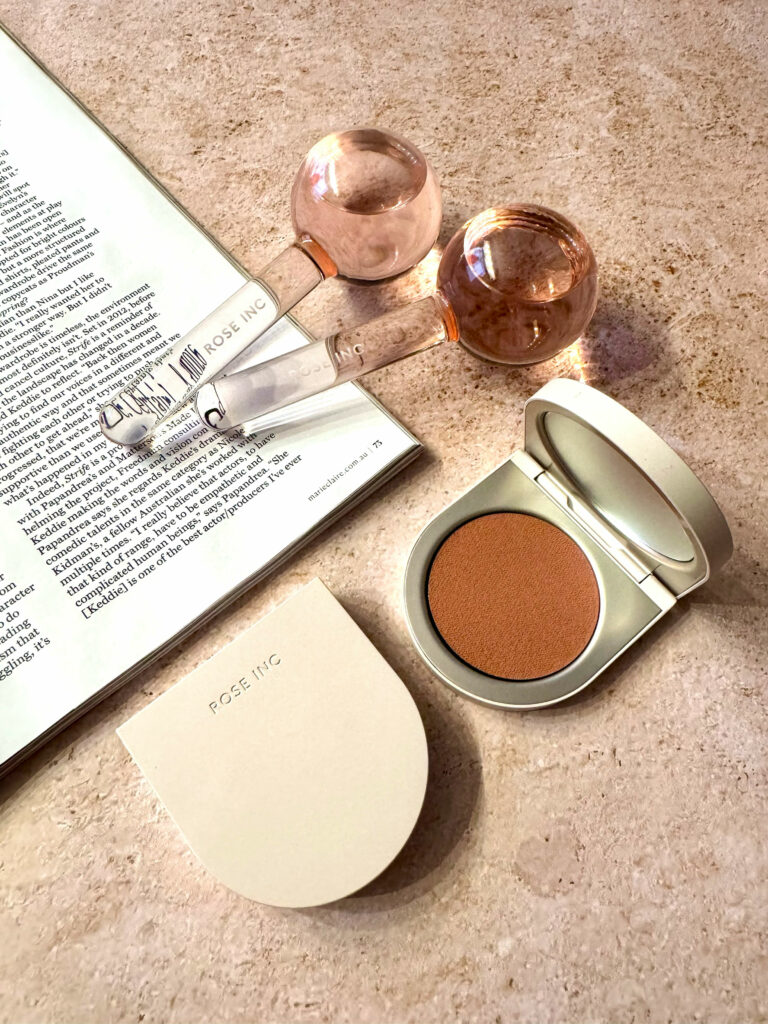 Model turned founder Rosie Huntington Whitely really hit it out of the park with her Rose Inc brand. She gathered together all her industry experience to produce a brand full of essentials that can be applied quickly and easily, with maximum effect. The makeup range delivers skincare benefits and the skincare is all about clean beauty that packs a punch and easily fits into your lifestyle. And in another sustainability win, most of her products are refillable. This includes the Cream Blush Refillable Lip and Cheek Colour, which as its name suggests is a two for one product as well (with incredible pigment and payoff). Hard working and eco friendly! Rose Inc's beauty tools have also been created to make application easy and create a routine that looks after your skin. I recently added the Cooling Spheres Facial Massage Duo into my routine and holy depuffing skin, Batman! Pop them in the fridge 30 minutes before using and get ready to visibly reduce puffiness and redness while supporting lymphatic drainage.