After a year selling out to delighted audiences in Adelaide and Melbourne, Act React is proud to bring its "flagbus" show home for its final season of 2023—during which time it will notch up 200 performances!
Speed: The Movie, The Play is a loving homage to the 1994 action thriller Speed, in which a commuter bus is rigged with a bomb that will explode if it drops below 50 miles per hour—and only Keanu Reeves can save the day.
"The show takes place on a vintage bus, with the audience filling the roles of the hostages," says producer Natalie Bochenski.
"It's a hilarious roller coaster that sees you join forces with the hero Keanu to stop the evil Dennis carrying out his dastardly plans."
The show is set on an actual vintage bus, in this case a 1989 Volvo B10M. Act React partners with the Queensland Omnibus and Coach Society, which preserves and maintains historic vehicles.
The Wynnum Fringe season is particularly good timing, as it coincides with a huge moment for QOCS. On Saturday 25 November, the organisation will unveil its brand new Brisbane Transport Museum at Nathan for the first time.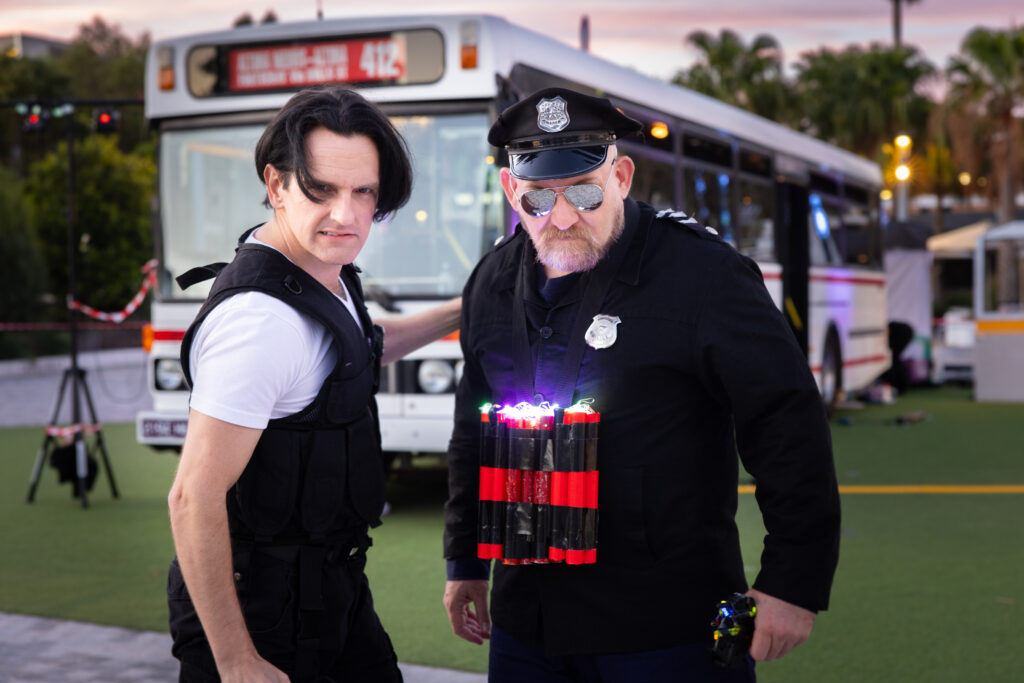 The museum features more than 20 historic buses dating from the 1940s to 1990s, as well as displays outlining the role of buses in the city's growth.
"When we first started working with QOCS, this museum was their big dream, and we're so excited that it's come to fruition due to the hard work of its members," Natalie says.
"We donate a portion of box office sales to QOCS to help preserve these fantastic vehicles, which over the years has topped $15,000. We're thrilled to play a small part in highlighting the great work QOCS does."
Having previously performed the show in Perth, Sydney and Townsville, Act React added two more capitals to that list in 2023. "We were thrilled to be a part of the Adelaide Fringe in March and Melbourne Fringe in October," Natalie says. "We're so proud that our small Brisbane-based company has now delighted audiences across the country, and we hope our home crowd will come out to ride the bus with us once more!"
In fact, Act React is marking a significant milestone during the Wynnum Fringe season. "Our shows on the night of Saturday 18 November will see us pass 200 performances of Speed: The Movie, The Play!" Natalie says.
"We really hope our Brisbane audience will come out and help us celebrate our double ton."
Speed: The Movie, The Play will be performed on Friday and Saturday nights at the Wynnum Fringe Garden in George Clayton Park. Tickets are $45/$40 and can be booked online here.
Note: the author of this piece has previously performed with Act React.