Celebrating a decade of deliciousness in 2021, Scenic Rim Eat Local Week will be held from June 26 through to July 4, with prelude events staged in Brisbane and the region. It is the biggest program in the event's 10 year history with over 125 events across 48 locations.
Scenic Rim Regional Council Mayor Greg Christensen said he was thrilled events were selling out already, and urged people to buy tickets to their favourite events now.
"After being postponed last year, Scenic Rim Eat Local Week is back and proving to be so much more than just tasting our amazing local food and wine. The event showcases the region as a leading destination, driving tourism, fostering community pride and generating ongoing economic benefits. In 2019 Eat Local Week generated nearly $2million for the regional economy, and we look forward to doing this again this year. Tickets sales are showing that people really are after a range of experiences, from the marque dining adventures, to cooking classes, kids activities and overnight stays and tours," he said.
To fully capture the spirit of Scenic Rim Eat Local Week – we have a look at some of the top photo ops for you to get your selfie on.
FARM GATES – the essence of Eat Local Week; try Running Creek Beef, Tommerup's Dairy Farm and the NEW Scenic Rim Farm Box Shop, as well as our famous Winter Harvest Festival!
CAMEL SELFIE – but beware because the Summer Land Camels also like to steal smooches!
CARROT SELFIE – given the Scenic Rim produces 600 million carrots, you'll find one that suits! There's the famous Kalfresh Carrot Day, and you'll also find them on menus, in icecream, beer, cakes and more.
ALPACA & PETALS SELFIE – take the cutest selfie ever, while on a picnic in the petals at Pretty Produce with your very own personal alpaca. Not kidding!
LAMBS, PIGS, GOATS & COWS – the Scenic Rim is home to the most adorable baby animals. Head to Towri Sheep Cheeses, Tommerup's Dairy Farm, and Running Creek Beef.
THE PERFECT SUNSET – from Milford Country Cottages, The Overflow Estate 1895 or Mt Barney Lodge!
FOOD ENVY -Delight in some insta worthy food creatieions by superchef Josh Lopez at the Decade of Delicious – 10th Anniversary Dinner, to the Roaming Degustation at Homage, The Long Lunch at Kooroomba, the Country Heart & Soul Dinner at Running Creek Beef and all in between, the options are endless.
SCENIC SIPS – sip and smile at Witches Falls Winery, Mason Wines, Sarabah Estate, O'Reilly's Canungra Valley Vineyards, The Overflow Estate 1895, Tamborine Mountain Distillery and the Scenic Rim Brewery.
SCENIC ROADS – celebrate the spaces between tastes! Enjoy the winding roads, spectacular mountaintops, paddocks of green, running creeks and beautiful roadside stops.
TRACTORS – the Kalbar & District Community Bank Tractor Pulling Competition @ the Winter Harvest Festival on Saturday July 3 is simply brilliant!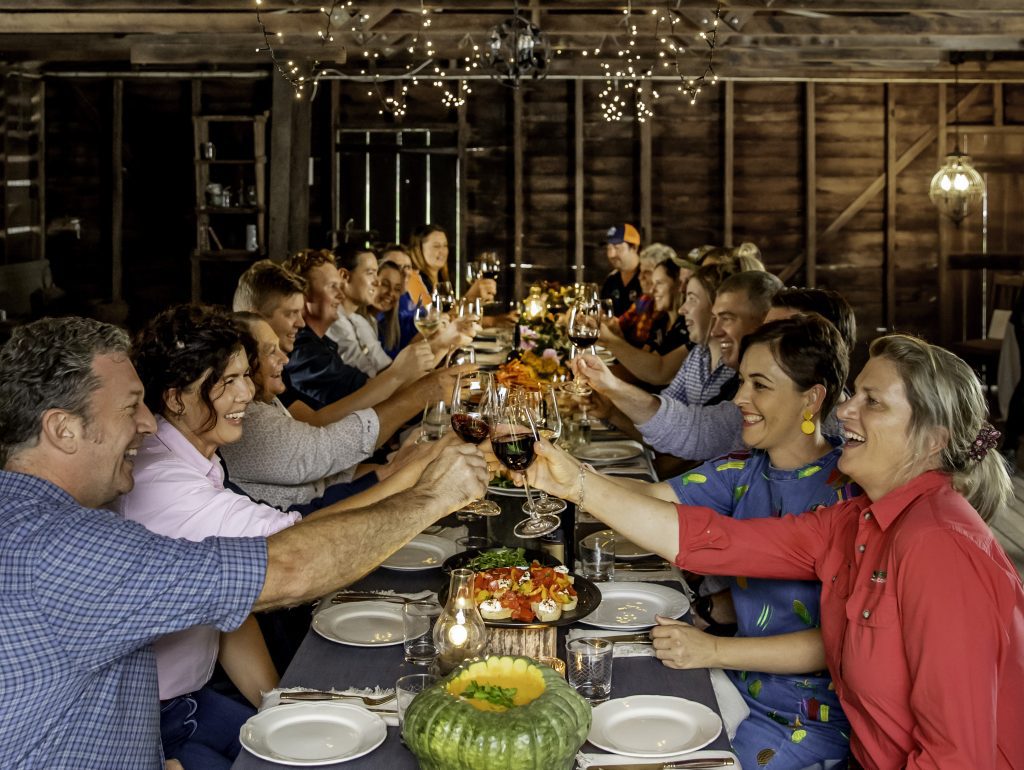 SCENIC RIM EAT LOCAL WEEK
June 26 through to July 4, 2021
Web: eatlocalweek.com.au Phone: 07 5540 5111