Breathing fresh and healthy life into riverside suburb Teneriffe, Botanica is delivering on the promise of real food made simple with the opening of their second Brisbane store. Owners Ali and Brett Hutley are food lovers dedicated to solving the age-old takeaway myth – that accessible food equals greasy noodles and burgers, transforming this dated notion into a revitalising and fresh way to nourish time-poor patrons. Wholesomeness meets fuss-free at Botanica with a selection of plant-based foods featuring enticing combinations of vegetables, nuts, cheeses and grains prepared with interesting culinary methods to showcase unique flavours. Turmeric roasted cauliflower, garam masala yoghurt, cashew garlic cream and pickled capsicum are just a few examples of attractive inventions made available for takeaway at the new Teneriffe and Red Hill flagship stores.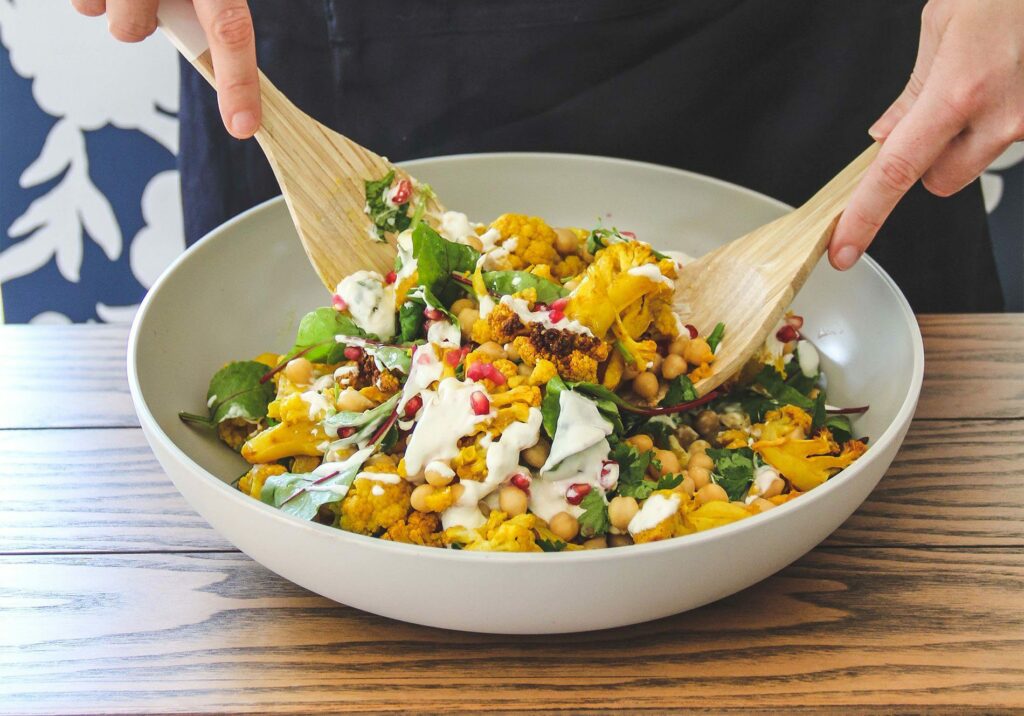 Botanica's menu is full of luscious salads designed to excite even the most sceptical of carnivores. The cumin roasted carrot with red quinoa, parsley, raisins and hummus inspire middle-eastern flavours so seamlessly it's hard to believe only five ingredients could taste so charmingly authentic. Creaminess is a reoccurring feature in the salads, with nut and tahini based dressings often making an appearance. Tip: order the potato, dill, and pea and parsley salad to experience nut dressings in full vibrant green goodness. Colours reign supreme in Botanica's dishes with warm and inviting hues of beetroot, orange segments, feta and mint tell the story of autumn and pay homage to seasonal ingredients and celebrate what the earth has to offer. With dishes like the finely shredded red cabbage with parmesan, walnuts and Dijon dressing, it's easy to see why Brisbane foodies are travelling far and wide for Botanica's tasty brand of seasonal vegetarian takeaway.
If savoury is not your thing, don't be alarmed… Botanica also has an entire range of sweet treats baked fresh every morning using premium ingredients like almond meal, real vanilla beans and free range eggs. Their mission isn't to eliminate anything, but to include real ingredients and provide something healthy for all eating habits and dietary preferences. The confectionary menu ranges from gooey cookies to vegan brownies and cupcakes, along with sweet muffins and Bundt cakes.

What sets Botanica apart from other takeaway stores is its dedication to making beautiful food an everyday experience, even if it's being transported home to the fridge or the desk at work. Botanica's menu has been created to satisfy and provide the sense of homeliness that comes in a meal prepared with love. Even the serving platters behind the counter are contrasting in size and colour, rustic in their own aesthetic. From bowls of fresh fruit and vegetables to the sophisticated décor, Botanica is a welcoming store laced with beauty and natural light. Serving up their brand of delicious, convenient and nourishing food, Botanica has transformed traditional takeaway into both an education and a solution.
Latest posts by Jaala Hallett
(see all)