I can't even tell you how many times I've been lying in bed yearning for an extra 20 mins sleep but knowing I need to get up and put some makeup on. You see, I am one of those girls who looks slightly, well, dead if I don't put on a bit of slap. But what if there was a way to cut time out of my makeup routine and stay snuggled in bed for those precious extra minutes? Well, there just might be.
I recently sat down with Monique Deveney from Amy Jean Brow Agency to chat about the new trend of cosmetic tattooing lips and eyelids. Think rosy lips and pre-lined eyes for years.
Why do people tend to get cosmetic tattooing on lips or eyelids?
"To bring out their features, enhance their appearance and create a ready-to-go look."
How long do the results last?
"Results will vary depending on the depth of colour, however generally the treatments last 3-5 years before needing any colour refresh."
So, does it hurt? How much?
"Considering the lip and eye area are generally quite sensitive it is a surprisingly pleasant procedure when applying the pigment! A topical anesthetic is applied to the treatment area ensuring that you are comfortable throughout."
Is there any downtime? How long does the appointment take?
"If you are comfortable with wearing lipstick, this is no different. Downtime will depend on how you feel about lipstick. The colour is quite rich for the first 2 days post-treatment until the lips start to shed and fade the colour. The lips will look and feel slightly dry for the first week but not in an uncomfortable manner. I personally love the look for the first few days: your lips will look defined, a little bit pouted and full of colour. The eye area may be a little swollen for the first 24 hours and may require a day at home. The appointment will generally take 1.5-2 hours at the very most and you will need to allow the same amount of time for your follow up treatment 4-8 weeks later."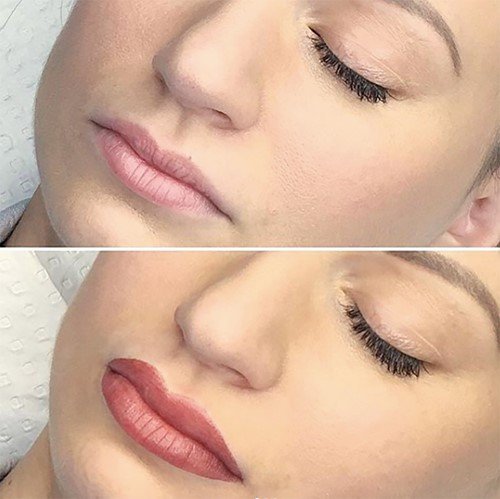 What can clients expect after the procedure?
"Clients wake up with a ready-to-go look thanks to the smudge-proof makeup. At Amy Jean Brow Agency we pride ourselves in tailoring your desires and necessities to your lifestyle. The beauty of this type of treatment is that it can be as natural as you like and can be undetectable. The colour wash is there to simply help frame your features. Your lashes will have enhanced depth from the liner making them appear longer and your lips will be more defined."
Has the number of people getting these treatments increased in the past couple of years?
"YES definitely, the stigma of the old block tattooing is out! As soon as people see the before and after images of our treatments they will see that the slight enhancement of features will make life a lot easier in the morning providing them with more time as they walk out the door feeling beautiful."
Anything else clients might want to know about the procedure?
"Amy Jean Brow Agency artists specialise in certain treatments who've had intensive national and international training using only the best equipment. We offer thorough consults before tailoring treatments to meet their needs for the desired outcome – you walk out being the best version of yourself."
Amy Jean Brow Agency is located at Shop 5, 27 James Street, Fortitude Valley. For more information and prices, check out their website.