Christmas is coming up fast (how in the heck did we get here?!) and that means it's time to put your thinking caps on for gifts for the loved ones. I've rounded up my favourite beauty gift ideas, both sets and solo presents, this year for the makeup and skincare lover in your life. Or, you know, yourself.
Because how better to deck the halls than with bundles of beauty. Give the gift of self-care and shiny things this Christmas. Check out my exclusive video review of each item up close and personal, or read on for the highlights.
Luxe gifts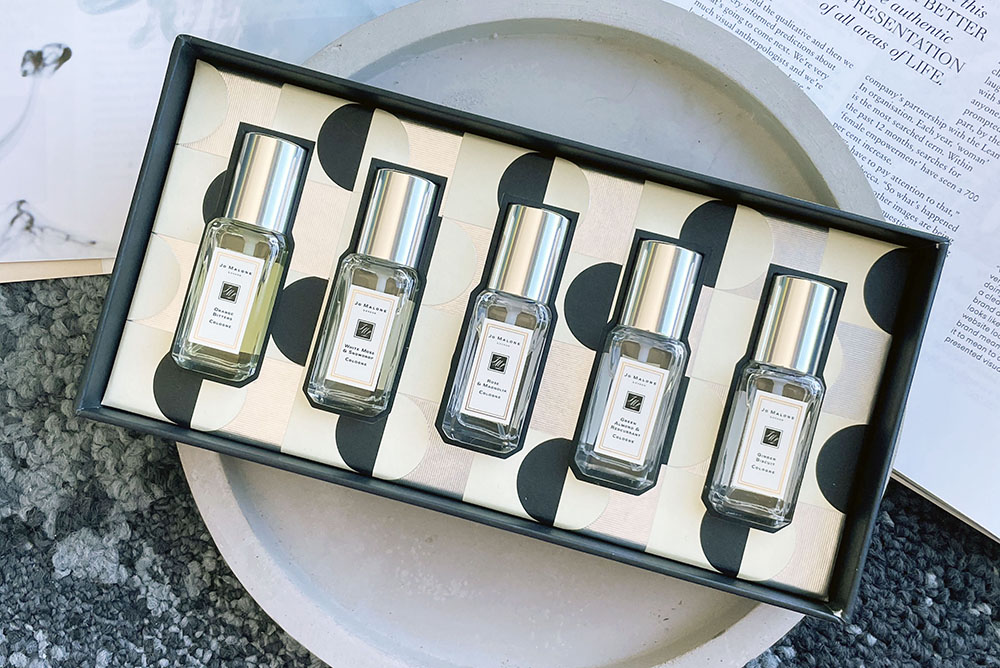 Jo Malone Christmas Cologne Collection, $150
What is it? A curated selection of five fragrances in super cute miniature bottles. Scents include Orange Bitters, Rose & Magnolia, White Moss & Snowdrop, Green Almond & Redcurrant and Ginger Biscuit.
Why we love it? I road tested these scents in the hot, melty Brisbane climate and STILL SMELLED DELIGHTFUL at the end of the day. This scent does not quit. Also it's the first time I have loved every single scent in a holiday collection. Not to mention the fact that the bottles look darling on my vanity.
Wood Sage and Sea Salt Collection, $178

What is it? A delightful gift set for those who love the Wood Sage and Sea Salt Fragrance, including a cologne, body and hand wash, and a body creme.
Why we love it? You know when you find a scent that is just super YOU and then they make a gift set out of it? That's me with Wood Sage and Sea Salt. It's just so FRESH. Also, thanks to this little set, I've found Jo Malone fragrances last even longer when you layer the scent; wash with the body wash, use some of the moisturiser, then spray on the cologne. When the scent settles down you end up with fragrance that will last and last, and isn't in any way overpowering. Subtle elegance!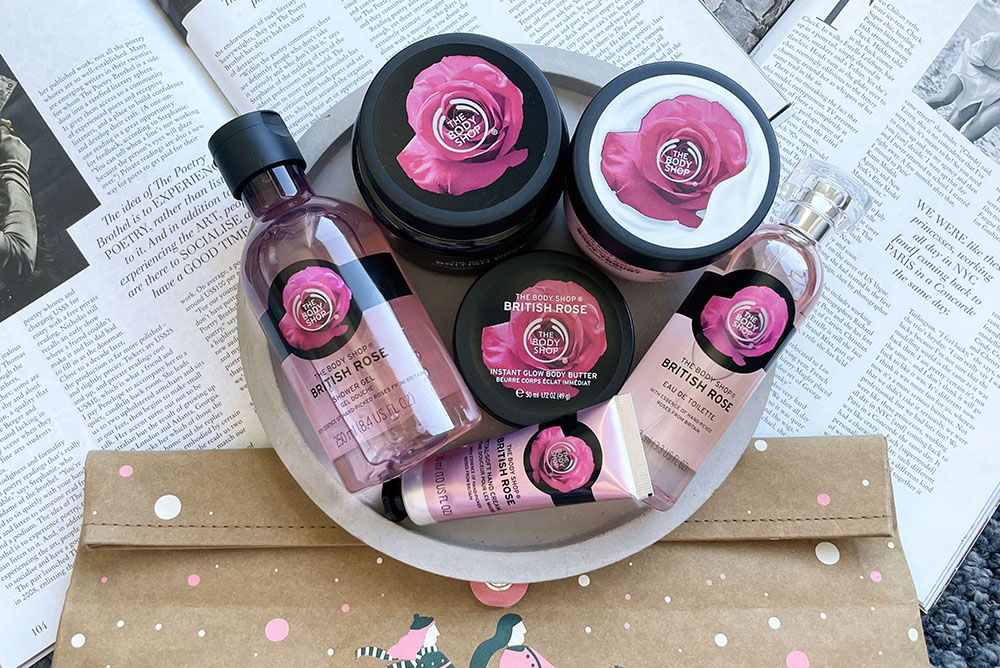 The Body Shop Glowing British Rose Ultimate Gift Bag, $90
What it is: The ultimate bag of treats for those who want a trip across the English countryside. Including a refreshing shower gel, gently buffing scrub, light and fast-absorbing Body Yogurt, richly-textured Body Butter, a fragrantly floral eau de toilette and (a 2020 must) a pocket-sized hand cream.
Why we love it: Gosh The Body Shop seem to outdo themselves with Christmas offerings every year. They have something at almost every price point and this year is no exception. The Glowing British Rose set has so many things in it! My fave of this collection was the Body Yoghurt… perfect texture for hot climates. Plus, have you smelled this collection? It's dreamy.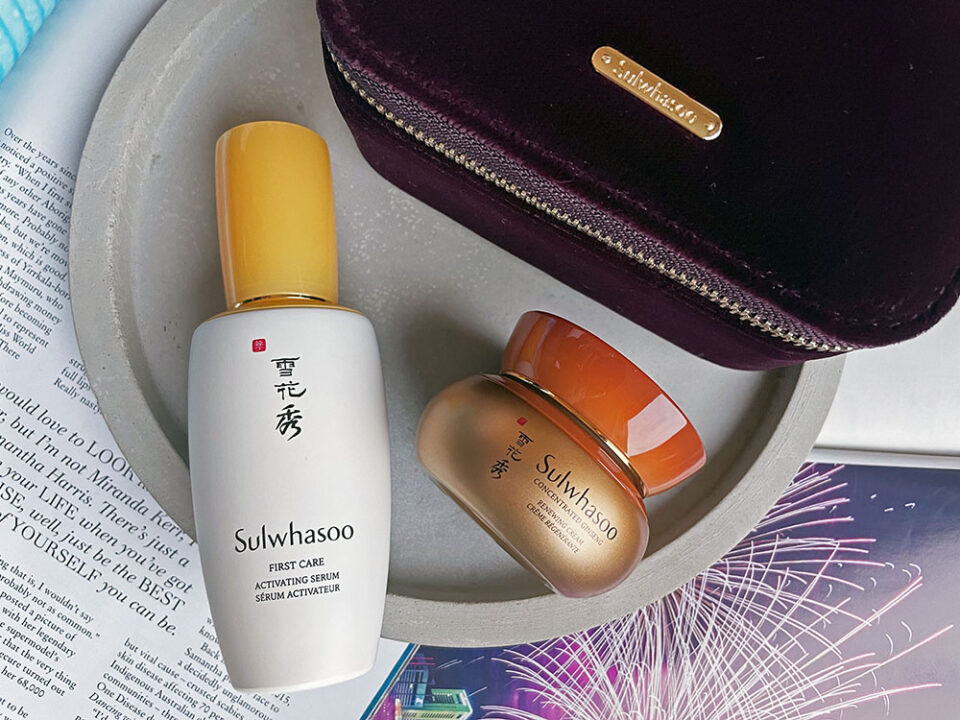 Sulwhasoo Cult Classics Holiday Set, $240
What it is: Sulwhasoo draws on the holistic powers of Korean herbal medicine, working to bridge the gap between body and mind through skincare. This luxury set. The set includes First Care Activating Serum and Concentrated Ginseng Renewing Cream, both full size.
Why we love it: You know how you open some things and they just feel luxurious from head to toe? Sulwhasoo have nailed it with this Cult Classics set. The design and construction of the velvet gift box, the packaging of the products, the actual moisturiser and serum; every single ounce of this gift set feels decadent. Both the First Care Activating Serum sink into your skin and are absorbed quickly for a nourishing glow. And don't even get me started on how good the Sulwhasoo Concentrated Ginseng Renewing Cream feels and smells. This set is the stuff beauty dreams are made of.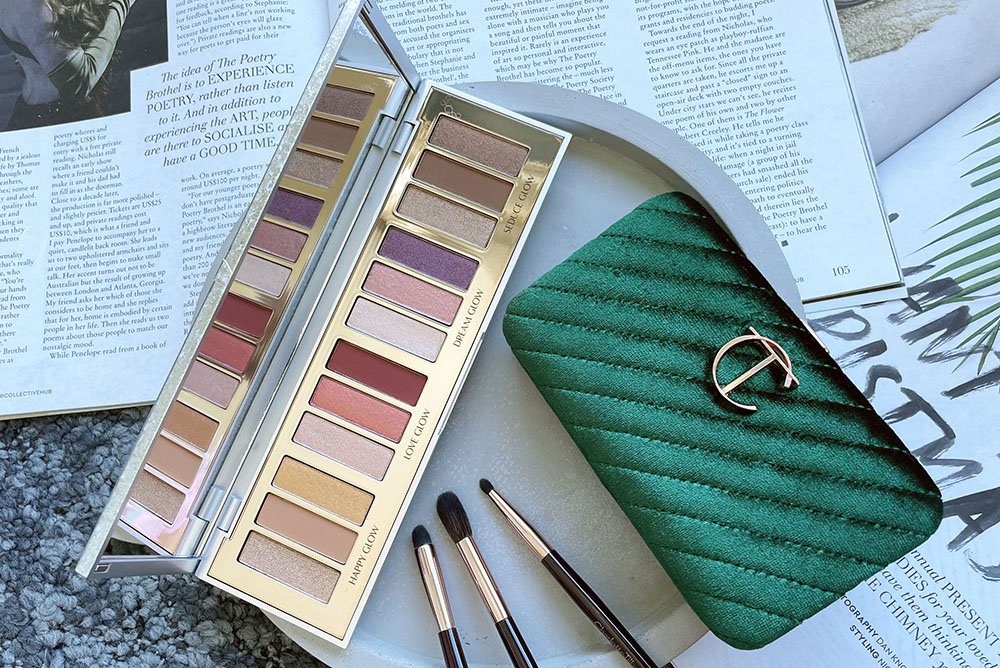 Charlotte Tilbury Hollywood Mini Makeup Brush Set, $95 Charlotte Tilbury Bejewelled Eyes to Hypnotise, $120
What it is: We've gone with two gifts from Charlotte Tilbury this year! The first is a Mini Makeup Brush Set containing four of Charlotte's signature brushes in travel size and a clasp-close clutch. The second gift is a special edition palette of eyeshadows, with 12 shades, four looks: Bejewelled Eyes to Hypnotise.
Why we love it: Charlotte Tilbury always comes to the party when it comes to limited edition holiday fare. The Art Deco design of this year's collection is their most Insta-worthy yet IMHO. Any makeup lover would be thrilled with the emerald green velvet encased brush set. Not only are the brushes extremely soft and good quality, but the little case could be used as a mini clutch on a night out. Then there's Bejewelled Eyes to Hypnotise, a super pigmented set of 12 shadows arranged in different looks. The colour payoff on these shades is amazing. It's the only palette you need if you want to shine bright like a diamond this year.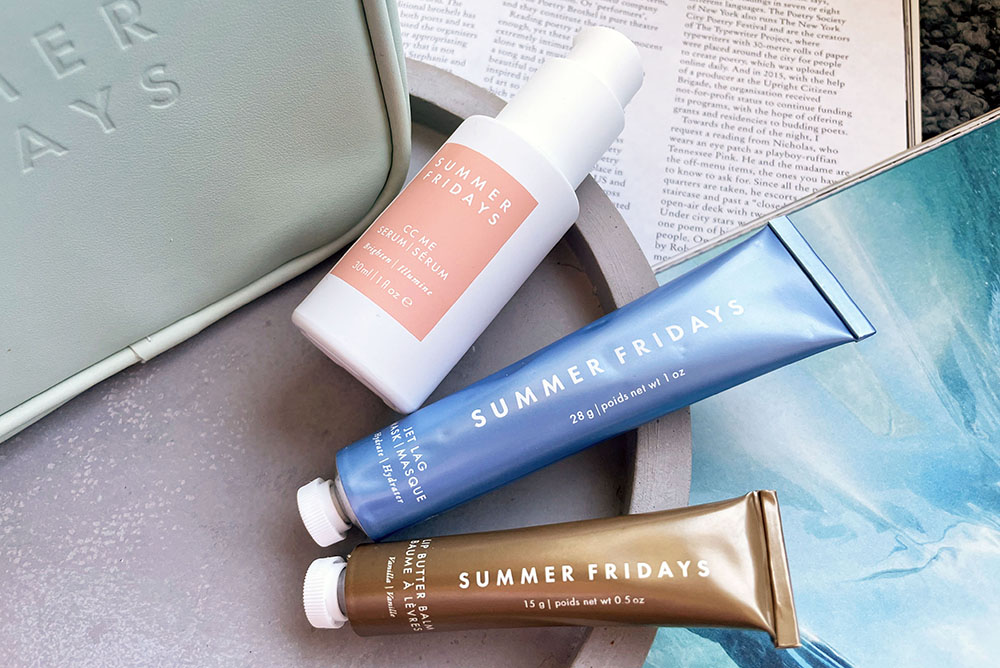 Summer Fridays Hydration Set, $126
What it is: A collection featuring a leather-look pouch, filled with Summer Fridays CC Me Serum, Jet Lag Mask, and Lip Butter Balm.
Why we love it: If you (like me) have been wanting to try the Insta-famous Summer Fridays, this set is a great chance to do so. It has a great cross section of products: the Jet Lag Mask that hydrates skin like nobody's business; the CC Me Serum which works on brightening skin; and the Lip Butter Balm to keep your lips super hydrated. The products are all really complementary and ideal for someone starting out with the brand. (Sidenote: I can't wait til I can take the Jet Lag Mask on a big overseas adventure!)
Mid-Tier Gifts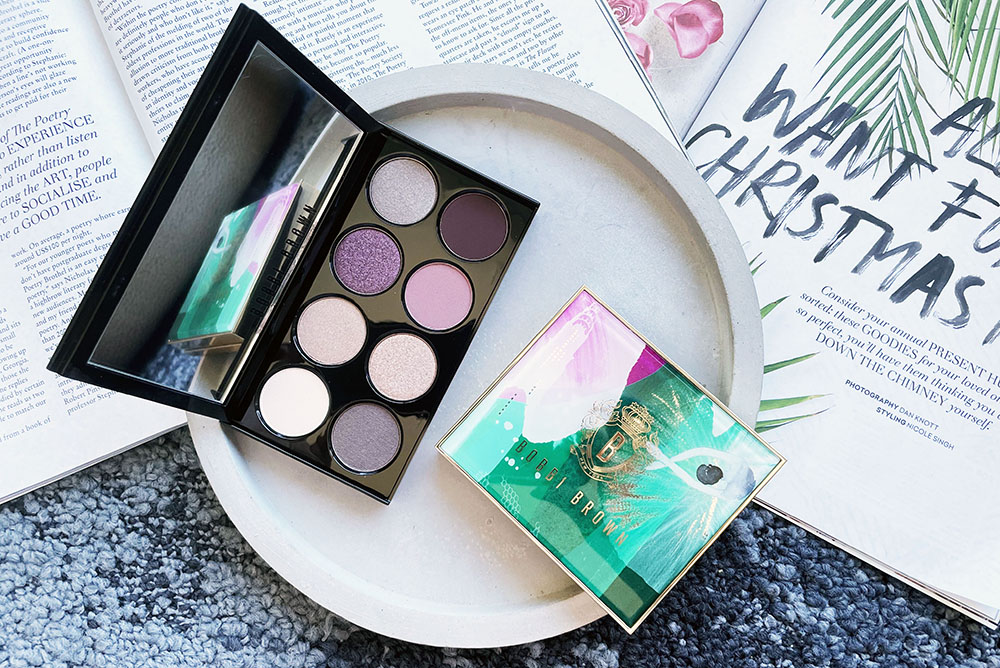 Bobbi Brown Luxe Encore Eye Shadow Palette and Modern Symphony Eye Shadow Palette, both $85
What it is: The Luxe Encore Palette features four warm, multidimensional gelee shadows in gold and bronze tones. The Modern Symphony palette features eight rich, moody mauve tones for trendy smokey eyes. The packaging designs are a love letter to both New York City and ballet.
Why we love it: Holy pigment and colour payoff, Batman. Not to mention perfectly on-trend colours for the season, with lush burgundies and glittering golds. Bobbi Brown have also really hit it out of the park with this year's packaging. It's nice to see NYC in a year when we can't travel.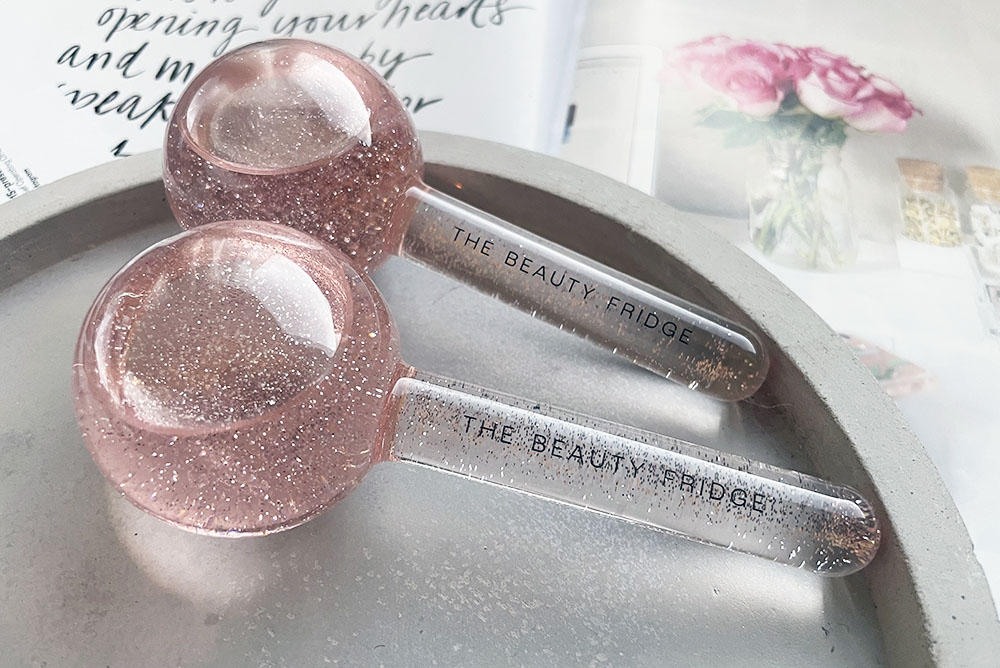 The Beauty Fridge: The Beauty Globes, $59.95
What it is: Glass orbs designed to be stored in your Beauty Fridge, and used to help absorption of products, and give refreshing facial massages to help with decreasing puffiness and increasing lymphatic drainage.
Why we love it: These glittery little maracas are the skin saviour you never knew you needed. Pop them in the fridge and BAM, you have a luxurious way to depuff eyes instantly, as well as reduce fine lines over time. But even without all that, this feels really, really, refreshing. I feel like these are going to be my go-to for whatever ails me. Headache? Beauty Globes. Puffy eyes? Beauty Globes. Too hot? Beauty Globes. Bad day? You better believe Beauty Globes.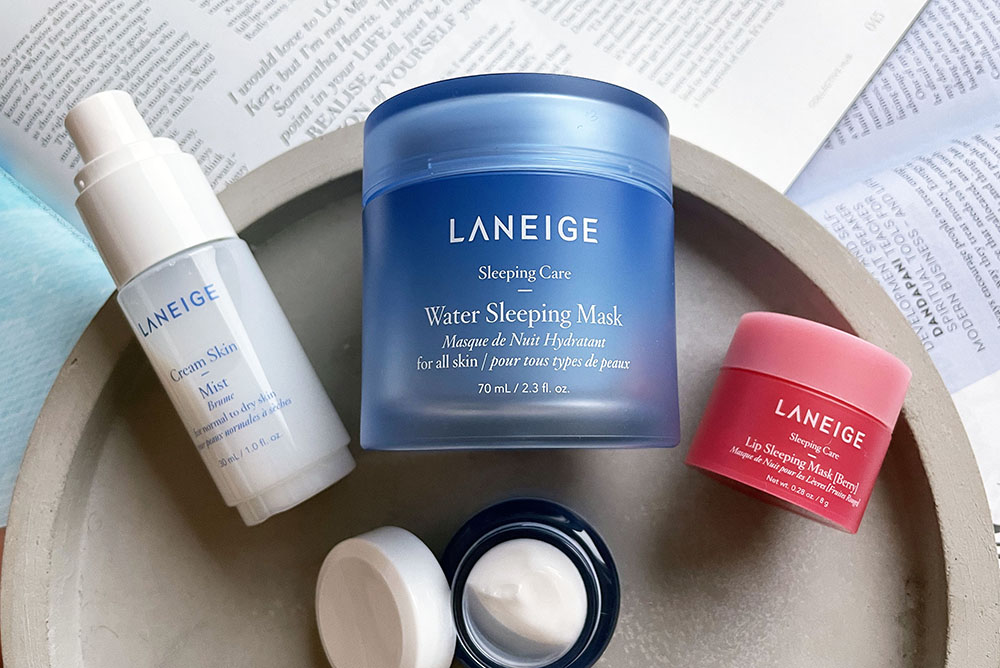 Laneige Water Wonderland Gift Set, $61
What it is: A gift set featuring a full size Laneige Water Sleeping Mask, and Lip Sleeping Mask, as well as sample size Cream Skin Mist and the Water Bank Moisture Cream.
Why we love it: Laneige is one of those brands that I don't quite know what I did without and their gift offerings this year are on-point and really good value for money. This particular set gives you a full size Water Sleeping Mask and Lip Sleeping Mask, and some excellent travel size goodies, including a purse-worthy facial mist. I can't rave about these products enough in terms of how refreshing they are for a hot, humid climate.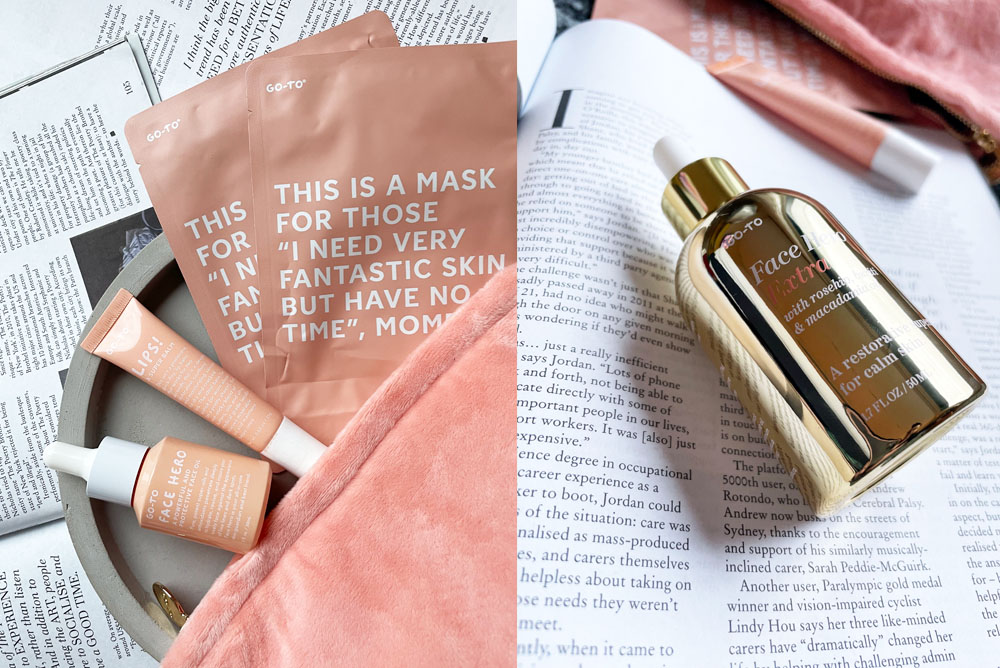 Go-To Skincare, literally the entire range, prices vary
What it is: A fuss-free range of skincare items and gift sets for men, women, and kids.
Why we love it: Apart from the fact that it all looks cute AF, Go-To is super fuss free and has items for people who like simple skincare that works. This year they have great extras (look at the cute fuzzy bag!) and limited edition items/packaging that make the brand ideal for gifting. This has always been a super cohesive brand that lends itself to gifting and sets.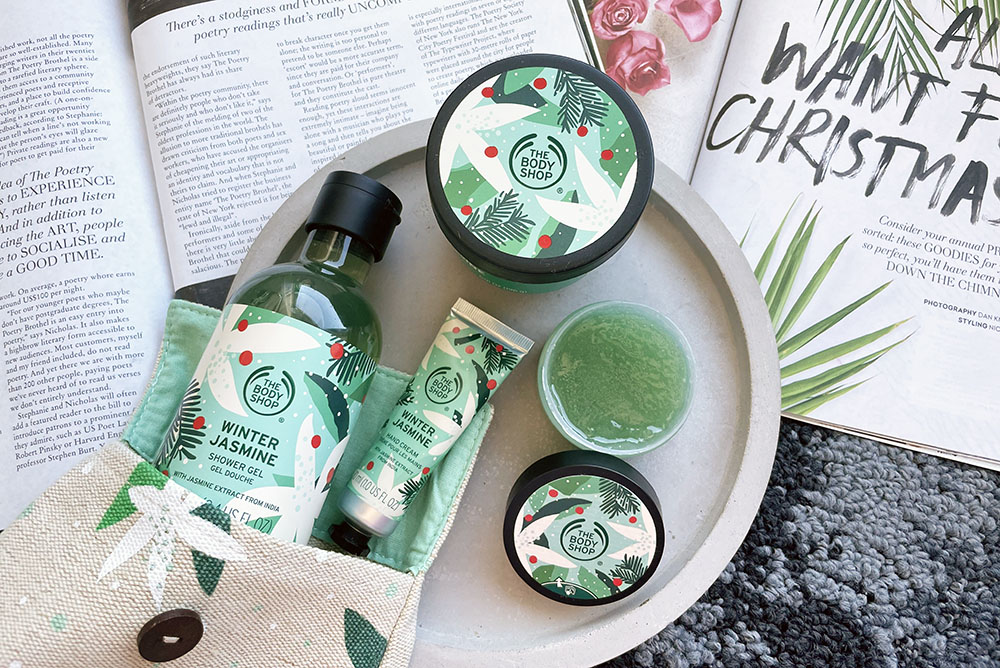 Body Shop Winter Jasmine Little Gift Box, $40
What it is: A cute gift bag featuring Winter Jasmine scented Shower Gel, Body Yoghurt, Body Scrub and Hand Cream.
Why we love it: Two huge reasons: 1) The value for money of this gift set is great. 2) The scent is divine! Each year The Body Shop releases limited edition fragrances for Christmas and this one is a winner. It's crisp, it's floral, it's… somehow smells cold? I can't put my finger on how and it's probably a placebo based on the scent name, but I feel like it's so fresh it's chilly.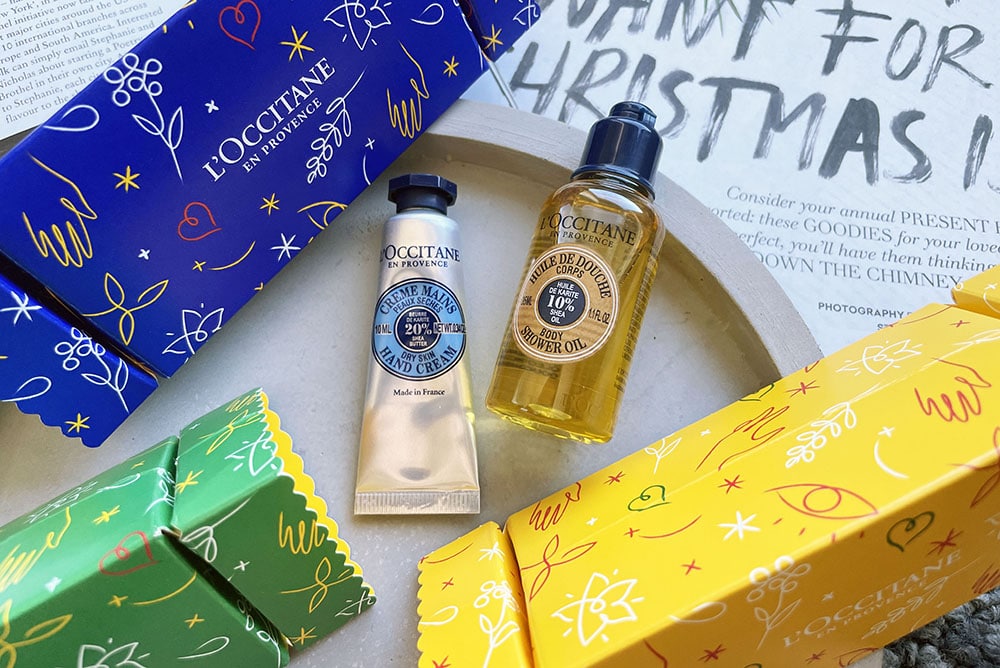 L'Occitane Christmas Bon Bon Set, $46
What it is: A limited-edition set of four Christmas Bonbons. Each bonbon contains a shower gel and hand cream from one of L'Occitane's signature ranges including Cherry Blossom, Lavender, Almond and Shea Butter.
Why we love it: Because four gifts in one! This comes with four separate bon bons so you can share them, or use them for extra goodies under the tree. Each bon bon has two travel versions of L'Occitane favourites (and you can easily open and close them if you want to tailor the contents for your gift recipient). It's also excellent value for money.
Stocking Stuffers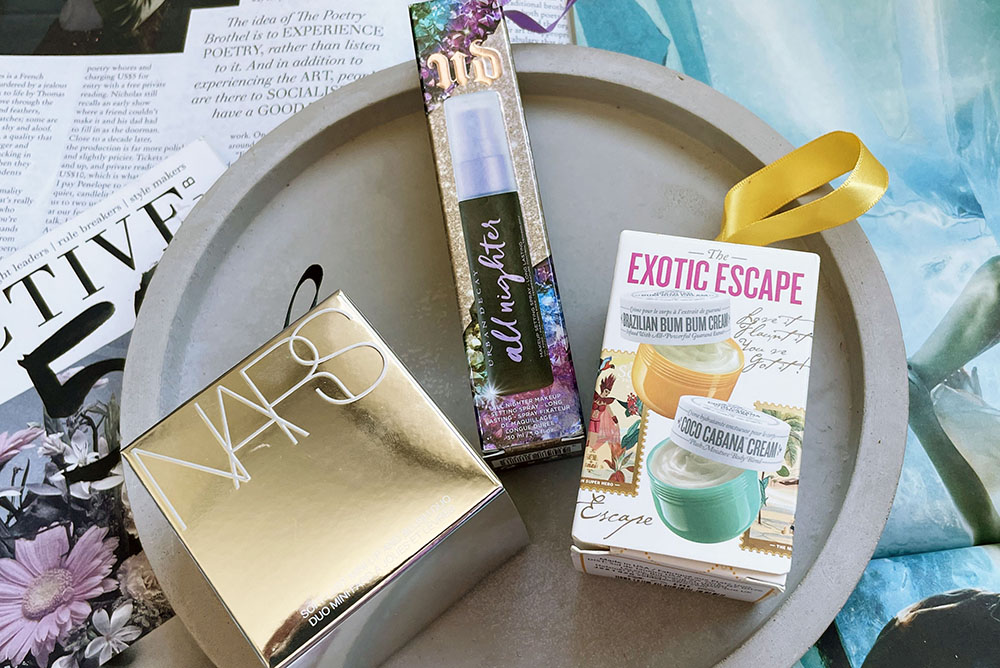 Nars Mini Lip and Blush Duo Bauble, $38
What it is: A shiny silver Nars bauble with a mini travel size lipstick and blush duo.
Why we love it: Everything is always cuter in mini. I have the Soft Lush set, which is a dreamy dusky pink tone. They're the perfect size for travel, too.
Urban Decay All Nighter Setting Spray Travel Ornament, $25
What it is: A tree-worthy bauble containing a travel-size version of Urban Decay's best-selling All Nighter makeup setting spray.
Why we love it: Look, just pop everything mini in a bauble and give it to me for Christmas. The All Nighter setting spray holds makeup fast, and this trimmed down bottle is perfect handbag size for touch ups on the go.
Sol De Janeiro Exotic Escape Ornament, $21
What it is: An ornament containing mini (but still sizeable!) versions of the Copa Cobana and Bum Bum creams.
Why we love it: Honestly, I am all for decorating an entire tree in beauty gift baubles, they're SO handy! The size of the samples in this little set is perfect to be able to try out Sol De Janeiro's signature Bum Bum Cream and Copa Cabana creams. And now that I've tried these smaller ones, I am off to buy the full size!