Well beauty lovers, it's finally happened. Makeup Revolution can now be ordered on Australian shores thanks to the excellent people at Glam Raider.
Known for its cult status as one of the UK's most-coveted chemist brands, Makeup Revolution's ranges are full of innovative products and dupes of your fave high-end cosmetics for ridiculously affordable prices (think massive palettes for about $25). But are they all they're cracked up to be? I set out to discover whether the hype behind the popular brand was justified.
THE PRODUCTS
For the purposes of testing, I got my hands on some of the best-selling products in the range. I'm talking frequently out of stock popular (but don't fret, Glam Raider restock REALLY fast). When the package arrived I was doing some serious heart eyes, because these products are gorgeous. Just look.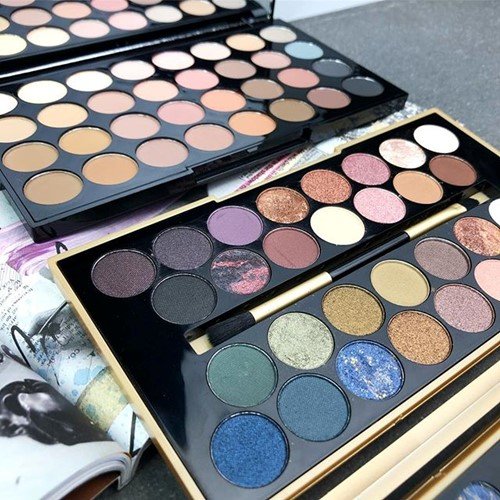 So the ones up for review today are: the Fortune Favors the Brave Eyeshadow Palette, the Soph Highlighter Palette, Bake and Finish Powder, the Flawless Matte Ultra 32 Eyeshadow Palette, Soph Nude Lipsticks and the Conceal and Define Concealer.
THE TESTING PHASE
For the price of these palettes (only $15 for the Flawless Matte Ultra 32 Eyeshadow Palette!), I was well impressed with the pigment. It's not as strong as some of the ridiculously expensive eyeshadows I've tried, but for $15 you're not expecting miracles. The shimmers are beautifully creamy and full of colour, whereas the mattes are a bit lighter but no less pretty. The best thing about this powder formula is that it is really easy to build the colour, so if you're not happy on first swipe, you can swipe on some more. Fallout is minimal, which made my little heart jump for joy because you're not using as much product and you're not having all the pretty colour drop under your eyes. And having this many colours in your makeup kit for that price? YES PLEASE. Plus I couldn't stop staring at the sparkly colours of the Fortune Favors the Brave palette, which is a collaboration with a British beauty blogger called … er … British Beauty Blogger. It has mattes, it has shimmers, it has sheens, it has so much pretty I cannot deal.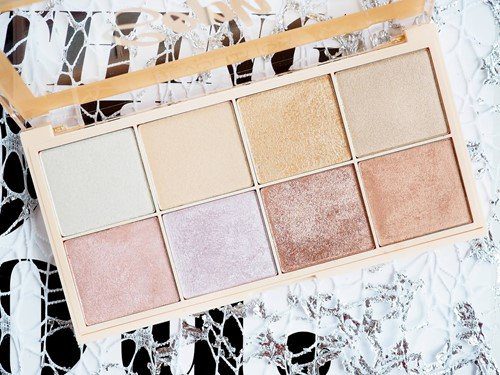 Next, I moved on to the Soph Highlighter Palette: the Soph x Makeup Revolution range is a collaboration between the brand and YouTuber Sophdoesnails. I am usually a bit wary of brand collabs but this one really impressed me (and not just because the whole palette only costs $15 which for an influencer collaboration is nuts). It's highly pigmented and the shade range is a massive plus, going from your standard white shimmer, through to more unicorn-y inspired ethereal shades, right through to your sunkissed summer bronze highlighters. Normally I shy away from palettes that cater to all skin tones because I just don't use so many of the colours, but the pigment is so nice on these that I could easily use them as eyeshadows.
The Soph Lipsticks had a super creamy consistency and glided on my lips oh so smoothly. The nude colours are fab for everyday looks and have a slight shine to them. The one criticism I have is that they're not particularly long-wear, but would be perfect for popping in the handbag for through-the-day top-ups.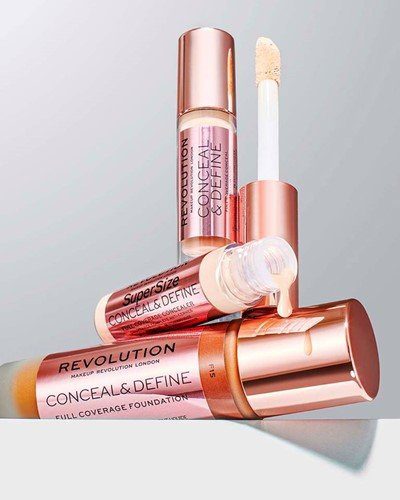 Next, I tried the concealers and hoo boy, was I pleased. The Conceal and Define range is known for being similar to the Tarte Shape Tape concealer and I can see why the comparisons exist. It's a really nice, lightweight creamy formula that's highly blendable (especially along my crepey under eye area). Good coverage (although I still like to colour correct underneath) and quite buildable too.
THE VERDICT
Where has Makeup Revolution been all my life?! I am thrilled this range is finally available in the land Down Under thanks to Glam Raider, and you should be too. It is the best quality vs price makeup prospect I've ever come across. It won't be as game-changing as your $100+ palettes from high-end brands but you are literally paying $15 for palettes that are really good quality and an excellent way to either launch yourself into makeup or expand your colour range for a few bucks.
Available from www.glamraider.com.