After years of battling my frizz, I was whinging about it on social media again when a comment popped up that intrigued me: "Have you tried the Curly Girl Method?"
Up until this point, the only thing I knew about the Curly Girl Method of taking care of your hair was that there were a lot of rules to it, and that the before and after photos of those who'd tried it successfully were UNREAL.
A quick search on the internet of the hows and whats and whys of the method, I began to wonder: is the frizzy patch on the back of my hair a result of harsh ingredients in my current routine? Could my real hair be a curly and wavy dream? Would the Curly Girl Method bring out my inner mermaid hair?
What is the Curly Girl Method?
The Curly Girl Method is a way of caring for/treating curly hair by using specific products and styling techniques and avoiding others. Hairstylist and curl expert Lorraine Massey is credited with popularising the method with her Curly Girl: The Handbook, and the CGM devotees are almost fanatical about the process and its rules. Her book in turn drew from methods that have been used to enhance the curls of people of colour for ages. Over the years, the method has been expanded to include different types of curls and waves and the techniques refined to also include waves and hair of different porosity.
The basic rules are:
Ditch sulfate shampoos (which can be harmful and drying). Instead look for shampoos with limited or no suphates, and aim to reduce the number of times you shampoo in a week.
Don't wash hair too often, instead co-washing (which is just conditioning your hair)
Stay away from heat and styling appliances and try to let hair dry naturally. If you must dry, use a diffuser that spreads moderate heat out over the curls.
Nix brushes and combs. Detangling with fingers is preferable because it prevents hair snapping or breaking.
Get rid of products with harmful chemicals such as sulphates, silicones (not water soluble), wax, alcohols or perfumes.
Don't use towels (they roughen the hair and cause frizz).
My Curly Girl products
Firstly I had to figure out what type of hair I had. For the experiment, I had decided to use Pump Haircare's Curly Girl range and headed to their website to complete the Help Me Choose tab. The questionnaire prompts you to fill in a questionnaire and upload a photo of your hair for a personal consultation with Pump founder Natasha Jay.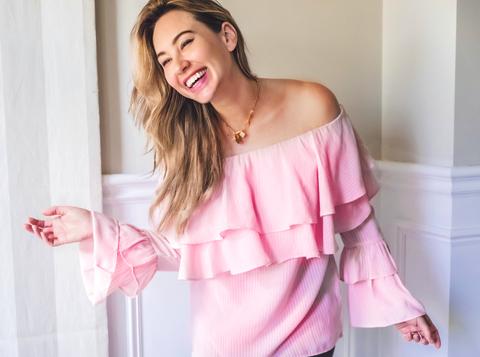 When I got my results back, I was asked to check my hair's porosity to make sure the recommendation was right. To do this, I was told to take a washed and rinsed strand of my hair (to get rid of product build up) and pop it in a glass of water and see if it floats on the top, rests in the middle or sinks to the bottom. Mine was classified as low porosity, and I had the following products and routine recommended to me.
Curly Girl Shampoo: Wash hair with shampoo once a week, for a deep cleanse and clarifying from the week's hair products. Very concentrated, start with less and use more as necessary.
Curly Girl Conditioner: Use following the shampoo, and also use as your mid-week co-wash. A co-wash or "conditioning wash", is washing your hair with only conditioner, to keep your curls hydrated. Wet hair completely, and work the conditioner into your hair, emulsifying in the scalp, rinse thoroughly. This will give your hair a gentle midweek cleanse.
Soft Curl Gel: Following your wash, apply to damp hair, rake through curls with your fingers, and scrunch. Can be followed by diffusing or air dry. Can also be used in a smaller amount on day 2 & 3, following Spring Back, for fresh definition.
Spring Back Curl Refresher: Spray into the hair on day 2&3, to refresh curls and re-nourish curls with strengthening ingredients. Can be used on its own, following water, or prior to Soft Curl Gel.
Curl and Grow Mask: This can be used weekly when co-washing the hair. Wet hair down completely then use a towel to remove excess water. Apply mask to roots and massage in then bring through to the ends. For best results leave overnight and rinse out with water or leave for a min of 20mins. Do not wash before or after use.
Miracle Oil: For fine hair apply 1-2 drops of oil to hair from mid-lengths to ends. For med-thick hair apply 3-4 drops closer to the roots through to the ends. Best applied on dry hair.
Ultimately every curly girl is different, and these products can be used however you find best suits your hair! They are made from high-quality ingredients and can be used more or less depending on density, texture, and styling preferences (if you prefer more defined, toned down curls, use Soft Curl Gel more frequently, if you prefer light, voluminous, messy curls, Spring Back to style etc).
Wow. That seemed to me like a LOT. I am told that most people have that reaction; it apparently takes a lot of work to get hair back to how it should be.
The verdict
OK so I am not a patient girl at the best of times and I am not going to lie, I was INTIMIDATED. I mean my haircare routine is normally lather rinse repeat, condition, chuck my hair into a bun and the next morning take it out.
In the first week I found myself checking the rules over and over, because I kept forgetting steps and what I was or wasn't allowed to do.
And my hair turned into an ABSOLUTE oil slick that first week or two. This is apparently extremely normal as your hair gets used to not overproducing oils from overwashing with nasties. But man it drove me a bit nuts. Hair up for a fortnight!
The natural drying/diffusing took time to get used to as well. I had to get used to showering ages before bed to allow my hair to dry more naturally before sleeping. I helped it along with a bit of a diffuse on medium temperature but still.
That's the thing about this method: it takes TIME. So I persevered.
After my hair levelled out, I began to experiment with the other products. My hair began to really look forward to the Curl Refresher each week and it bloody LOVED the Curl and Grow Mask. I got a lot of shine and restored a lot of the softness I thought my hair wasn't capable of. I did cheat and use a towel (gently) and sometimes dry shampoo. Because come on, sometimes a girl just needs to dry up that oiliness. But I did find I needed much less dry shampoo than before.
I found with the other products, amounts were key. Too much of the Soft Curl Gel and my hair was weighed down, same with the Miracle Oil. But once I figured out a good amount plus a method of even distribution… well, that's when my hair started thriving. THRIVING I tell you!
The frizz patch at the back of my hair settled right down and my hair even started to form natural cheeky waves I KNEW must have been there all along. I will never have true curly hair but this journey has shown me that I can have the lovely beach waves I crave.
Will I stick to the strict methods of Curly Girl Method? To be honest I don't think I have the discipline. BUT I will persever with the Pump products because my hair has never looked better. Even doing a bitsa method has improved the health of my hair and dramatically lessened the amount of oil my scalp produces; I don't have to wash nearly as much as I used to.
After all, my hair is curly-ish so my new maintenance method can be Curly Girl-ish too!