As a Dalmatian dog dad, Disney's 101 franchise in both, its original animated and live-action versions, are a regular go-to choice for a rainy weekend movie marathon. Naturally adding another film to the list came with intense anticipation, but also simmering scepticism. How could any story justify skinning these wonderful, sleek, athletic, albeit stubborn (seriously, so stubborn), and truly loving dogs such as my own to make the perfect coat? Well, the short answer is, it doesn't. But does that mean Cruella doesn't work?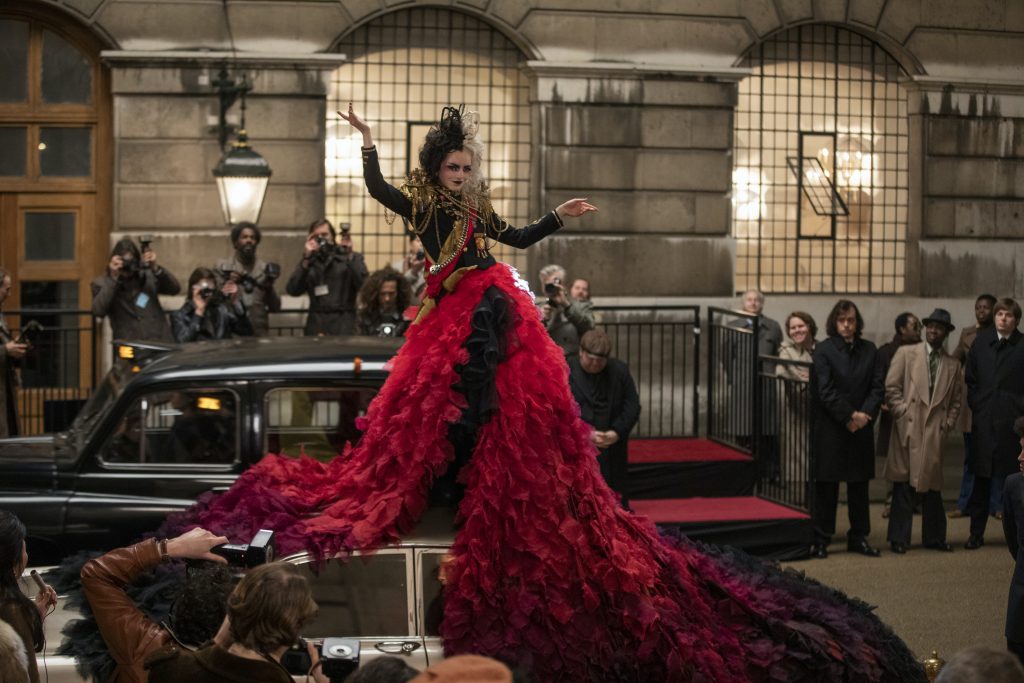 'Cruella', directed by Craig Gillespie ('I, Tonya') resuscitates 70's British glamour and punk era, served with an old-is-new soundtrack and a gritty, sombre mood palette over iconic London locations, UK's countryside and spectacular interiors as backdrop. Before Emma Stone shines in the titular role, the film opens on a black-and-white haired pre-Cruella, named Estella. As a school-aged girl, it is clear, Estella (Tipper Seifert-Cleveland) is edgy, fiery, fashion-obsessed and far from the dog loathing villain we know as Cruella De Vil — she even has a four-legged doggie sidekick. So far, the only connection is the iconic yin-yang hair à la SIA's memorable wigs that leave a strong Maddie Ziegler vibe, but young Estella doesn't break into dance, she gets into fights — arguably standing up for herself and in that faintly paints her as a misfit — which gets her expelled and brings about a move to London. En route, Estella promises her mother to be better, a vow she immediately breaks by the lure of her own curiosity when pit-stopping at a lavish English Estate. While her mother visits with someone in hopes to secure financial help, Estella sneaks inside the manor to catch close glimpses of the gala in progress. This is when she first encounters Dalmatians — trained to be attack dogs — which chase her and her pooch, leading to the tragic death of her mother.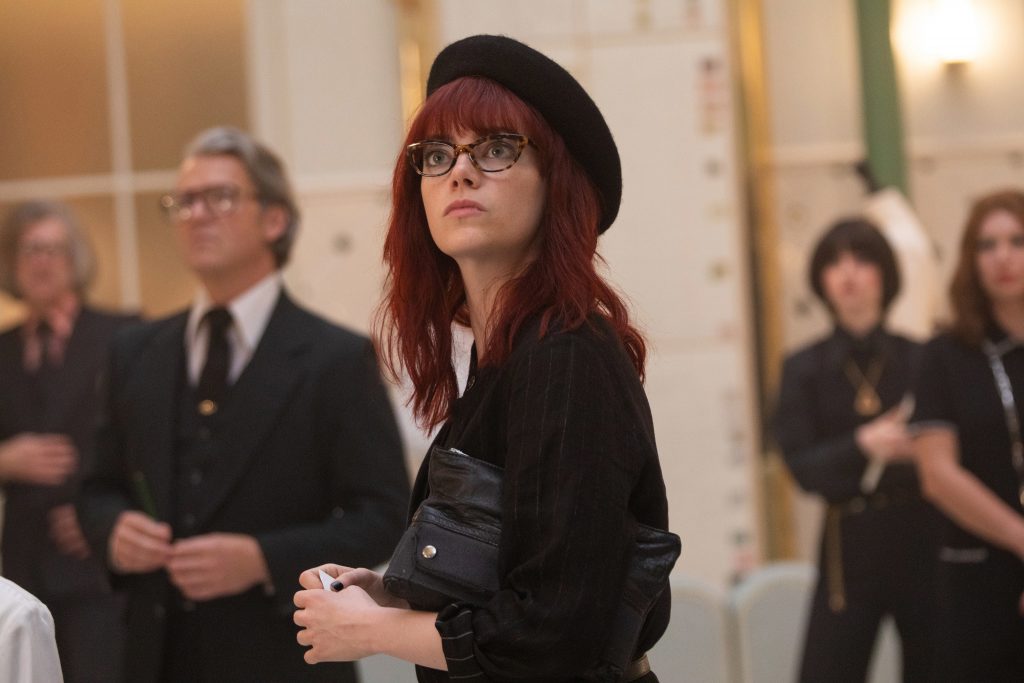 Now orphaned, Estella pairs up with Jasper (Joel Fry) and Horace (Paul Walter Hauser). We fast forward to a young adult Estella, who has grown in her talent as a fashion designer that allows the trio to run grifts and scams with the finesse that revive the allure of old-school con-artistry. On Estella's birthday, Jasper and Horace give her the gift of a lifetime, an entry-level position at the finest department store in London, the fashion pinnacle at the time. As a maid, her boss does not care for her eye for style and lands no recognition until she re-arranges a shop window and outfit on a drunken romp. This lands her a position with Baroness Von Hellman (Emma Thompson), a narcissist of a fashion designer who more or less becomes her mentor. Over time it unfolds what a vile person the Baroness is, cue to Estella to destroy her and become Cruella to do so.
Emma Stone's portrayal of Cruella is flawless, only missing the long opera cigarette holder and a cloud of venomous green smoke due to Disney's smoking ban. Instead, Disney engulfed the once-notorious puppy-hating and chain-smoking villain in a cool, gritty moody palette and served her as some kind of palatable anti-hero. While no saint, she has admirable calibre of strength, talent and fearlessness, and even befriends the attack-trained Dalmatians that killed her mother as she strikes her vengeance that ultimately brings her fame and fortune. On first watch and only after the fact, it leaves a confusing spiral as to whether Cruella is the persona Estella effortlessly becomes as a means to destroy the Baroness or was her suppressed identity as later dialogue suggests. While it felt more that the truth about the Baroness was the last drop that spilled the glass, Estella becomes Cruella with so much ease that steers from nurture to nature. If so, surely dying her black-and-white hair wasn't all it took to suppress her true identity without the slightest hint of a struggle during pivotal moments of guilt, anger, hardship or dismissal. As it stands, it feels that Estella enjoyed being an unhinged version of herself that ultimately ends up being very similar to the person she vows to destroy. Perhaps that's the madness of it, kind of like her somewhat understandable dislike of Dalmatians which seemingly vanished by the end of the film and makes her a leap away from the 101 original nightmare villain.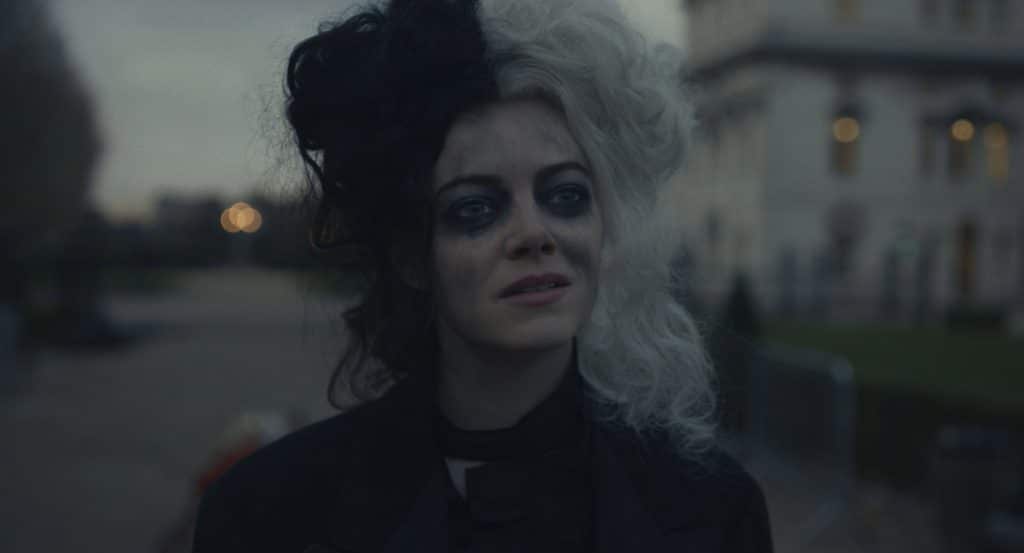 Despite these afterthoughts, 'Cruella' is riveting to watch. It serves as a snapshot of Cruella's story that shines with cinematic interest and the performances by Emma Stone and Emma Thompson. It also brings a more richly diverse population to the 101-Universe, including Anita (Kirby Howell-Baptiste) and Rodger (Kayvan Novak) who would give a new look to the original Dalmatian-loving couple in a sequel. 'Cruella' has an enjoyable dark feel, but as a villain felt remastered to a more palatable type, more mean than scary, minus the wide-eyed, hunched, crazy driving in the iconic Panther De Ville car. It doesn't quite yet leap to the 101 original villain who desires to make the perfect coat with Dalmatian fur, but when nothing really would, it's best to leave it at — she's brilliant, bad, and a little bit mad.
Latest posts by Andreas Christian
(see all)