The Netflix Original created by Victor Fresco (Better off Ted) is a unique horror-comedy series, starring Drew Barrymore alongside Timothy Olyphant.

The series introduces a seemingly ordinary family, real-estate duo Sheila (Barrymore) and Joel (Olyphant), parents to teenage daughter Abby (Liv Hewson). Their lives appear bland until Sheila mutates into a "dead but also undead" human-hybrid who develops an insanely ravenous appetite for human flesh.
The trailer teases with witty and punchy one-liners that in initial episodes falls flat and Sheila's first signs of transitioning with over-the-top vomiting à la Scary Movie franchise or Pitch Perfect stage crumble lack a dramatized note to bring relatability to the main characters. Sheila's metamorphosis also comes with no impulse control that as such makes her unpredictable, not merely in impromptu murders, but altogether more difficult to get to know initially.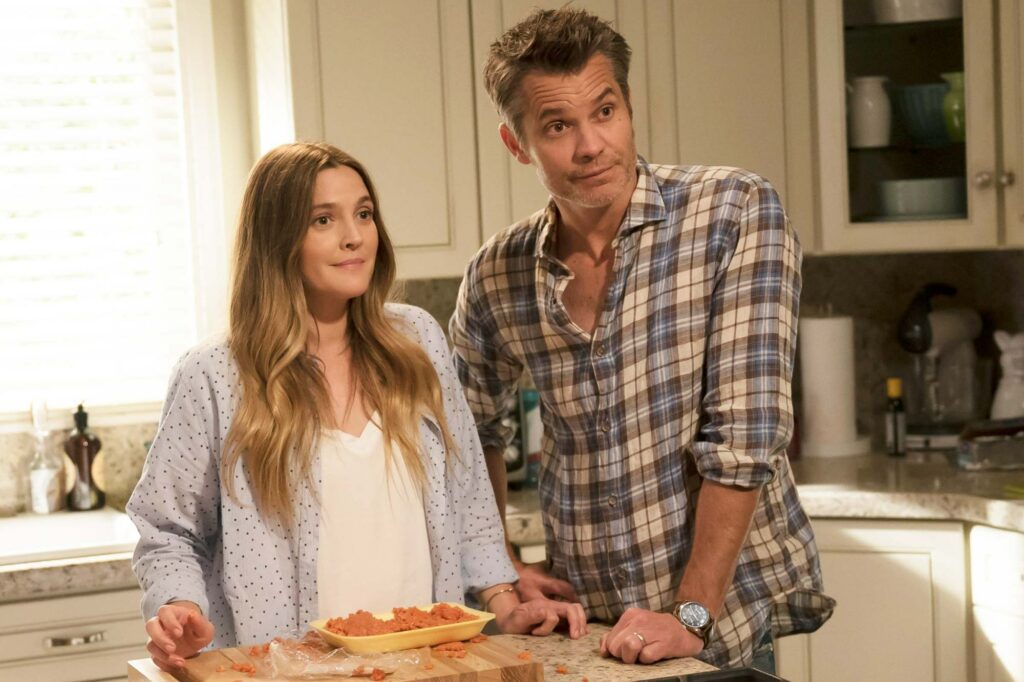 Whilst Joel as loving husband and Abby as caring daughter stand by Sheila's side, trying to figure out what is going on, it somehow feels with the type of tone or dynamic created that viewers are the outside-bystander that they are rather than becoming part of the characters' journey as it might be the case with other shows. That said, the show starts finding its feet around episode 3 and 4-ish, dishing out more of the trailer-humour amongst a more fast-paced and captivating story progression. This includes Joel beginning to research Sheila's transition, living next to deputy sheriff Dan Palmer (Ricardo Antonio Chavira) and police officer Rick (Richard T. Jones) becoming a hairy situation, and internal conflict of Joel and Abby being voiced and worked through that makes the characters, including Sheila, more relatable. The later episodes definitely begin to serve the initially lacking note of drama, especially by starting to unravel on what lies behind Sheila's transformation.

The show is absolutely worth watching as it presents a novel concept to other shows currently in production. Beyond its initial tougher episodes, it becomes tender and juicy that will only get you hooked. Catch the first season of Santa Clarita on Netflix.
Latest posts by Andreas Christian
(see all)