As a Beauty Editor, when high-tech in-salon beauty devices become available to use in the privacy of my own home, I get VERY excited. Now I can get radio frequency tech at home thanks to CurrentBody Skin, one of the leading authorities in beauty devices. I tried out the new CurrentBody Skin Radio Frequency RF Skin Tightening Device over a couple of months to see how effective it is and what it could add to my skincare routine. 
What does the CurrentBody Skin Radio Frequency RF Skin Tightening Device do?
First of all we need to look at radio frequency technology in skincare in general. Radio Frequency (RF) devices use safe levels of low-frequency electromagnetic waves to generate heat. This heat penetrates deep into your skin's layers to stimulate the production of new skin cells. Your skin then gets signals to produce more collagen and elastin which are the ingredients to make skin do more of the youthful and bouncy thing.
Now to the specs of the CurrentBody Skin device. The device claims to be 33% more effective than other devices on the market. It markets itself as "Instantly targeting crow's feet, brow 11s, smile lines, jowls and sagging skin". Additionally, it is apparently the only professional device on the market with "Skin Sense Technology™" to maintain the optimum temperature throughout treatment. Basically that's sciency talk to say that it measures your reaction to the treatment and readjusts to the optimum temperature every 0.004 seconds, which is SUPER fast. It's said to be "100% pain free and effective". The wuss in me is grateful for this. 
Treatment is recommended for just once per week for eight weeks for "instant, dramatic and long-lasting results".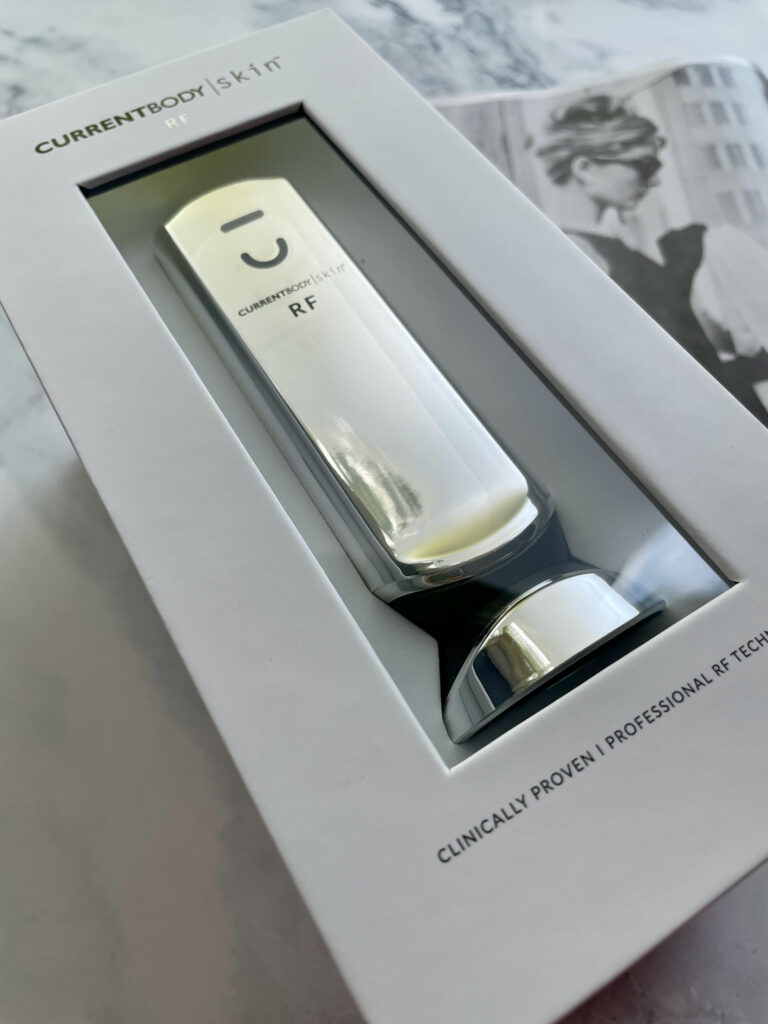 Before you use the Radio Frequency Device 
I pull out the manual and there are a LONG list of don'ts to read through—this is high tech stuff so you have to be super careful to only use it as indicated. Some of the more common don'ts people may hit include: don't use if you have fillers or botox or any kind of lifting or tightening surgery in the past three months; don't use if you've had a professional chemical peel, facial abrasion, or ablative laser treatments in the last three months; or don't use if you've taken Accutane (isotretinoin) in the past 12 months. There are more, so make sure you read these CAREFULLY.
It's important to do a skin sensitivity test too. Apply the gel to a small area on your cheek, select the intensity and move the device slowly over the skin for three minutes. Wait for 48 hours and if there's no reaction, you're good to go.
My experience
My first thoughts on opening this device is that it looks very chic. Rounded corners and curves make the device feel super comfy in hand. More than that, it FEELS high quality, and stands up on its own little cap, so it looks super sleek on my vanity. 
Before I use, I make sure my skin is clean, dry and product free (men should also make sure they are clean shaven before using as the device can burn off dark facial hair, eep!). Then, remove all jewelery from treatment area and hands. I also make sure it's been 24 hours since I've used retinol, just in case.
I apply a generous layer of Radio Frequency gel on the treatment area (I decide we're going for the number 11s on the forehead). I start my treatment on level one as recommended (you can increase the strength as you're comfortable).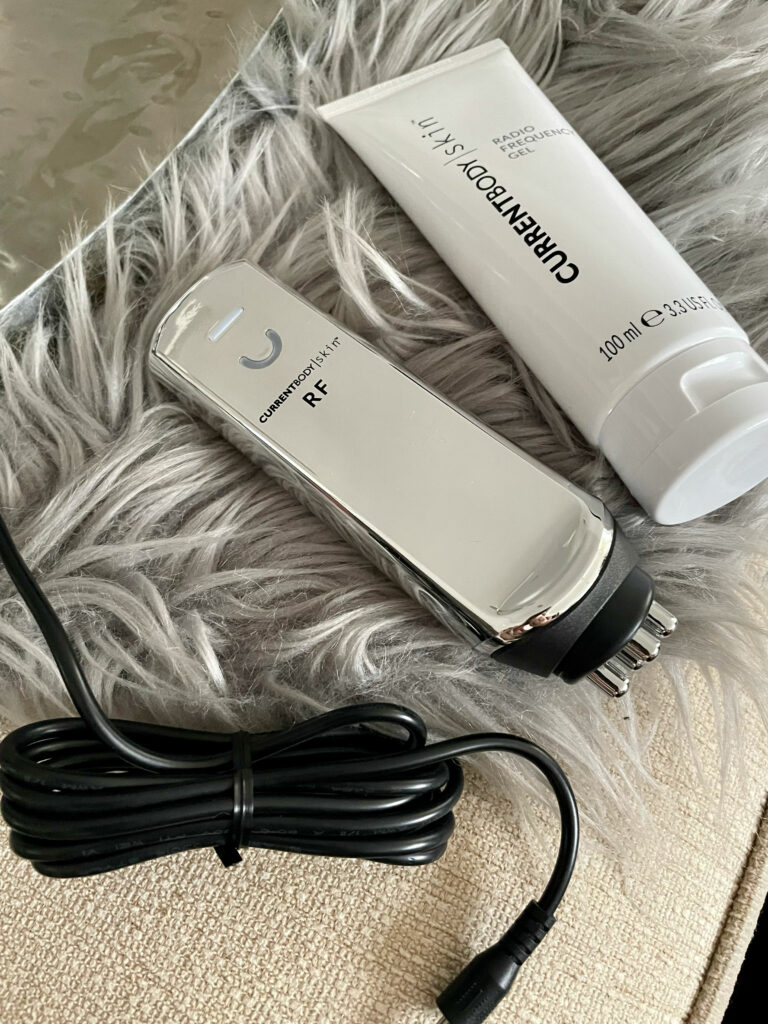 I place the device on my forehead, ensuring all four points are in contact with my skin to ensure the RF energy is delivered. I move it around with slow, circular movements up and down, making sure to always keep the device moving as per the instructions. Each treatment area takes five minutes. If you wanted to do your entire face rather than treat specific problem areas, you're looking at around 70 minutes, based on the sections broken down in the brochure: Forehead, 11s, crows feet, cheeks, smile folds, chin, jawline and neck. 
After the treatment, expect maybe a bit of a pinkness and skin that feels a little tight, but not sore or uncomfortable, and this all goes away very quickly. I'd also note that my eyes were quite puffy the next day, but that also went away very quickly and honestly, I see it as a sign that something is actually happening!
This skin-tightening marvel boasts an intuitive design that feels like a seamless extension of your hand. Crafted with meticulous attention to detail, its precise shape and just-right width allow for effortless maneuvering. And the cherry on top? That curvy lip right above the treatment head, giving your thumb and fingers a cozy resting spot. So, whether you're doing the twist or a back-and-forth, there's zero wrist drama.
The built-in timer earns my kudos, effortlessly keeping track of time as you immerse yourself in the experience.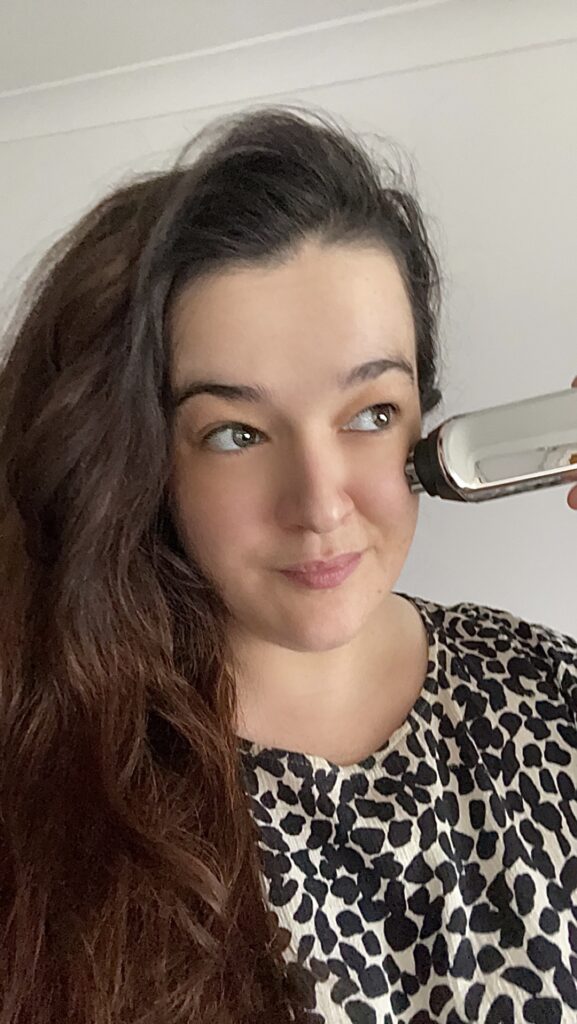 The RF action starts swift and sure. Those electrodes feel oh-so-smooth, and they're like a mini spa treatment. I'm all about the high RF intensity – seriously delightful feeling and one that gets results. Maintaining that sweet spot is a piece of cake. As you roll over your skin, you'll feel the warmth doing its dance, keeping that skin temp constant. And here's my secret move: a quick swipe over spots I've already treated to intensify the warmth and results.
That warm sensation? It's like a cozy massage for your face with a heat that lingers. Applying a little pressure speeds up the warmth delivery, especially on those cheeky cheeks. 
I did get a bit of redness after, and my eye area was a touch puffy afterwards but that faded like a whisper and kind of gave me confidence that it was actually working, you know?
The verdict
After a few weeks, get ready for the "hello, gorgeous!" moment. With more time, these results level up. Fast forward to 8+ weeks of using this beauty buddy, and bam! Your collagen and elastin are throwing a party. My skin was all bright and bouncy, those lines took a chill pill, and pores? They're on holiday. Consider loose skin evicted—it's all tight and right. 
The catch? Age, genes, and lifestyle play a role in the effectiveness of this device so everyone's results may not be the same in the same time frame. I only had minor loss of skin elasticity as I am thirtysomething, but it definitely did help restore a bouncier skin elasticity from days gone by. For me, it wasn't a dramatic visual before and after because I am lucky enough so far to have only minor skin sagging but it was a big FEELING difference for me. Some areas I had seen that were getting jowly were tighter, my skin had more bounce to it. I definitely noticed a difference and am hoping regular use will work preventatively too.
As far as I am concerned CurrentBody Skin's RF Skin Tightening Device my skin's new BFF—it's a no-nonsense superstar. One intense weekly session, and then it's an easy-breezy touch-up schedule. It might dig a bit into your wallet, but hey, 60-day money-back guarantee to the rescue if for any reason you aren't happy.
So, dive in, enjoy the journey, and embrace the skin glow-up that's on the horizon with CurrentBody Skin's RF Skin Tightening Device. Cheers to radiant days ahead!