Martin Heierling is a chef with international flair, which isn't surprising when you consider he did his apprenticeship in Germany, was a Chef in Switzerland, Auckland, New York, he spent twelve years at the Bellagio in Las Vegas, had a stint in Philadelphia and even worked on a Royal Yacht!

His exciting resume led him to Sydney to take up the role of Group Culinary Director for the Urban Purveyor Group in early 2014.  The Urban Purveyor Group is responsible for casual dining standouts including the Bavarian Bier Café, Sake Restaurant & Bar plus a gaggle of fabulous venues in Sydney and Melbourne.  I was excited to have a chat with Martin recently regarding his colourful culinary history and what he loves about Australian cuisine.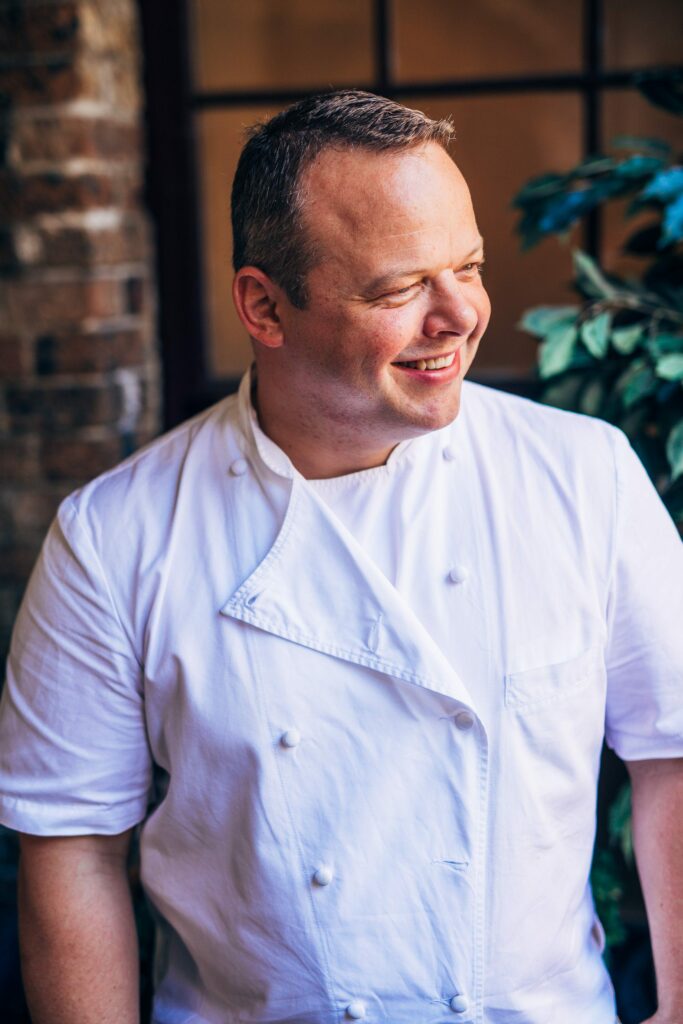 What is it about the Australian food scene appeals to you? Given your broad global experience, what unique perspective do you bring to your role with The Urban Purveyor Group?
I have been a fan of the Australian food scene for a long time and always loved the integration of South East Asian ingredients and flavours into Australian cuisine. It is a unique style of cooking that is not seen overseas. In general, Aussie food is about simplicity with fresh and local ingredients injected with a bit of the cosmopolitan flair that makes up this society. I do believe that Australia has very strong quality, fine-dining restaurants but lacks in the category of full-service, casual dining with great quality and value. This is where I see Urban Purveyor Group has an opportunity to make a big contribution.

The flavours I bring to the table are all bold with strong flavour profiles. I am not into the over garnishing of dishes with flowers and micro herbs to make dishes look pretty. Using the fantastic ingredients that are available here and rank alongside the best in the world, handling them with the least amount of processing and plating them with an appetising and clean presentation is really all that's needed.

As Culinary Director of the Urban Purveyor Group, what is your role and how do you think your global experiences influence your footprint on these venues?
My role is multi-faceted and I have been very fortunate in my career to always work with the most interesting chefs and visionaries. I have acquired a very broad and detailed knowledge of some very interesting cuisines. I love applying this knowledge in an environment where the team and I have the potential to strengthen current brands in our company and create new ones that will be recognised as top contenders in Australia. What I cherish the most here at Urban Purveyor Group is being able to create new businesses and to create opportunities for our chefs to further their careers and learn. Also to introduce authentic experiences to the hospitality scene that will be recognised by those who truly know great and timeless food.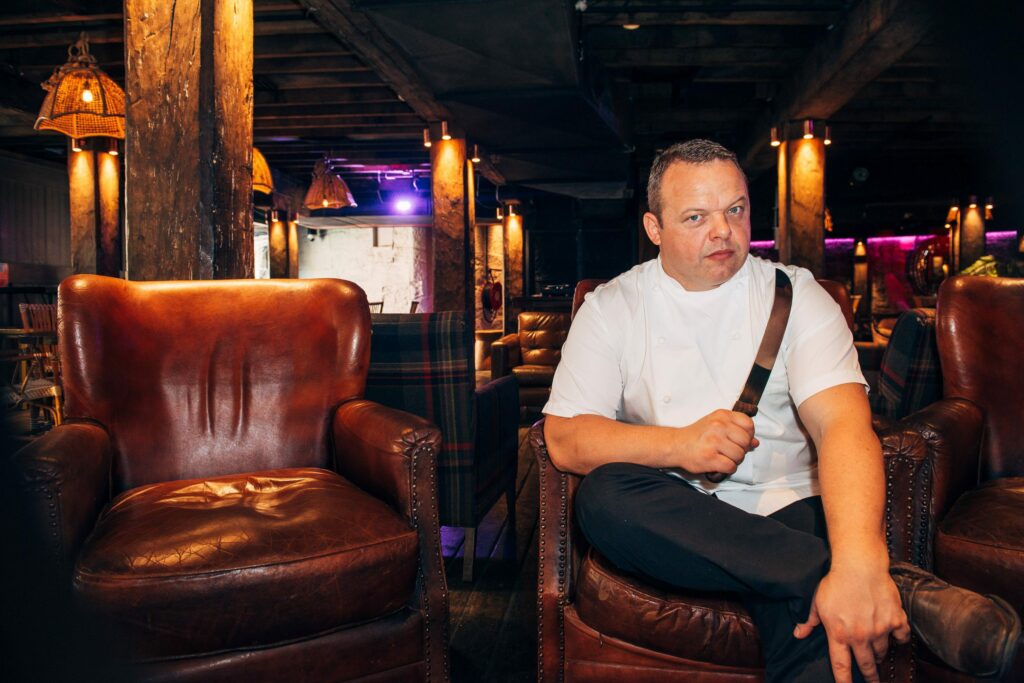 How did your apprenticeship in Germany shape your approach to food and working in the kitchen?
My three-year apprenticeship in Germany instilled in me the values of being disciplined, focused and dedicated to the craft. When you start off as a 16-year-old young apprentice in Germany, you are being trained to learn everything about products available, handle them with love and care and then make them into something that will become a memorable experience for the guest.

Growing up and training in Germany as a chef teaches you mostly to use seasonal ingredients, as the abundance of produce and seafood availability is not comparable to markets such as the US. German food is strictly regional and you make the most of the ingredients by not doing too much to it but essentially bringing out the best of it on the plate. If anything, it was the thirst for learning more about food that I could not get in Germany that led me to travel to different countries, cultures and environments that kept exposing me to learn more about flavours, techniques and applications.

Bavarian Bier Café is famous for their smoked tri-tip, pork belly and spare ribs. How did your love of smoking meats impact the menu?
When I met with the owner of Urban Purveyor Group in New York to discuss a possible move to Sydney, he told me that the team had tried to conjure up a good BBQ pork rib for about a year without being able to yield satisfying results. When I arrived, I inspected the production facilities and smokers and found no reason not to be able to apply my techniques with the equipment on hand. We trialed and fine-tuned the production and yielded excellent results that are now offered across the entire Bavarian brand. Our guests responded in a big way and BBQ meats shot up in the sales mix due to the fact that we serve a superior product, at a fantastic price point and industry leading value. I bring all of my passion with me, there is no half-way and now that I have authentic equipment on hand, imported from the US, we are ready to showcase a wider variety of meats and other dishes soon.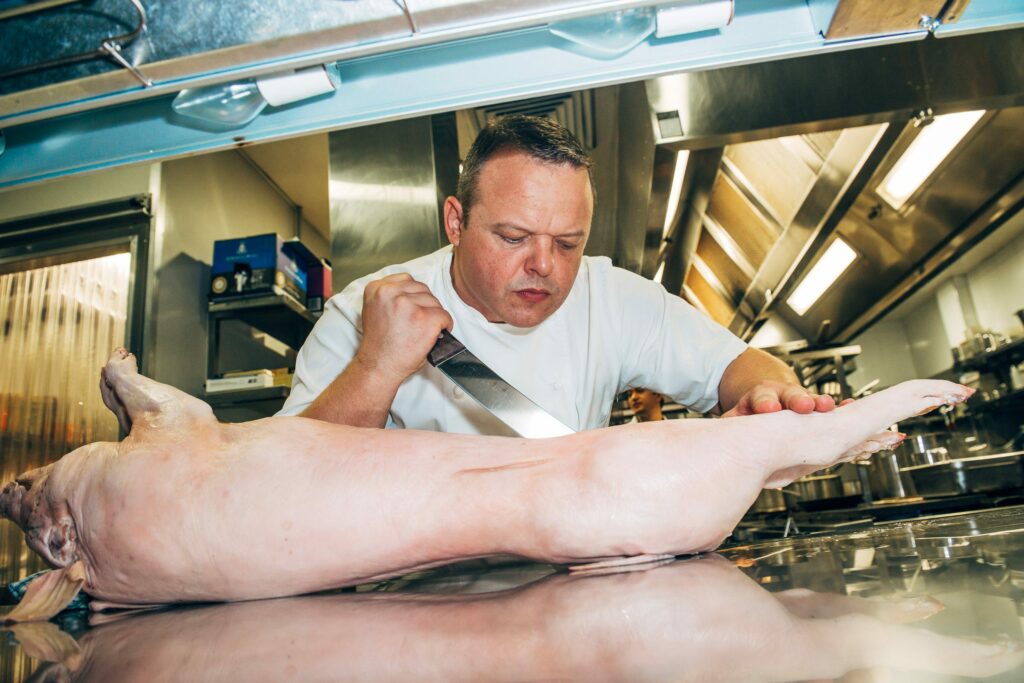 Tell us more about your experience of BBQ and smoking from the US?
BBQ smoking is truly an art form and cannot be put down in a recipe. Knowing what temperature and smoke does to meat needs a lot of practice and understanding with constant checking and evaluating. It becomes part of you and the best results only show when you actually 'get it'. 

The most important and imperative ingredient to BBQ is the smoker, or the pit, and the pit master. The smoker is important as it is the vehicle that transforms the meat into its magical final stage by providing a controlled environment for the smoke to do its work on the meat. The rub is single-handedly the most important ingredient for the meats. You cannot achieve good BBQ without a rub. Sauces are important when it comes to a specific style of BBQ. My BBQ, for instance, doesn't use glazes and I only serve sauces on the side. Texan BBQ is more a style where glazes are applied to the meats while smoking and it creates the basted and shiny look at the end. Carolina style BBQ serves more flavoured vinegar with the meats to accentuate and compliment the richness and smokiness of meats. There is no one solution for BBQ. The single constant is always the smoke, smoker and pit master.

Any tips for the BBQ novices at home?
My tips are simple. You need the essentials: a thermometer, a Weber, good fruit tree wood and allow yourself to make mistakes. There are no universal tips other than reading up on BBQ techniques and trying it out with your mates over a few beers.

Thanks to Martin for the time spent answering our questions.  The man's enthusiasm is laid plain when engaging him on topics close to his heart: great produce, bold flavours and an unyielding commitment to quality.  You can experience Martin's culinary influence across all Urban Purveyor venues, with Bavarian Bier Café Eagle Street and Bavarian Bier Café Broadbeach being Queensland's gems.

Photography: Artist Collective Agency
Latest posts by Amanda Bowen
(see all)