The latest Minions film in the franchise is a great school holiday movie, heaps of fun, and if you were alive in the 70's (or just wish you were) you will enjoy the films' nostalgia.
For a cartoon, this film is very reminiscent of 70's music, fashion, slang and decor. Lately with TikTok bringing the joys of Fleetwood Mac to a new generation, and Kate Bush's Running up that Hill enjoying bigger chart success than it did in the 80's, classic songs are being revitalised. Chances are one of the classic songs from this film will be the next big thing to be re-discovered.
What is Minions: The Rise of Gru about?
This is a prequel which tells the story of Gru as a 12-year-old boy in 1970s suburbia, plotting to take over the world from his basement. It shows how Gru meets his Minions, and together they build their first lair, design their first weapons, and execute their first missions. 
Pre-teen Gru is a bit of a fan boy of an infamous supervillain supergroup, the Vicious 6, and when they oust their leader Gru interviews to become their newest member. The Vicious 6 is not impressed by the diminutive, wannabe villain, but then Gru outsmarts (and enrages) them, and he suddenly finds himself the mortal enemy of his idols. With Gru on the run, the Minions attempt to master the art of kung fu to help save him, and Gru discovers that even bad guys need a little help from their friends.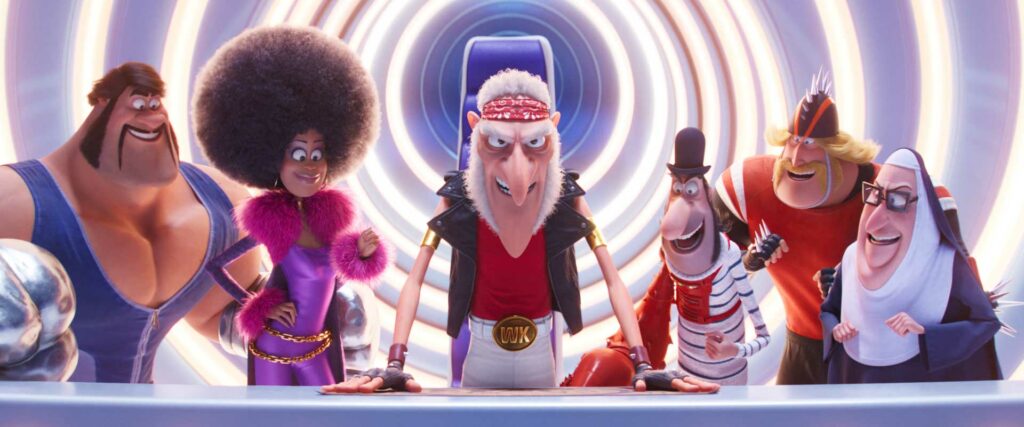 What age is Minions: The Rise of Gru suitable for?
This movie is rated PG, and it contains some action, and slapstick violence. There is some mildly rude humor (think fart jokes) that a 5 year old (and this 40-something) would find hilarious. I think it is suitable for most kids, and is the type of movie adults will enjoy too.
Who are the voice actors in Minions: The Rise of Gru?
This movie (like the other films in the Despicable Me franchise) is jam packed with amazing voice talent. Oscar® nominee Steve Carell reprises the role of Gru, and Russell Brand is back as  Russell Brand as Young Dr. Nefario. Joining them is Michelle Yeoh as Master Chow, an acupuncturist with mad kung fu skills, and Oscar® winner Julie Andrews as Gru's maddeningly self-absorbed mom.
The voice cast of the Vicious 6 also has some well-known names with Wild Knuckles played by Oscar® winner Alan Arkin, Taraji P. Henson as cool and confident leader Belle Bottom; Jean-Claude Van Damme as Jean Clawed; Lucy Lawless as Nunchuck; Dolph Lundgren as Swedish roller-skate champion Svengeance; and Danny Trejo as Stronghold.
Minions: The Rise of Gru is in cinemas from June 23.