The fifth instalment of the popular Pirates of the Caribbean series based upon the Disneyland amusement ride, Pirates of the Caribbean: Dead Men Tell No Tales returns Johnny Depp to his most iconic role of the charismatic Captain Jack Sparrow. Co-starring franchise regular Geoffrey Rush and featuring the much-anticipated return of Orlando Bloom and Keira Knightley, Queensland star Brenton Thwaites joins Kaya Scodelario as two young heroes embroiled in a dangerous adventure at high sea when Sparrow's old nemesis Captain Salazar (Javier Bardem) seeks revenge for an incident that happened long before Jack became the legend we know today. Back to fine form after 2011's fourth instalment On Stranger Tides failed to win the hearts of fans and critics alike, this latest chapter in the beloved franchise is both the ultimate pay off for die hard Pirates lovers and an excitingly fun time at the cinema.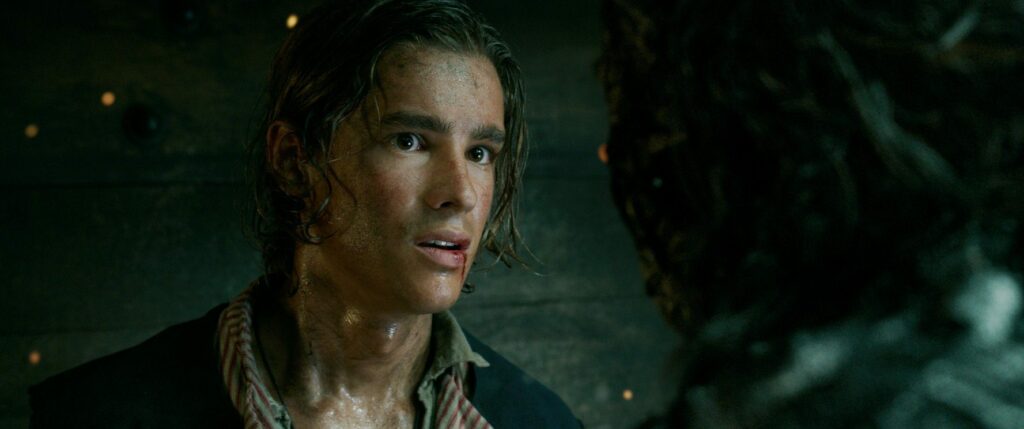 Seeking the legendary Trident of Poseidon to free his father William Turner (Bloom) from the curse of being banished to live underwater and captain The Flying Dutchman for all of eternity, young Henry (Thwaites) meets and forms an alliance with astronomer Carina (Scodelario), also out to find a father who she's never met. Searching for his father's old friend whom he aims to enlist the help of,Henry finds who he's looking for in Jack Sparrow, currently being hunted by the terrifying Salazar and an army of un-dead sailors, hell-bent on killing every pirate at sea. Escaping from The Devil's Triangle – a desolate prison of death in the depths of the ocean Jack is responsible for placing them – Salazar will stop at nothing until the corpse of Sparrow is by his feet. Desperate to reverse his recent spate of ill fortune and return to the glory he once knew, Jack and his former crew team together with his new found allies and old pal Captain Hector Barbossa (Rush) to beat the most evil of foes ever faced and hopefully reach the trident in time to reverse the curse.

Filmed on the Gold Coast and various other Queensland locations throughout the last couple of years with an estimated budget over $350 million, this is the largest production to ever be filmed in Australia and also the first to not be filmed in the titular Caribbean.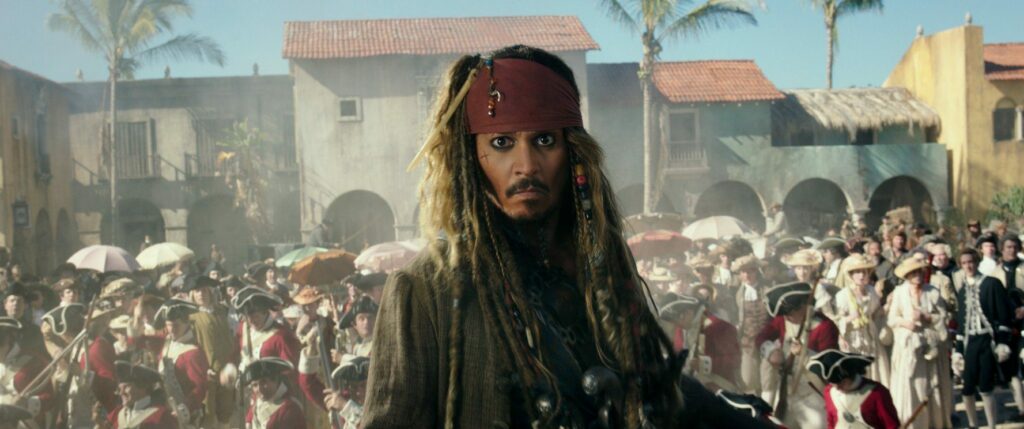 With filming taking place at the same time Depp was in trouble with the law for bringing his dogs to Australia against legal quarantine procedures and his subsequent divorce from then wife Amber Heard soon following, it might not be surprising to learn he isn't exactly all there this time around, somewhat 'phoning it in'. Not quite the same Jack we've come to know and love, there are admittedly scenes where you get glimpses he wasn't maybe too keen on filming, with reports him being chronically late to set is what sent the film over budget. Almost a caricature of his character from the first film at this point, the fun of 'Cap'n Jack Sparrow' takes it's time to get going but when it eventually does, it's at its best in scenes with Rush and Bardem.

Always great to see the fantastic Geoffrey Rush do his thing in any film, here he clearly has fun pirate-ing it up for the fifth time as Barbossa – the enemy turned respected frenemy who's also one of few characters next to Sparrow who has appeared in all five films. Well known Spanish actor Bardem swaps with his real life wife Penelope Cruz who appeared in the fourth film for a turn as a brilliantly frightening bad guy with an interesting and relatable vendetta against Sparrow, also making for good back-story between the two, specifically how Jack got his threads, including his iconic headpiece and jewellery. Making a career by playing scary villains from Anton Chigurh in No Country For Old Men (which won him the Oscar) and Raoul Silva in the critically acclaimed James Bond film Skyfall, he manages to create another memorable villain, rivalling both Bill Nighy's Davy Jones and Ian McShane's Blackbeard from previous instalments.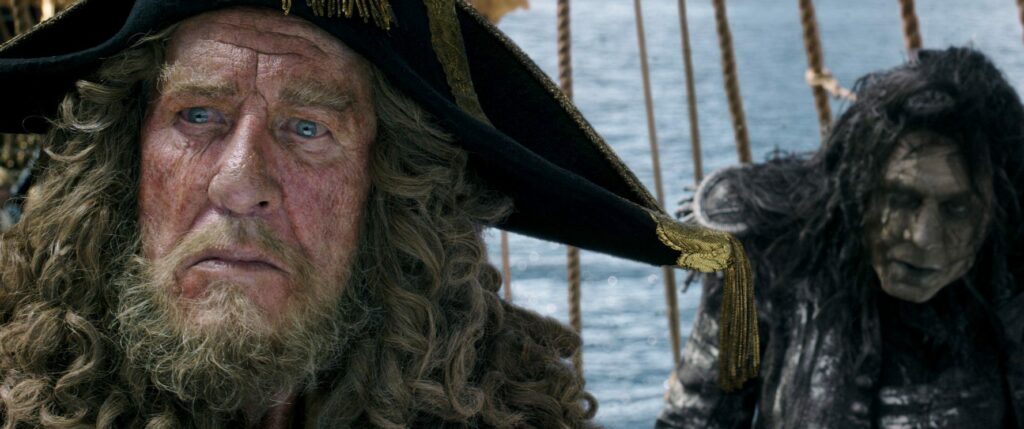 Thwaites does Queensland proud with an inspired performance, miles ahead of his work in last year's terrible Gods of Egypt with Scodelario proving to be a great female character in her own right and not just a carbon copy of Knightley's Elizabeth Swann. Presenting not maybe quite the reunion you were hoping for with the original trilogy's stars sharing the screen together again, the appearance of Beatles legend Paul McCartney, Aussie great David Wenham and the return of Kevin R. McNally as first mate Gibbs will give you plenty to be happy about.

With well executed humour, impressive visuals, stunning locations and damn cool looking ghost-sharks helping to put the franchise back on course, Pirates of the Caribbean: Dead Men Tell No Tales is an enjoyable romp that rides high the seas of nostalgia mixed with a good cast and perfectly fine plot. A fun time no matter the weather, the iconic theme song and return of all your favourite pirates will get you smiling as you set off for a swashbuckling adventure.

With more sequels on the way too, it's a pirate's life for you.
Latest posts by Shannon Griffiths
(see all)