Based off of the 1966 novel of the same name by Thomas P. Cullinan, The Beguiled tells the story of a wounded Union soldier and his unexpected arrival at a girls' school in Virginia during the American Civil War resulting in jealousy and betrayal throughout a house of female only inhabitants. Written and directed by actress turned acclaimed filmmaker Sofia Coppola (The Godfather Part III, Lost in Translation, The Bling Ring) and premiering at the 2017 Cannes Film Festival to critical acclaim, this atmospheric thriller is so quietly brilliant and uniquely fresh that even fellow filmmaker Quentin Tarantino praises it.

Bursting with a fantastic cast starring Colin Firth, Nicole Kidman, Kirsten Dunst, Elle Fanning and young Aussie breakout Angourie Rice (The Nice Guys) this film offers modern audiences a twist on a tale of vengeance whilst also keeping it effectively short and sweet with a crisp run time of just ninety-four minutes.  Adhering to film lovers with a wide variety of taste open to all genres, but leaving more than enough room for the average movie goer to have a feed off, the unexpected intrigue within may just seduce you to the dark side of excellent independent cinema at its most admirable.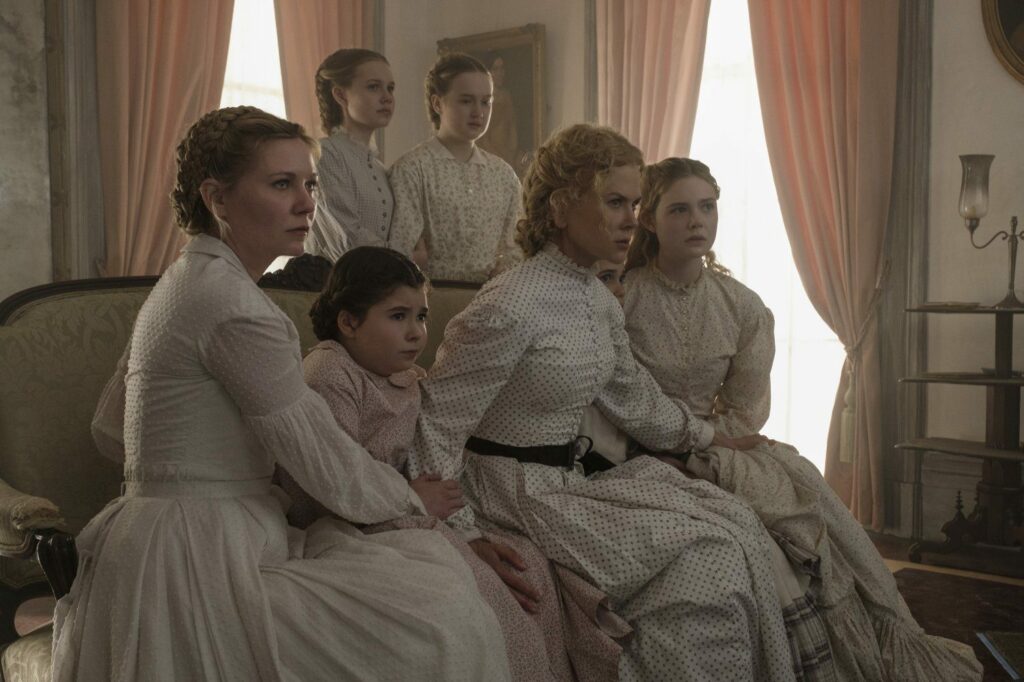 Martha Farnsworth (Kidman) leads a girls' school in Virginia at the height of the American Civil War. Come 1864, all that remain of any students, teachers or slaves are herself, teacher Edwina Morrow (Dunst) and five students – Alicia (Fanning), Jane (Rice), Amy (Oona Laurence), Emily (Emma Howard) and Marie (Addison Riecke). While out in the woods searching for mushrooms one morning, Amy comes across John McBurney (Firth), a corporal in the Union Army, badly wounded with a leg injury who has since abandoned the battlefield. Bringing him to the school to be healed, all the girls and both women of the school immediately become fascinated by the good-looking man.

Locked away in a room as not to cause distractions to the sheltered girl's studies or routines, Farnsworth tends to McBurney's wounds where she agrees to let his leg heal before deciding whether or not to hand him over to the Confederate Army as a prisoner of war. As refuge is provided and the corporal begins to heal, the house is slowly taken over with sexual tension when dangerous rivalries between whose affection the corporal will recognise twist and turn into unexplored terrain.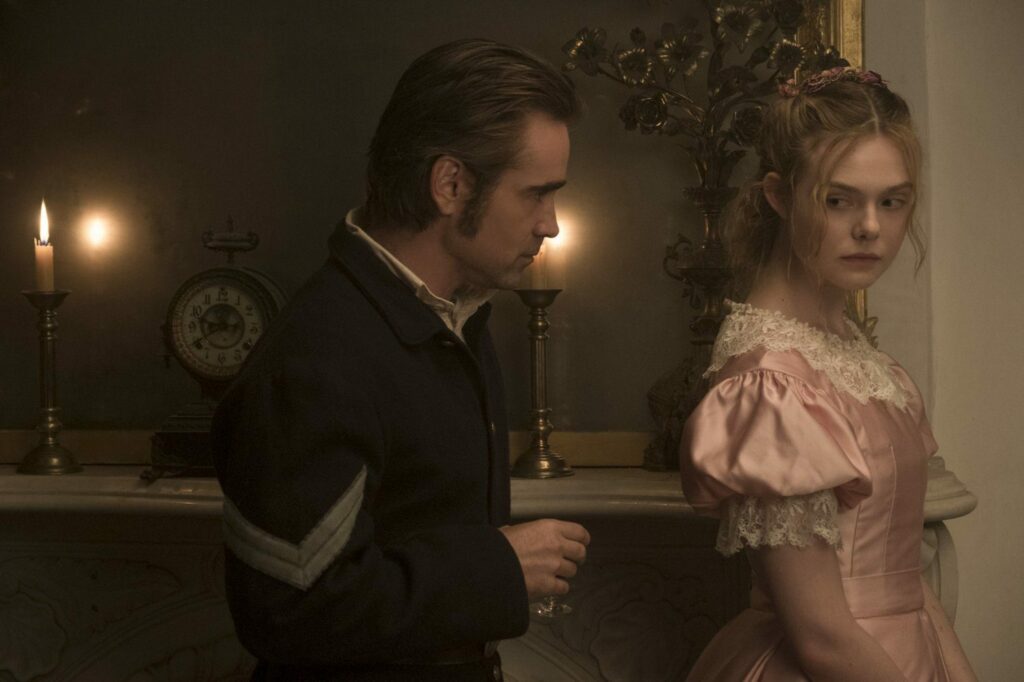 Shown from the female perspective with a spin on the classic 'battle of the sexes' blueprint by focusing on the essence of being a group of women hidden away from any men, without any selfish or ulterior motives at a time where the power struggle between men and women wasn't exactly fair, the great cast of brilliant performers benefit well from having a female director telling a relatable narrative of a headmistress protecting her students in a difficult time. Cut off from the rest of the world and then suddenly seeing a man inside their living and learning quarters would and should be a scary and interesting event, with a lot of emotions, which is portrayed as such excellently well.

When Farrell, as the only male character in the whole film comes into the mix, bringing his charm and just a glint of something dark underneath his seemingly harmless corporal, another element is added to the mixture of aggressions and built up feelings, creating a new dynamic that shakes everything up. Kidman and Fanning stand out with their respective portrayals of character types not often frequented in their back catalogue of film work. Kidman as the calm and collected leader of the house, understandably strict, always cutting to the point and Fanning the seductive young curious cat, making trouble where she goes.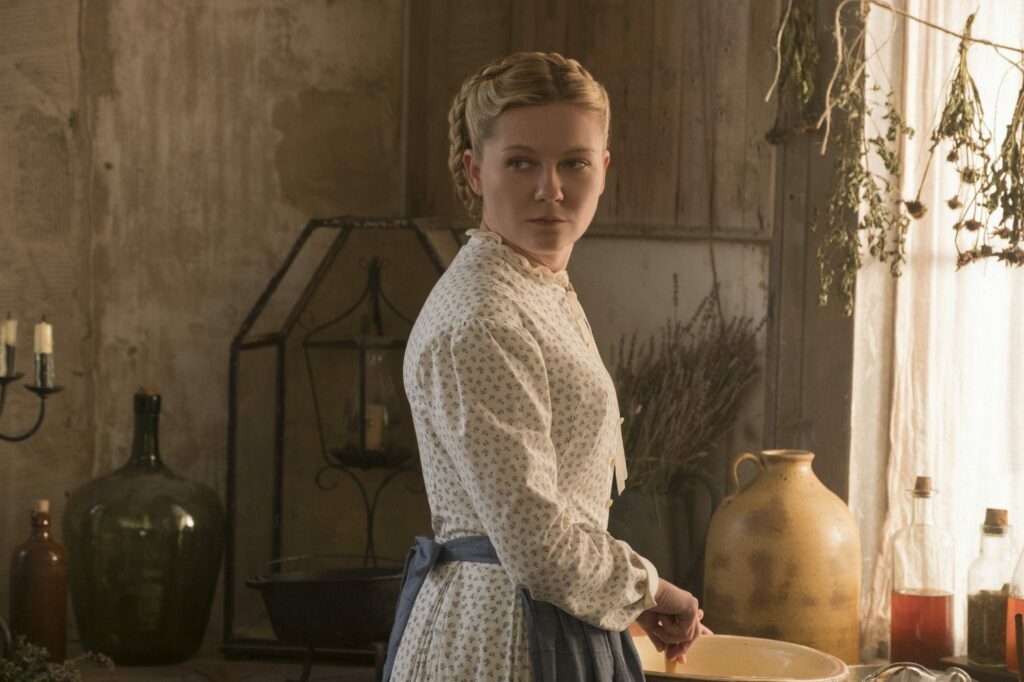 Making use of a practical lighting ideas, all the sets are dimly lit to be reminiscent of the era it reflects. This distinctive choice tied well with a small cast and one location throughout the entirety help create a claustrophobic tone that blends well with the story unfolding.

Tasteful, full of tension, well acted and truly one of Coppola's finest outings with a reminder that the most unconventional of films can often be the best, The Beguiled is a sexy, engaging period thriller faithful to both the novel and the original film on which it is based and an excellent motion picture in its own right.
Latest posts by Shannon Griffiths
(see all)