Sun damage. Pigmentation. Pimple scars. Plain old dark spots. Whatever you want to call them, those pesky dull spots on otherwise bright skin can be super annoying. Why can't our skin just stay clear and glowy and even all the time?

Because of free radicals, sun, pimples and all the other annoying things that come with being human, that's why. But luckily the science people in charge of creating amazing skincare products have come up with loads of different serums to brighten our complexions and save the day.
As someone who suffers from hyperpigmentation, I've done my fair share of trialing products to help even out my skin tone and increase my cell turnover. Here are a few of my favourites and why I love them so much.
I am having a Sunday Riley MOMENT in my skin care at the…erm, moment. I am pretty sure some of their products are actual magic. This CEO Brightening Serum has a powerful form of vitamin C (15 per cent tetrahexyldecyl ascorbate for all you science-y lovers out there). It makes your collagen stronger, smooths out skin texture and prevents further free radical damage. It also features glycolic acid, which lifts those stubborn dulling skin cells to boost cell turnover.
After three months of using this formula, I noticed a marked difference in my skin tone. I didn't have to use nearly as much foundation to cover my dark patches and people kept telling me how "fresh" I looked. My skin felt supple and bouncy, too, which is always a good thing.
It is quite strong, so if you have sensitive skin make sure you patch test it first to make sure it's suitable for you. For me, the CEO Brightening Serum is a skincare savior pick-me-up in a bottle.
Some people are more partial to their products in oil form, and this one is sure to impress. Biossance's Squalane + Vitamin C Rose Oil is a shelf-stable and potent skin brightener that also has the benefit of increasing skin elasticity. Think super bouncy baby butt skin, with a glowy, even skin tone effect. And as if that wasn't enough, the addition of squalane means moisture is locked into the skin, and the rose extract helps calm and soothe cranky skin.
The oil formulation makes it ideal for using facial sculpting beauty and massage tools as it gives them a good surface to glide on.
Eye creams are my obsession at the moment (because this gal looks permanently tired thanks to chronic insomnia). This Drunk Elephant formulation is fantastic at brightening up the dark circles around my eyes and giving them the burst of hydration they need. The formula contains five types of vitamin C that work together to brighten dark circles, blotches and sun damage, and inhibit the production of more melanin. It also has all these good peptides to help firm up those fine lines and other signs of ageing. Don't let the thick texture fool you; this cream is surprisingly lightweight and non-greasy. Glides on like a dream and leaves me waking up bright eyed and bushy tailed. Well… bright eyed at least.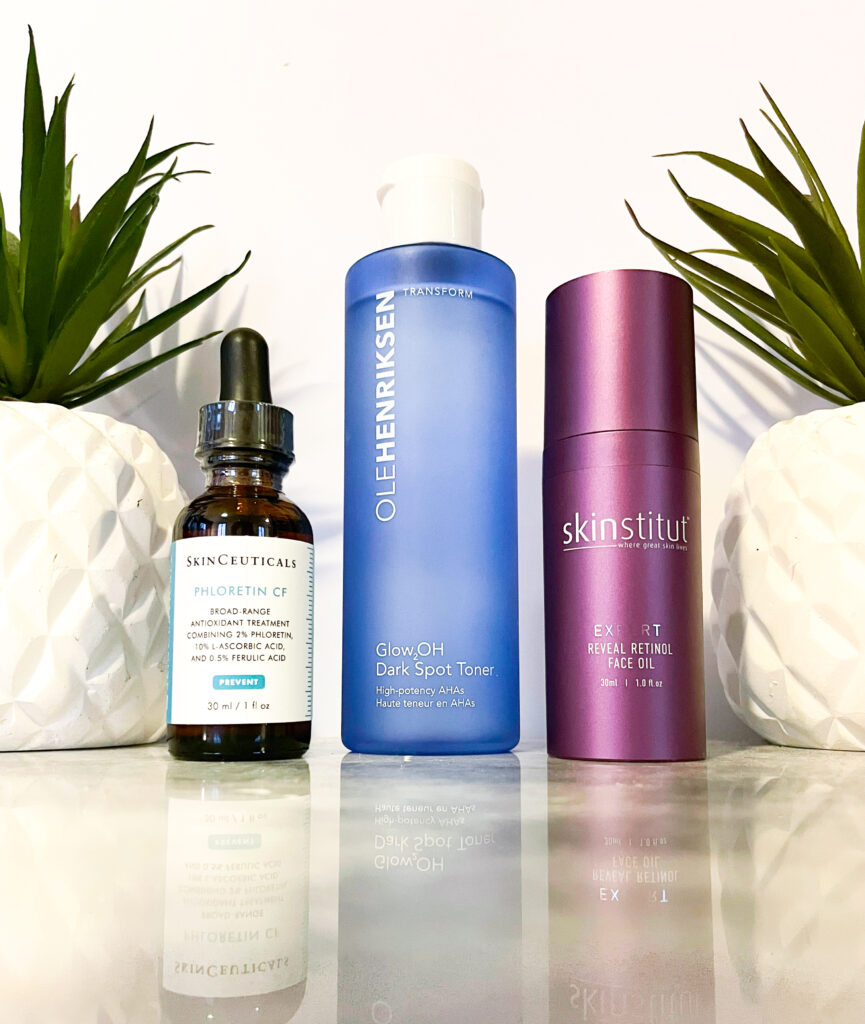 A lot of brands make a lot of claims but Skinceuticals has science, patents and white papers on their side. In layman terms? Proof, lots of proof. Whenever people talk about skin brighteners, Skinceuticals CE Ferulic is always high on the list but it's time Phloretin CF made it to cult status, too.
This formulation is backed by science, and includes 2% phloretin, 10% pure vitamin C (L-ascorbic acid), and 0.5% ferulic acid. This combination of ingredients os proven to reduce environmental damage to skin, prevent further damage from UV rays, infrared radiation and ozone pollution.
It's gentle on sensitive skin, which is a big plus for me. It goes on smoothly, absorbs quickly and I noticed my pigmentation lightening after three weeks. And look, I know it's pricey, but it's one of the few things I'm prepared to spend the big bucks on after trying it out.
Another good way to keep your skin bright is through regular exfoliation, and toners are an excellent way to do that. The latest toner in my rotation is Ole Henriksen's Glow2OH Dark Spot Toner and boy, is it a welcome addition. Choc full of super potent alpha hydroxy acids (AHAs), this formula glides on easy and works hard to target dark spots, fine lines and wrinkles. The result is brighter skin that is perfectly prepped for all your serum-y, moisturise-y goodies.
Pop it on after your cleanse and before any other products. If it tingles, it's working (plus the lemon scent is divine).
Another oil, with different super ingredient for you to try. Retinol aka vitamin A is phenomenal when it comes to correcting skin texture and tone by kicking collagen production into gear. This product calls itself "skin reform in a bottle" and it's easy to see why. Using 0.9% active retinol, it delivers a notable improvement to pigmentation signs, acne scarring and breakouts, while nourishing the skin.
As opposed to vitamin C, which is traditionally used during the day, retinol is a night time treatment. It can make your skin sensitive to the sun, so SPF is a must every single day!



Latest posts by Elizabeth Best
(see all)