I like to travel. A lot. And whenever I travel I always make sure I check what makeup and beauty products are exclusively available in whatever country I am visiting. This time it was New York in the United States, and by the time my plane was wheels up from Australia, I already had an extensive Sephora shopping list at hand.
Of course, I almost always forget to leave myself enough baggage weight to carry home what will be inevitably a heavy haul. Picture me at the airport wearing four coats, massive boots and more pants than I care to admit to in order to transport my beauties back into the country.
So what are the best things to get your hands on in the USA? And what advice should you follow when trying to uncover bargains?
Firstly, when the Aussie dollar is bad (like it was when I was just over there) make sure you do your conversions. What seems like an absolute steal can be a lot more expensive when you add sales tax on top of the cash conversion. (Hello me buying a palette for $20 more expensive than it was back home accidentally.) Usually when the dollar is at about 75c or higher there are bargains to be had, but otherwise not so much.
So for this trip I tried to stick to products that were only in available in the US. Here's what you should pick up in your American beauty haul.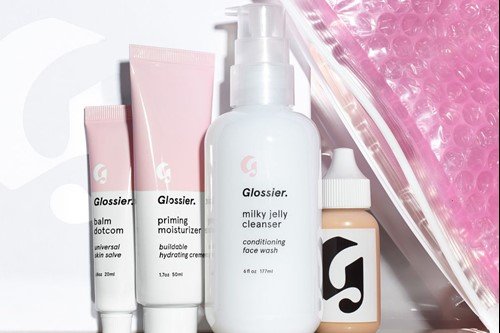 Glossier
Glossier STILL doesn't ship Down Under so any beauty aficionado is going to want to make a stop at this millennial staple brand. Shopping in their flagship HQ on Lafayette Street in SoHo is an experience all by itself. Forget picking up baskets and schlepping around grabbing things off crowded shelves; Glossier is all about immersing you in the brand. Think an entire showroom filled with products to test and try, displayed in an impossibly chic and minimalist way. When you're ready to purchase, head to one of the assistants, and they will place your order on an iPad, which will then be sent up to the waiting area in their signature pink ziplock bag for you.
After reviewing the whole range (you're welcome, dear readers. You're not welcome, dear wallet) I can safely say I am obsessed with most of it. Must buys include the Milky Jelly Cleanser, the Priming Moisturiser, and their Balm Dot Com. And no visit to Glossier would be complete without their Boy Brow, the original eyebrow mascara to fill in spare spots and keep those brows in place. Also give their Future Dew, a new serum-oil hybrid, a turn. It left my skin feeling very soft, with a subtle illuminated glow.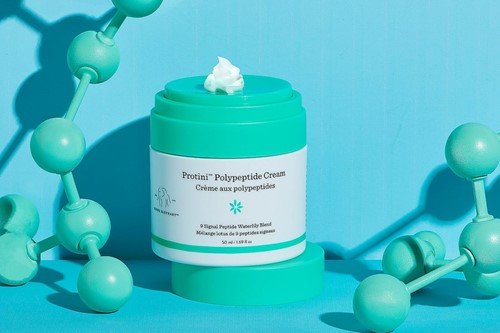 Drunk Elephant's Protini Polypeptide Cream and T.L.C Sukari Babyfacial
Because Australia has strict regulations when it comes to ingredients in skincare, we miss out on a lot of the more intensive products on the market.
While the idea of peptides usually conjures up internal supplements, Drunk Elephant have decided to put them in their moisturiser. Scientifically speaking, peptides are little chains of amino acids that are the foundations of proteins. Adding these to your skincare regimen has been found to make skin stronger, more resilient, healthier and also to soften wrinkles and add more bounce to your skin. It's referred to, lovingly, in the industry as the "Getting sh*t done cream".
Because Drunk Elephant don't like to do things by halves, the Protini Polypeptide Cream uses a large concentration of these miracle peptides, so much so that it's not allowed to be sold in Australia. But that doesn't mean you should shy away from it, it just means Aussie regulations lag behind cutting-edge industry research.
The gel texture of the cream is perfectly cooling for an Aussie climate, and absorbs into your skin quickly. There's no greasy residue and the product is dispensed through a pump which helps to stabilise the formula.
Then there's the Sukari Babyfacial, a wonder exfoliant/peel product. You'll want to make sure your skin's moisture barrier is intact before using this one, but if you can use it the results are amazing. It's not allowed in Australia because the concentration of AHA/BHA acids is too high for our regulations, but again, that doesn't mean it's dangerous. The 25 per cent AHA acid is potent but it won't make you feel like your face is burning but it will clarify the skin and get rid of dead skin cells. It leaves your skin feeling, well, like a baby's.
Even though it's a strong formula, if you pay attention to the instructions and limit use to around once per week, you'll start to see the glow everyone's talking about.
Milk Makeup
Now technically there are UK sites that will ship these dreamy products to Australia but the fee isn't exactly cheap. Milk Makeup was launched in 2016 to great consumer fanfare. Milk is a clean beauty, cruelty-free vegan brand designed for time-poor folks who want results without spending too long in front of the mirror. Most of their formulas come in easy-to-apply sticks.
The no-fuss highlighters are especially coveted, because they're both high-performance and super easy to use (just glide the stick on, no brushes required, and go). The formulas use "Milk Melt" technology which is a fancy way of saying the waxes contained in the products melt into the skin on contact with body heat. I especially liked the Watermelon Brightening Serum (yes a SERUM in stick format) and the Cooling Water stick, packed with caffeine and perfect for depuffing eyes and waking up skin.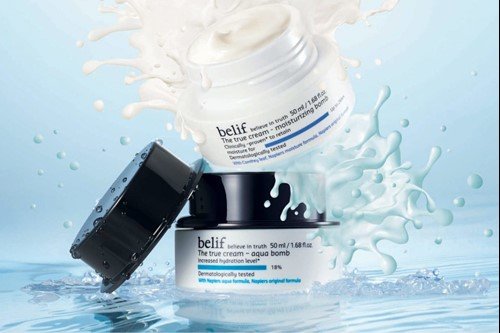 Belif
Korean skincare brands are still going off on Instagram and one of the buzziest is Belif. It's super affordable and has the beauty world talking since it landed in Sephora. The Aqua Bomb range in particular has already reached cult status because of its intensely hydrating formula. It's said to be like treating your skin to a day spa in your everyday cleansing routine. The True Cream Aqua Bomb and the Aqua Bomb Jelly Cleanser were top of my list for good reason and I may or may not have bought multiples.