As a simple restaurant dishing up Asian dishes, noodle bars are part and parcel of the street food experience throughout all of Asia, be it from China to Thailand, Singapore, Malaysia, Indonesia, Vietnam or Japan. Open air complexes featuring stalls with space ample enough to house a cooking area for a wok and the chopping of regional produce delivers an idiosyncratic atmosphere to that stall, surrounded by the steam and smells of fried and cooking foods. It's all about getting amongst it and enjoying that authentic taste that only street food can produce.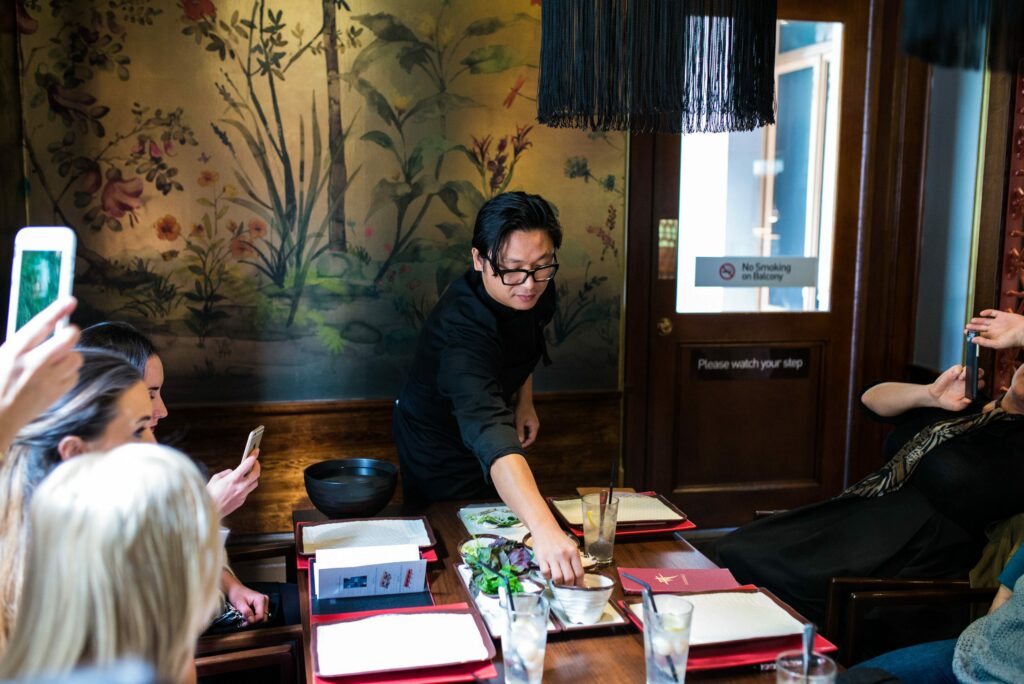 Within all the flashiness and pizzazz of The Treasury Casino, the elegance and Asian sophistication of Fat Noodle at first seems unrelated and out of place. But where there are people, there is food. Fat Noodle offers an upmarket dining experience – indeed, worlds away from the streets of Charoen Krung Road, Jalan Alor, Guijie or the Binh Thanh District – while showcasing the bona fide tastes of the orient using our own regional produce.

Though ingredients are fresh and locally sourced, it is just as much the preparation involved prior to the chopping and plating up – for the devil is in the details. From broths where stocks and meats have bubbled across days, or rice, water and salt are soaked, ground and steamed for house-made rice paper rolls; these are the subtleties delicately promoted through each dish. It is no longer eating solid Chinese at one place and Korean or Vietnamese at another. It's a fusion of Pan Asian flavours. This is especially evident with eateries like LONgTIME, Libertine Bar & Restaurant, Nest Brisbane and Heya Bar springing up and blurring oriental lines.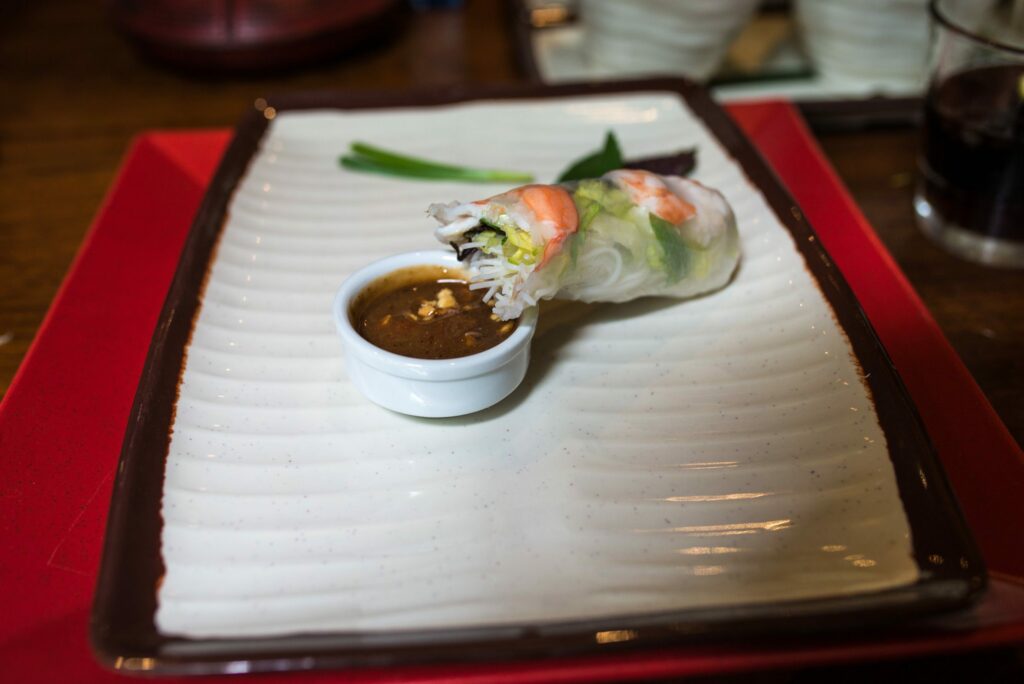 Fat Noodle presents a taste exploration across Asia. It's not necessarily about compounding Sichuan cuisine to Vietnam for a tussle between bold and light flavours. The freshness of Vietnam draw heavily on herbs and lime with the heat of chilli peppers, and are wonderfully united in Fat Noodle's Prawn & Pork Rice Paper Rolls. This simple dish holds all the gluten-free and theatrical joy of interactive 'creating your own' while the fresh tastes of scallion, perilla and coriander enhance the simplicity of cooked prawns, pork and vermicelli noodles. It's a mighty easy task to down two, maybe five or even ten of these delicious rolls. But there's definitely a different viewpoint in eating them when it comes to understanding the lengthy repetitive methods involved in the making of the rice paper alone. Trying to consistently roll 120 of them takes it up another level of respect. Complicated processes are involved in both actions – the incongruity for such a simple light dish.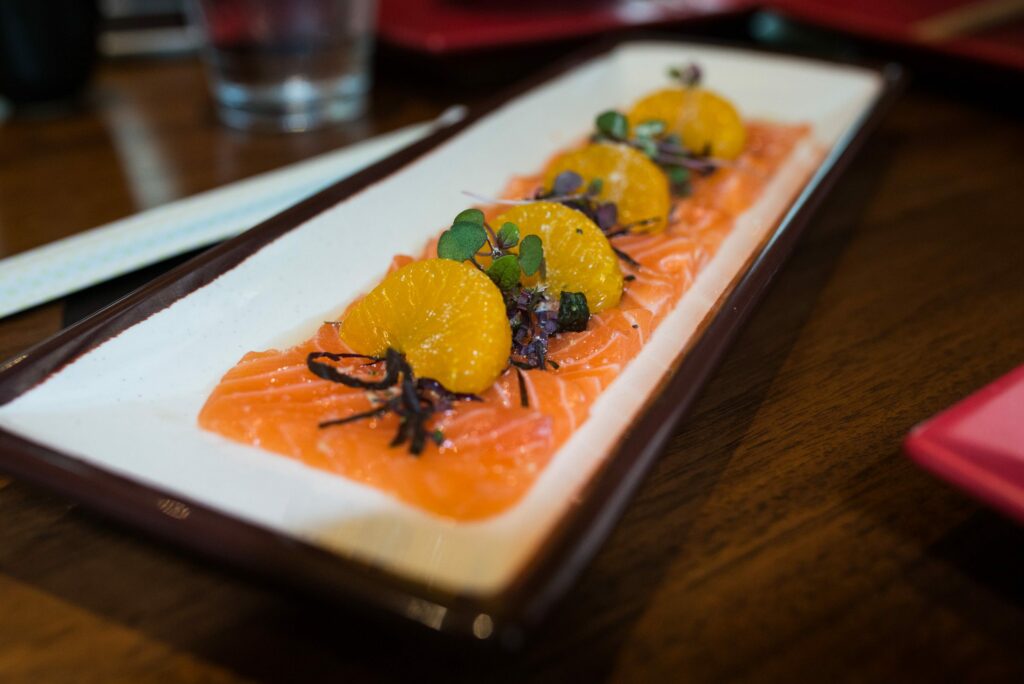 Atlantic Salmon Sashimi presents thinly sliced salmon augmented by the colours and flavours of mandarin with perilla. It's a delightful dish to behold visually and on the tongue, where the choice of mandarin means a perfect balance to the oiliness of the salmon that never overwhelms yet satiates. The knife skills to achieve such delicate layers of fish are particularly profound.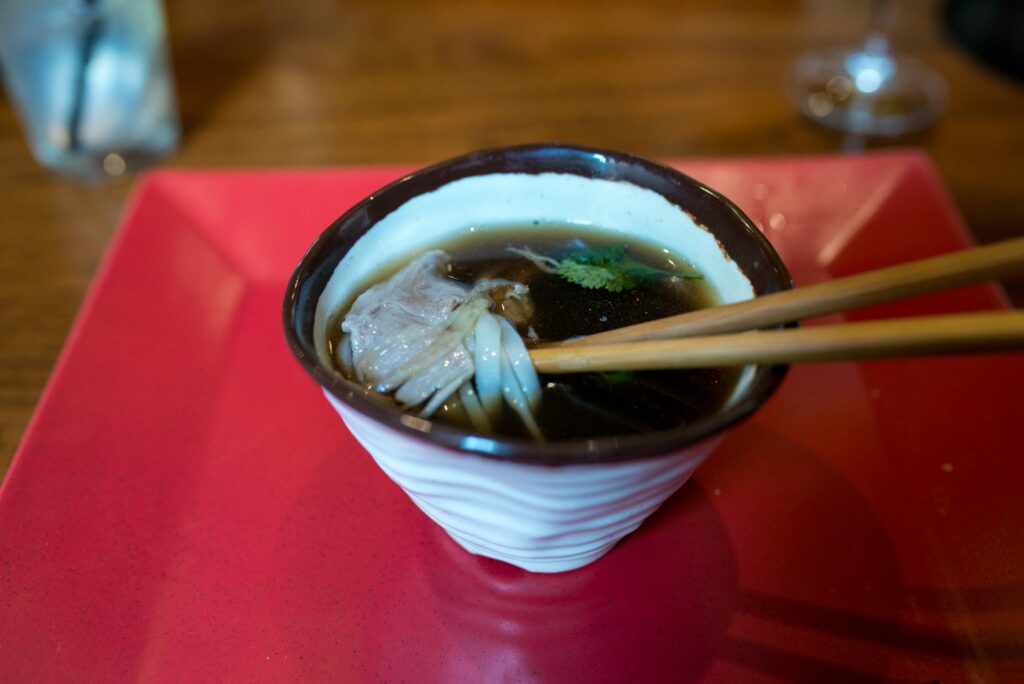 Pho noodles are perfect comforting remedies for any mood: from self-inflicted hangovers to general down-in-the-dumps or whilst fighting man-flu. There is certainly a sense of pleasure and cheer that this Vietnamese noodle soup never fails to elicit. Luke's signature Fat Pho Noodles presents a refined beef broth with thinly sliced Angus, rice noodles and bean sprouts; the understated brawny flavours heightened by the freshness of Thai basil and slight heat of chilli.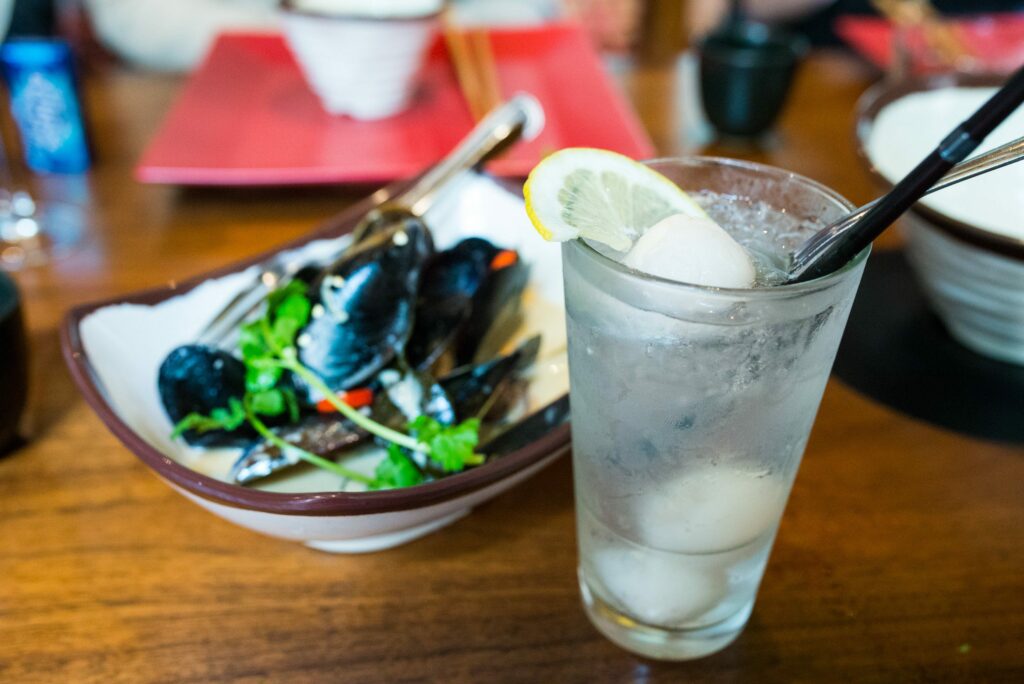 While Thai street food comes with a wallop of fieriness and pungency with shrimp pastes and fish sauces, the Black Mussels in Coconut Curry Sauce is a sedately suave yet lush mélange of ingredients. Thai coconut curries are certainly like a pho in the sense of wellbeing it generates, but the heat of the chilli and lightness of coconut is an additional depth and flavour, with black mussels simply increasing the layers of luxury in this already lush treat. As black mussels settle mostly where the sea meets the coast, this regional seafood delight certainly delivers on succulence. The only pity is this dish just might want to encourage rather unladylike and/or ungentlemanlike manners; those best reserved for the privacy of the dining room or one's own home, particularly when mussel shells are a handy natural implement and soup spoon.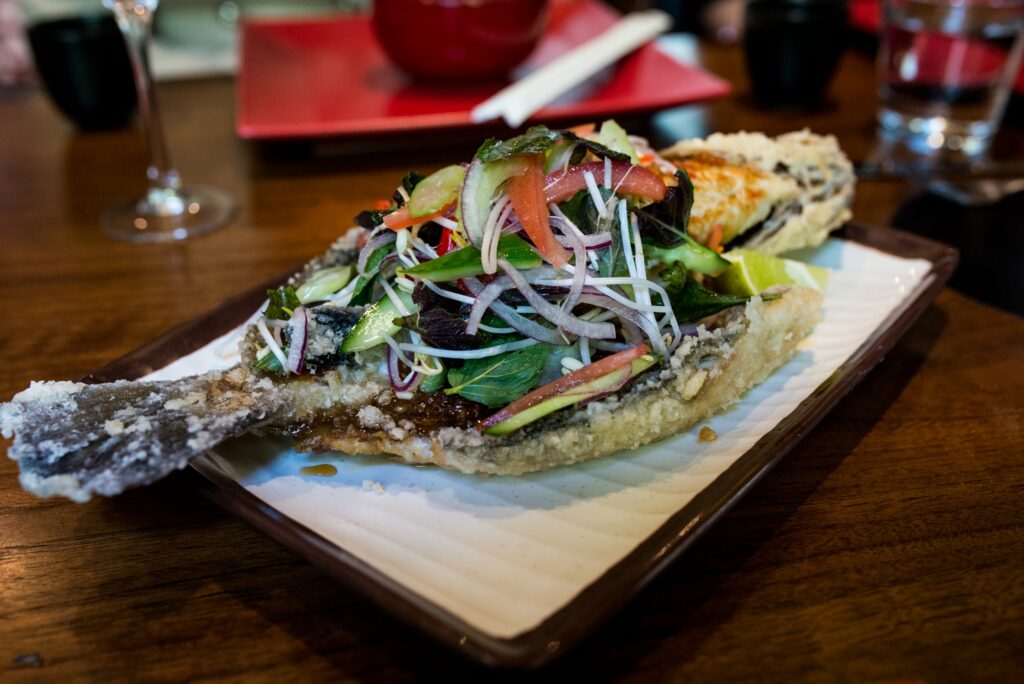 For a showstopper, the whole baby barramundi topped with sweet and sour Thai chilli sauce is a visually arresting and ambrosial plate. Head, tail, fins and all are cooked until thoroughly crispy – but not greasy – where the highlight of the dish is in the lingering frizzled crunchiness. While the dish may not hold the delicate charm of a Japanese plate, the serve is certainly impressive and stunning nonetheless – and very easy on the taste buds. And as part of Festival Flavours with Fat Noodle, this dish opens up the palate – and the eyes – to a very special Thai favourite during Brisbane Festival.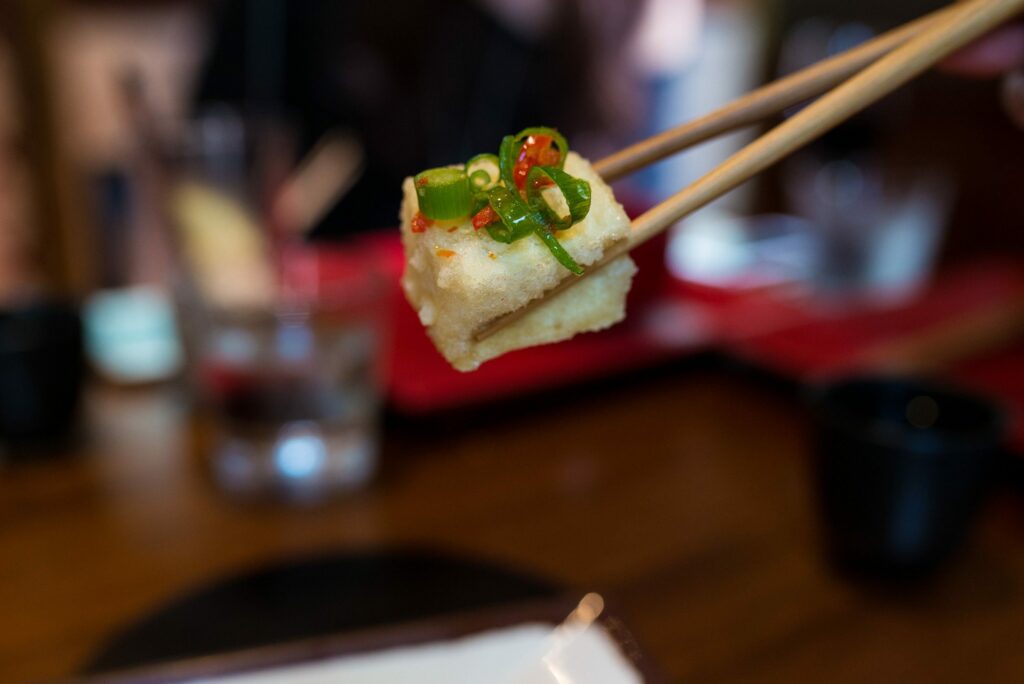 But if Fat Noodle is to have a signature dish that perfectly presents its personality on a plate, Salt N Pepper Silken Tofu would indeed be it. Also ideal for gluten-free and dairy-free cast outs, silken tofu – when lightly fried with the especial salt and pepper mixture – introduces a gorgeous custard-like texture to the tongue. This can be one of those easily hit-and-miss dishes given the lightness and fragility of the tofu, but under the right hands, is a veritable taste sensation. Topped with fresh ingredients such as fresh scallions, chilli, fresh ginger, shiso and bonito flakes, the delicately frizzled cubes of silken tofu is a Fat Noodle exhibit: a versatile, unexpectedly exquisite, visually appealing and understated dish that delightfully hovers between a harmonious synthesis where west meets east.

Since renowned celebrity chef and Vietnamese import Luke Nguyen bought his second restaurant north from Sydney to the Treasury Casino two years ago, Fat Noodle has subtly instigated a Pan Asian movement developing Brisbane's palate. What Luke has certainly managed to achieve with our taste buds continues to obscure the lines beyond that of western and Asian fusion for a mashup of Pan Asian flavours covering Malaysia, Vietnam, Thailand and Chinese cuisines to blur the lines between east and west more than ever. 

Photographer: atetooomuch

Fat Noodle
Treasury Casino, 21 Queen Street, Brisbane City
07 3306 8888