Fast fashion is so 2008, along with fluorescent slogan tees and wearing three-quarter leggings under skirts.
Now, 12 years later, we are starting to understand the importance of shopping consciously, and supporting slow, locally produced fashion labels. Not only does buying locally help to support our community, it's also often a lot kinder to the planet.
If you want to shop sustainably but don't know where to start, here's a list of five eco-friendly Australian fashion brands
Camp Cove Swim
Location: St Peters, Sydney
Speciality: '70s-inspired swimwear featuring flattering high-waisted silhouettes and happy retro florals, fruits and squiggles.
Camp Cove Swim was launched in 2013 by Katherine Hampton. The brand produces empowering, high-quality swimwear that has minimal impact on the environment thanks to its use of ECONYL (a regenerated nylon made from rescued fish netting and nylon waste from landfill and oceans around the world). Camp Cove also uses sustainable and ethical practicing when manufacturing, and minimal packaging.
Better yet, in 2019 the Australian brand collaborated with talented indigenous artist Sar.ra on a swimwear release, which showcased her stunning bright pink indigenous designs.
Instagram: @campcoveswim
Website: Campcoveswim.com
Frank & Dollys
Location: Byron Bay hinterlands
Speciality: Clothing to suit all body types, with their loose and flowing, yet oh-so flattering pieces.
Launched in 2016 by Joel and Rachel Cooper, Frank & Dollys collaborate with small, independent cotton farmers, weavers, dyers, printers and tailors to create bespoke pieces, with profits going directly back to the artisans.
Frank and Dollys is all about honouring every person within the manufacturing process, encouraging customers to understand the whole story of a garment. The brand has built solid working relationships with independent makers in Indonesia and continues to support the communities.
The brand features sweet simplistic prints on beautiful earthy colours such as rust, brown, pastel yellow and lilac. Using natural fibres grown in Indonesia, the collection is digitally printed, and the dyes used are water-based reactive inks that are certified with oeko-tek standards 100 (a product label that tests textiles for harmful substances), making the brand's production carbon footprint light.
Instagram: @Frankanddollys
Website: Frankanddollys.com
Bilboa
Location: Byron Bay
Speciality: Hand-sewn and handprinted linen and cotton clothing.
Featuring bold florals, playful stripes and bright gingham, every piece by Bilboa is designed, cut and constructed by hand, and is made from natural, organic fabrics.
Bilboa also makes use of dead stock fabrics, transforming discarded and excess fabric into wearable, stunning clothing. Bilboa garments are made on demand, to minimise waste, and are customisable to specific measurements. The bright colours and bold patterns are hand-printed using eco-friendly paint to minimise waste and water usage.
Insatgram: @thebilboaloft
Website: Bilboa.com.au
Kopal
Location: Byron Bay
Specialty: Indian-inspired styles and techniques including hand-dying, hand-printing and hand-embroidery
Kopal, meaning 'newborn leaf' in Sanskrit, pays homage to the rich culture and heritage of crafts created by skilled artisans using techniques and practices passed down within Indian villages.
Produced in small quantities and made using sustainable, traditional methods and the highest quality cotton and natural dyes, Kopal's oversized designs feature stunning florals, foliage and stripes. They incorporate a lot of blues, greens, oranges and some pinks, and make use of natural indigo dying methods. Indigo dye is extracted from plants, which means the process is cleaner and the waste is biodegradable. It also supports the farmers who still harvest indigo.
Kopal produces each collection in collaboration with India's finest makers, so that their indigenous skills, which would be otherwise lost, are preserved by integrating them into the new economy.
Instagram: @kopalshop
Website: Kopalshop.com
Arnhem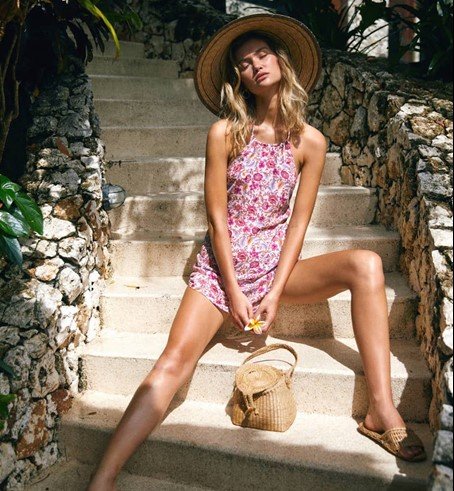 Photo: @arnhem_clothing via @cameron__mackie
Location: Byron Bay
Specialty: Floral-printed clothing with flirty and romantic silhouettes.
If you haven't already heard of this brand, do yourself a favour and have a sticky beak. Featuring stunning vintage florals and tribal earthy designs in a variety of colours, Arnhem very much prioritises sustainability.
Not only does the brand use cellulose fibres derived from renewable wood pulp, it also uses organic cotton fibres, eliminating the use of toxic chemicals. The only synthetic fibres used are made from recycled materials such as ECONYL, used for its swimwear (similar to Camp Cove Swim).
Arnhem also makes use of digital printing as a greener and cleaner alternative to screen printing, as there is no dye run-off and the process is chemical-free. The brand is also plastic-free and uses garment bags made from corn-starch, compostable courier satchels, certified recycled paper button bags, swing tags, shipping boxes and tissue paper. When it comes to its impact on the planet, Arnhem has thought about it all, and is constantly evolving to become even more sustainable.
Instagram: @arnhem_clothing
Website: Arnhem.co