When it comes to relaxation, nothing else floats my boat better than a long, hot bath. Pair it with bath products and it's the perfect self-care for me, that ticks off important things like bathing and pairs them with skincare, exfoliation, and chilling the heck out. (I've also been known to take my laptop into the bathroom to lounge in the tub while watching some of my favourite shows). But there are some products out there to truly make your bath time a luxurious, pampering experience. Here are some of my bath products and beauty favourites (along with some shower winners as well).
L'Occitane Milk Bath and Shower Oil
Legend has it that Cleopatra used to bathe in milk to help her complexion and, well, if it's good enough for a queen, it's good enough for me. And there's no better milk bath product than L'Occitane's Almond Milky Bath. The first time I used this product, bath time was changed forever for me. Enriched with almond oil from Provence, known for its nourishing and softening properties, this formula transforms your bath water into an almond milk bath, for a blissful moment of relaxation. It makes my skin feel soft and hydrated, and makes my soak a real sensory treat.
If I've only got time for a shower then I reach for my L'Occitane Almond Shower Oil. It sounds like madness – oil and water? How and why? But it works! Some kind of science-y magic, probably. This delectable product goes on as an oil, foaming up to luxuriously clean the skin and moisturise at the same time. There's a reason there's one sold every 15 seconds worldwide. That reason is that it makes your skin smoother than a baby's butt. True story.
Sundae Body Whipped Shower Foam
This brand may be one of my very favourite lockdown discoveries. Imagine the creamiest foaming body wash that also doubles as a shaving cream, but dispenses like a sugary sweet whipped cream. If you're into sensory experiences, then Sundae Body is for you because, damn, it's fun to press the button and have the famous star shaped foam swirl out into your hand. Coming in scents such as Very Vanilla and Cherry On Top, it's also super hard to not have a cheeky taste (please don't, it's definitely not food stuff).
Frank Body Clean Body Range
Everyone's favourite coffee scrub company has branched out over the past few years, and now it has added range of body care products to their range and I am a big fan of their Clean Body Wash. It comes scented and unscented for sensitive skin, is soap free and is super hydrating. It features a blend of Kakadu plum, pomegranate and energising coffee seed extract for soft clean skin.
Want your face to feel as silky smooth as your body? Then look no further than the Extra Clean Face Wash. This face wash is made with clean and active ingredients, and is billed as "a workout for your face". You've got your salycilic acid for exfoliation, niacinamide to balance skin and unclog pores. I use this one every second night, to ensure my face remains clean, clear and glowing.
Body Shop Cool Daisy and Raspberry Range
When you hop out of the bath, you need products to add to the experience and keep your soft skin going. That's when you turn to the OG when it comes to bath and body ranges, The Body Shop. The sweet smelling products have evolved since my teen years and continue to be a staple in my routine. I can't go past the latest Cool Daisy and Raspberry scents, which are ideal for a spring/summer mood. In addition, you can choose your level of moisturiser and graduate from a Body Butter to a Body Yoghurt on a seasonal basis.
Palm Beach Candles
If you really want a decadent bath time experience, you need a little bit of mood lighting. Enter Palm Beach Candles. These highly scented candles will provide fresh fragrance for up to 80 hours (so many baths!). You can pick which scent matches your mood when you soak. My favourites are Vintage Gardenia and Linen, because classy florals and fresh pressed, well, linen!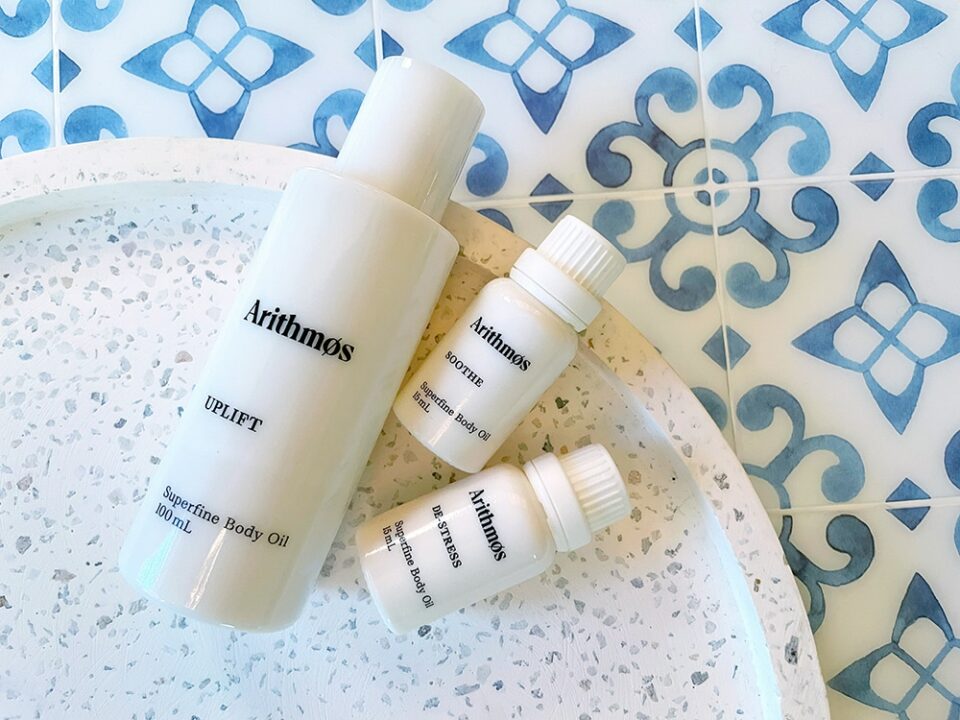 Arithmos Body Oils
If you prefer getting your skin softness from oils, then I've got you. The title of my favourite body oil at the moment goes to Arithmos Skin's Uplift Superfine Body Oil in Jasmin and Neroli. Made by a micro-batch company in Melbourne, this post bath treat is ideal for sensitive skin. This delightful oil adds much needed moisture to skin, at the same time as calming redness, and brightening dullness. The scents also leave me feeling really, REALLY relaxed. Hot tip: get your hands on Arithmos' stainless steel Body Restorer gua sha tool to glide over the oil for the ultimate self-care routine.