A Midnight Visit announces an epic Halloween Festival Extravaganza weekend from Friday 29 October – Sunday 31 October.
The hit immersive theatre experience has added additional weeks of shows, a bespoke collaboration with superstar comedian and singer Reuben Kaye as the 'Scarlet Prince' . . . . AND NOW a Halloween party extravaganza.
Inspired by Edgar Allan Poe, the granddaddy of gothic literature, A Midnight Visit's macabre vibes and endlessly entertaining theatre wonderland presents the perfect option for audiences looking for a memorable and very adult Halloween experience at Brisbane's most exclusive haunted party.
The Halloween Festival takes place over multiple nights – Friday 29, Saturday 30 and Sunday 31 October and will feature a host of new tricks and treats including:
● Additional characters delivering fresh, wicked, bizarre and explosive performances across circus, dance, music and text-based theatre
● Weird and wonderful drink specials and Halloween themed cocktails
● Special entertainment including fortune-telling and twisted magic, DJs and live music at The Raven's Rest onsite bar
● Dress up competitions for guests with prizes for best dressed!
Prior to that, on 8, 15 and 22 October, A Midnight Visit will collaborate with comedian and singer Reuben Kaye, in three delicious late-night lock-ins. Kaye will join the haunting as the 'Scarlet Prince' – inspired by the devastatingly decadent Prince Prospero from Poe's Masque of the Red Death. The Scarlet Prince will reign supreme over the Red Ballroom in a post-show cabaret. Those with tickets to the Friday shows will be treated to the lock-in performance, subject to capacity availability.
The award-winning large-scale immersive theatre experience was created and produced by Broad Encounters. A multi-room, multi-sensory and magnificently macabre experience, A Midnight Visit invites you to explore a dark dream world of thrills, obsession, decadence and awe. A performance experience like no other, you will encounter strange characters, eldritch scenes and uncanny splendour as we invite you to journey deeper and deeper still into the depths of mystery.
Inside the two-storey warehouse, located in Robertson Street Fortitude Valley, audiences are free to explore more than 30 themed rooms, interact with characters, props and art installations and create their own journeys.
No two journeys are the same, be it nightmare or fantasy, remembering or premonition. Expect the unexpected and expect all senses to be tantalised – even (especially) the sixth.
Inspired by the life and works of the granddaddy of gothic Edgar Allen Poe, A Midnight Visit is part choose your own adventure, part performance, part sound world, part surreal playground and all parts absorbing. A Midnight Visit features 8 multidisciplinary performers, who surprise and delight with cabaret, circus, text-based storytelling, contemporary dance and song.
A Midnight Visit premiered in Sydney back in 2018 and was included as part of Perth's FRINGE WORLD festival in early 2019. After that it went to Melbourne for over 4 months, earning itself multiple five-star reviews and awards. Audiences have been so impressed with the experience, that many have already booked to see the show multiple times. Previous season attendees have even flown interstate to experience it again.
"We have been working towards a home city season for over 3 years and we couldn't be more thrilled with the response to this epic piece of immersive theatre. It's clear there is an audience that is eager for non-traditional theatrical experiences and who want to experience something extraordinary. A show like this requires immense courage, creativity and stamina from the entire production team, as well as our partners, and Brisbane's response is the best acknowledgement we could have hoped for," said co-creator and director of Broad Encounters, Kirsten Siddle.
This unique production allows audiences to choose their own journey, delighting in exploring the many sets and props or choosing to follow one of the characters through dozens of scenes. There is no right or wrong way to experience A Midnight Visit and everyone will engage differently.
A Midnight Visit is showing at 95 Robertson Street Fortitude Valley.
It even has its own bespoke bar, The Raven's Rest, presented by Innocent Bystander Winemakers, featuring wickedly innocent wines, themed cocktails, craft beers and sophisticated light bites.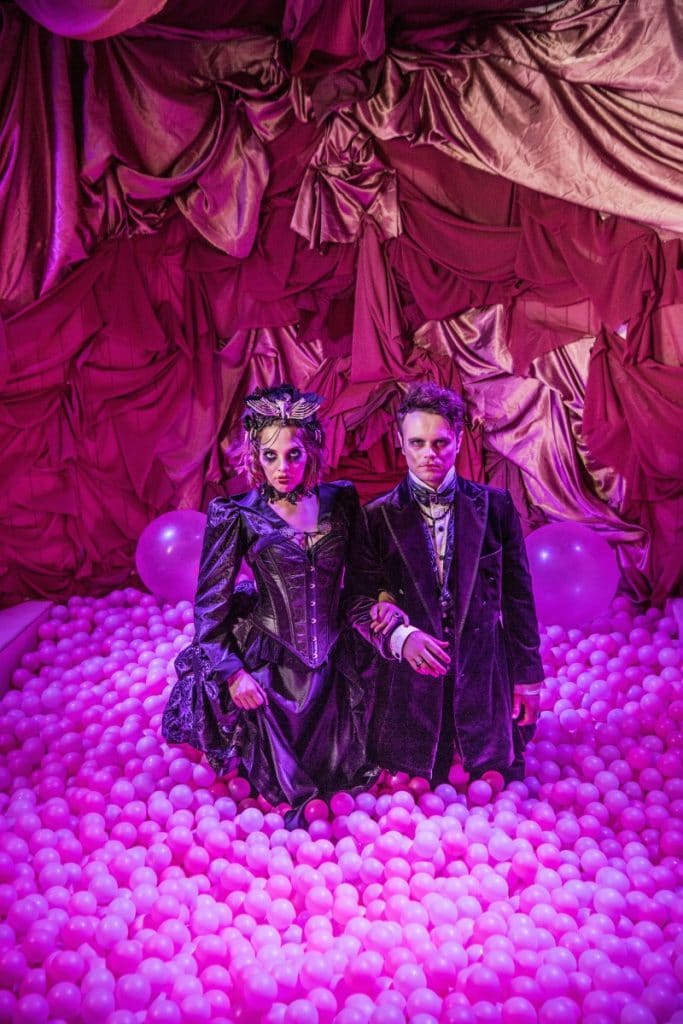 So come, won't you join us? The House of Usher invites you to a hedonistic night out of a very different, dark and decadent variety.
Information and Bookings: https://amidnightvisit.com/
*please note this experience is not suitable for children under 15 years.
Latest posts by Embrace Brisbane
(see all)