Click here for more film reviews by Shannon Griffiths

Writer and director Matt Ross presents a life inspiring, incredibly charming and thought-provoking film that not only beautiful, also asks the big questions. Entirely mesmerising from start to finish with unexpected turns and stellar performances from a perfect cast, CAPTAIN FANTASTIC is a rarity of filmmaking in how happy it will leave you feeling. An exploration of the choices parents make for their children, this is equal parts family comedy and weighty drama. Doing well to quickly become an instant indie classic and proving to be one of modern cinema's greatest stories ever told in doing so, this is a film unique as much as it is outstandingly refreshing.

Viggo Mortensen is Ben Cash, devoted father to six children. Together with his wife Leslie (Trin Miller), he and his family live off grid from the rest of society in the woodlands of the Pacific Northwest. Raising their children in the secluded paradise of a handcrafted compound, the days are filled with rigorous education, high test physical training and highly instructive teachings of how to survive in the wild. Attempting to raise his children as 'philosopher kings' away from modern consumerist culture, they all possess extreme intelligence, unparalleled skill sets and high endurances to pain.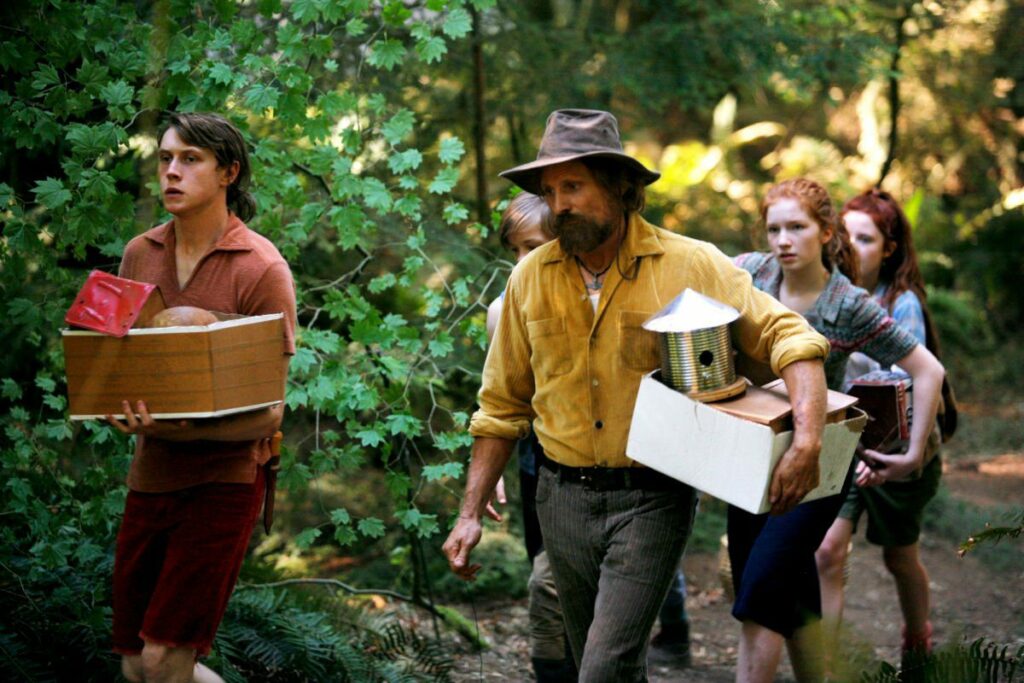 Self sufficient and completely sustained with all needs of basic humanity, all is well within the Cash family until they are forced to re-enter the outside world after tragedy strikes. With Ben's idea's of what it means to be a parent challenged, he and his clan of three sons and three daughters embark on a road trip across America where everything he's taught them up until now comes into question as adapting to a different world they don't fully understand proves more confusing than not.

Artistically distinctive flare being present in almost every aspect of the story unfolding, the warm and exciting nature of the narrative is paired nicely with a wholly original concept that leaves you not knowing what to expect. Shifting from heartfelt moments of distress to uplifting flashes of outright humour seamlessly, the exceptional performances from all members of the cast help excel the encouraging theme embedded within the moral code of the importance of family. Further adding to the creativity exhibited are the names of the children.

Ranging from the ages of eighteen to eight, Bodevan, Kielyr, Vespyr, Rellian, Zaja, and Nai have all been named uniquely in the hope of setting them apart as the only one of each in the world. All contributing their part and each having their own moments to shine, a youthful cast has never been so good. With George MacKay given the most important role as oldest child Bodevan and Samantha Isler standing out as Kielyr, the two help lead the believable chemistry between the children and Mortensen's patriarchal father character where a 'no-lie' system has been established between them.

As the titular Captain of his family, Mortensen absolutely kills it in a top-notch performance that may very well be the best of his career. Fully committed with clear passion and charisma bleeding onto the screen, he breathes life into a remarkable character in such a way you instantly find yourself having fallen in love. As an always consistent performer, here he goes a step above – embodying a man likeable in nature with nothing but love to give. Also adding his musical talents to an already must buy soundtrack, he portrays complexity sided with intrigue significantly well, carrying the film with no worries at all, deservedly making a case for Oscar glory come awards season. Featuring Frank Langella, Kathryn Hahn and Steve Zahn in supporting roles as both adversaries and allies to Ben's quest, the line between cries of laughter and cries of tears is walked across with practical effect.

A rewarding film experience with incredibly engaging characters and a great premise, CAPTAIN FANTASTIC truly is fantastic. Benefiting from a never before seen type of ideology, it's originality and truthful storytelling make for an expertly written important piece of art that simply cannot be missed.

The film having already taken home the award for Best Director for Un Certain Regard at this year's Cannes Film Festival, Matt Ross certainly has a bright future ahead of himself. Definitely deserving of your attention, this is one motion picture worth the buzz and worth mentioning to everyone you know.

Power to the people, stick it to the man.