Beauty mavens the world over are obsessed with banana powder, but what is it and how the heck do you use it?

You know how some models (or reality TV stars… looking at you Kardashians) manage to have a sort of glow about them? A radiance that no matter how long you stare at it for, you just can't seem to figure out how their face looks so light and bright without any trace of makeup cakeage?

Chances are that's banana powder. This super-fine (and let's face it, super fine) powder is the secret makeup weapon of beauty lovers the world over. But what the heck is it, and how do you use it?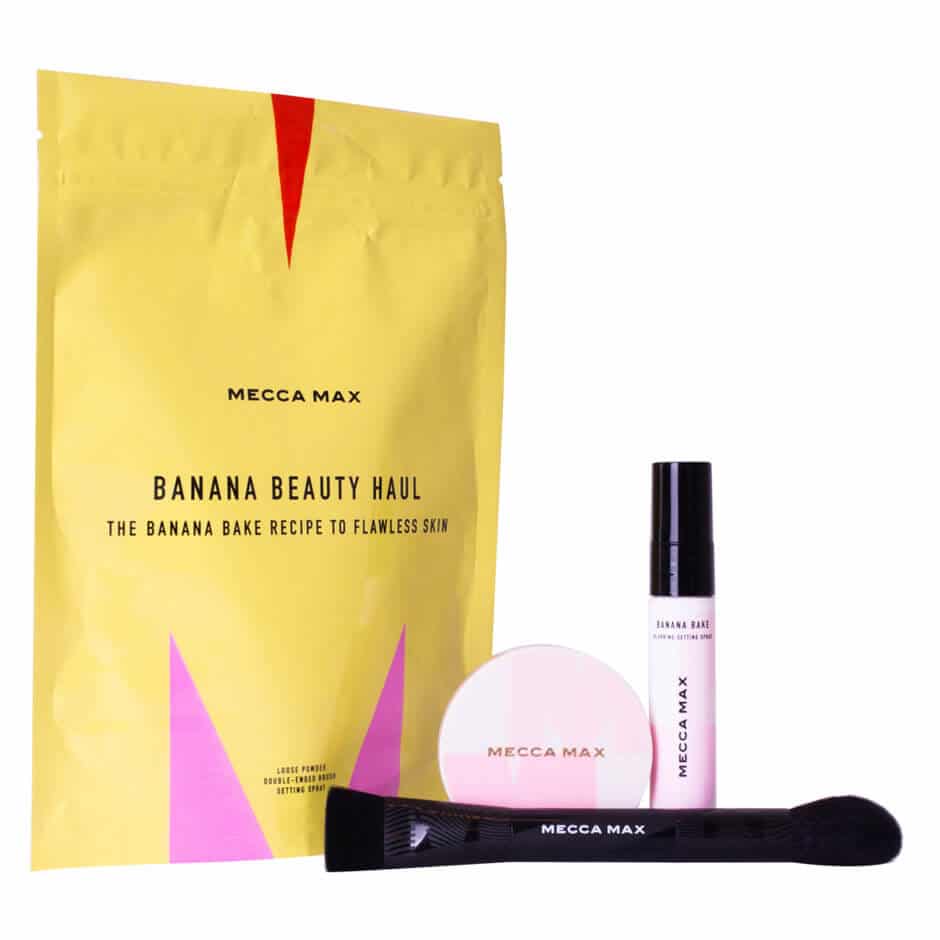 To find out, I headed straight to Mecca Maxima to pick up their Banana Bake Tutorial Bag ($50) featuring the Mecca Max Banana Bake Skin Filter Loose Powder, the Bake and Set Brush, and the Banana Bake Blurring Setting Spray. The kit is limited edition, but you can also buy all the items contained within individually so don't fret if the kit sells out!

What does it do?
Want to look like an Insta-model (or at least have similar flawless skin)? Then Banana Bake Skin Filter powder is for you. By applying and setting this micro powder to all the places you want to brighten up, banana powder is like giving yourself an Instagram-worthy face filter IRL. NO MORE FACETUNING PHOTOS BEFORE POSTING THEM!

How do you apply it?
If you're too lazy to read, you're in luck! I made a how-to video just for you.
But for all those who prefer step by step instructions, here you go:

Step 1: First apply a primer and foundation base. Once you're happy with coverage, take your concealer and place it wherever you want to brighten. For the sake of this lesson, I applied mine in an upside down triangle directly under my eyes, with the point of the triangle lining up with the outer corner of my nose. Then blend that the heck out (I use a blending sponge) so that it merges seamlessly with your foundation.

Step 2: Now comes banana time! Mecca Max has two options, pressed or loose powder. I prefer loose but sometimes pressed is a little easier to work with if you're just a beginner Take the brush and load the flat, blunt end up with powder. Then, PACK THAT POWDER ON. Seriously, everywhere you just put concealer, you wanna pat that powder into your skin. At this point you probably think you look like a monochromatic clown, but that's what you're mean to look like. Don't worry, this is only an interim step so unless you take a selfie (or do a video of it) no one will know you looked like that.

Then you wait. You need to let the powder set onto your concealer for a few minutes for it to be truly effective. 

Step 3: When your time is up, take the domed end of the brush and lightly brush off all of the excess powder. Then look in the mirror and marvel at your flawless, filtered complexion. You're almost done!

Step 4:Obviously you need to finish off the rest of your makeup before you leave the house because otherwise, awkward. Once you've done the rest of your face with whatever you please (I use a bit of blush, bronzer, mascara and lipstick), it's time for the final step.

Step 5: Use the Banana Bake Blurring Setting Spray to lock that look down! Give your face a spritz and not only will you have your makeup in place for ages, but you'll also add a soft-focus to your skin. It's just like Hollywood does it, dahling!

The Banana Bake Tutorial Set and all its components are available at Mecca Maxima.