The Plot to Free Guy
Free Guy is a big budget Disney action comedy featuring Guy, played by Ryan Reynolds. Guy is a bank teller who lives a simple existence. He exudes
positivity and cheerful optimism and is always up for a good cup of coffee. He spends his days on a bit of a repetitive loop hanging out with his best friend, Buddy (Lil Rel Howery). But everything changes when Guy discovers he is actually a background player in the ultra-violent, open-world video game "Free City." Free City, is distributed by Soonami Studios, which is run by the profit-driven 'bad-guy' Antwan (Taika Waititi). Guy meets and immediately falls for a character Molotovgirl (Jodie Comer), who helps him to level up within the game and come to terms with the fact that he is not real.
Guy begins to take on a more active role in the game as a good person, he becomes a champion for both the players and the other NPC's (non-playable characters) and the hero of his own story…one he is rewriting himself.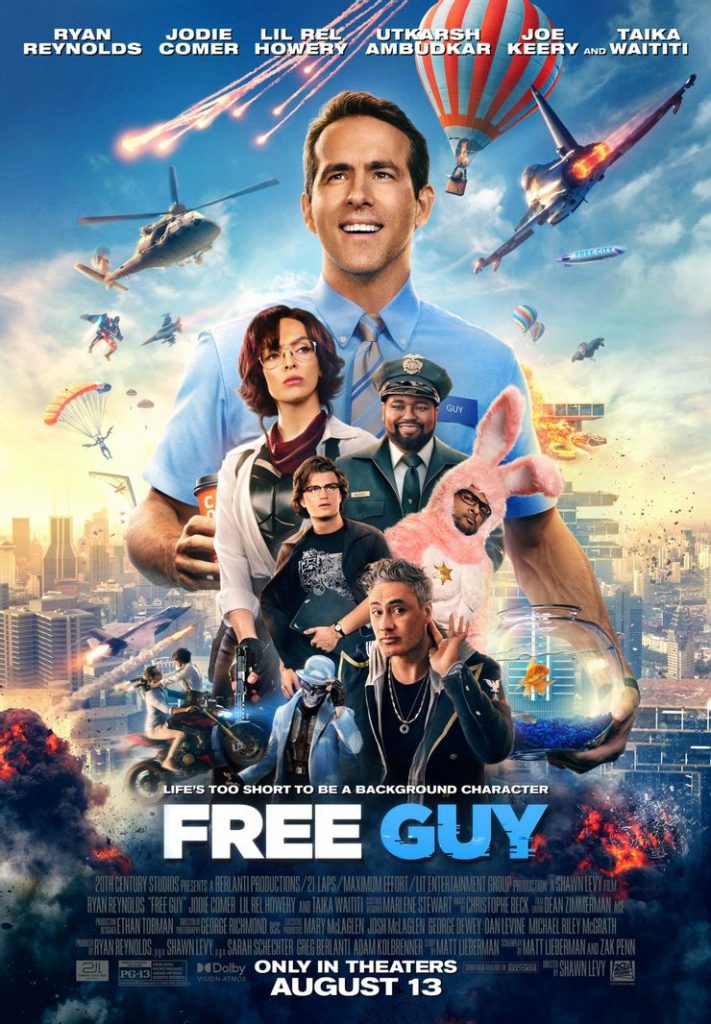 Filmmaker Shawn Levy describes that even though Guy exists in an alternate video game reality, "Free Guy's" truths are universal. "It's about the shift in mindset that I think we all yearn for, which is a shift to, 'Wait, maybe my life can be bigger than what I was given,'" says Levy. "Maybe life doesn't have to be something that happens to me, maybe it's something I can make, I can define, maybe my story is one that I can rewrite as I go. I think that that is a basic and universal human aspiration."
"Ryan's character Guy is, in my mind, a direct descendent of Tom Hanks in 'Big,' or Will Ferrell in 'Elf,' someone with tremendous charm. He has the humour of Ryan Reynolds, but without the cynicism of the 'Deadpool' franchise.This is Ryan in a way that we haven't seen him, a little bit more
wide-eyed, good and innocent."
Guy's clothes remain consistent throughout the film, with khaki pants and a blue shirt, and Reynolds credits his wife, actress Blake Lively for the inspiration. "We had him changing his outfit every day like everyone else in every other movie, and then it was Blake who said we should think about a Halloween costume. 'What is something that everyone would just immediately recognise?' and the blue shirt and khaki pants sort of stuck."
Reynolds continues, "From then on we stopped calling him Guy and started referring to him as the blue shirt guy, which is even more of a generic thing to call somebody who doesn't have an inner world or identity or anything, which spoke to his journey as well."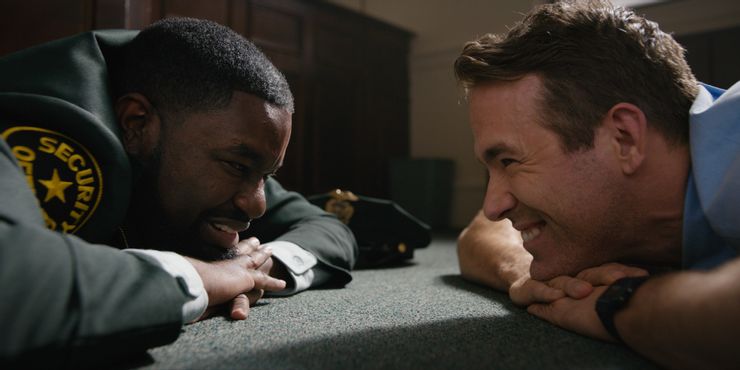 Review
This movie is exactly what I needed right now. Laugh out loud funny from start to finish. Brilliant action scenes. Stunning special effects. A thought provoking plot.
Free Guy is an original blockbuster in a time where it can seem like everything is a remake, or an adaptation, or a sequel. That's not to say that it doesn't take some heavy inspiration from movies that went before. It feels like as if The Lego Movie, The Truman Show and The Matrix had a baby with Deadpool, Wreck-it-Ralph, Groundhog Day and Pokemon.
At it's heart it's a movie that will appeal to gamers, but can be enjoyed by non-gamers too. Get ready to see YouTube clips and articles breaking this movie down, because there are a mega-truckload of Easter Eggs hidden and not so hidden.
And OMG the cameos. The Universe crossovers. I really want to spill here, but I will be good so that you can enjoy the movie spoiler-free. But you had better go see it soon, because I can't guarantee that others in your life are going to be as nice.
Overall, this movie isn't high art, but it is brilliant and entertaining. It has also granted me my new favourite catchphrase. "Catchphrase!"
IN CINEMAS AUGUST 12, 2021
Latest posts by Embrace Brisbane
(see all)