You need to be steady of both hand and heart to want to attempt a winged eyeliner effect. Unfortunately, because I am super uncoordinated, it took me years and years to perfect my technique. And even then, sometimes I still need to take a couple of runs at it, lest I look like I've been punched in the eye.
But recently beauty brands are getting savvy that not all of us possess the skills of a makeup artist. There have been a few liners that have hit the market all aimed at making that elusive cat's eye shape easy as pie and as demure or dramatic as you want it. I road-tested three of the most talked-about eyeliners to see which ones were the easy-peasyest.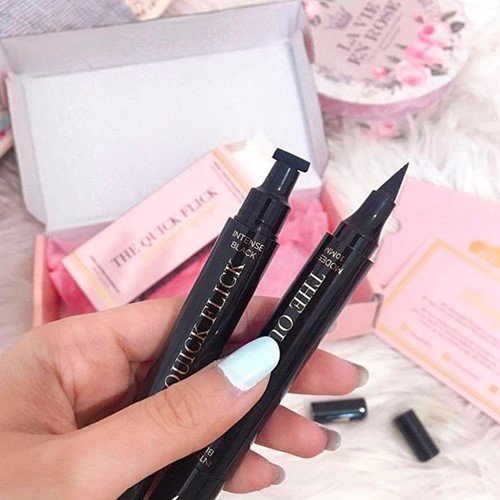 The Quick Flick
If you didn't see this revolution in eyeliner on Shark Tank then it's more than likely you've seen it all over Instagram or Facebook. The buzz has been INSANE. The Quick Flick is an Aussie invention created to allow even the most unsteady Betty create wing flick perfection.
Rather than having to draw your wings, you just stamp them on. Yup, just line it up and bam, there's your wing. Then use the other end of the liner to join the wing to the rest of your eye, paint-by-numbers style.
There are three different lengths of wing (8mm, 10mm and 12mm) so you can choose your own drama level. I personally am a fan of MAJOR eye drama, so I went straight to the largest stamp.
But are they as easy to use as the ads and videos make out?
I opened up my first kit and noticed that there were two pens because of course there were: one for left eye and one for right. Before having a go at my eyes, I stamped the felt tip on my hand to see what I was working with.
The first thing I noticed was that the colour intensity was nice and black, with clean lines around the wing. So far so excellent, because if a liner has a weak black it's an instant no from me.
There's a very slight learning curve to placing the stamp in the right place but once you figure it out, it's almost completely noob proof. Then all that's left is to use the pen tip to join your wing to the rest of the eye. It proved quite easy for me, but the tip isn't quite as fine as I'd like to taper off towards the inner eye corner.
That being said, I think this product is brilliant and a true eyeliner revolution, ideal for people who know nothing about liner technique. And even if you're already an eyeliner pro, The Quick Flick is a real time saver, and no one would realise you've not hand drawn it to perfection.
Available from The Quick Flick
Kat Von D Dagger Tattoo Liner
This one may look like your everyday ordinary liquid liner but there's one difference: the new dagger-shaped tip of the pen. The idea is that rather than trying to create shape with a fine tip, and risking a trip to smudge town, you can create perfect wings with calligraphic-style strokes. The original Kat Von D Tattoo Liner has always been a cult must-have for its budge-proof, waterproof formula so this brush tip change is likely to entice those who've not been brave enough to try the fine-tip pen of the Dagger's predecessor.
The 30-degree slant to the new brush said to be perfect to be able to create a number of different shape options adaptable to either the winged style, or just to create easier lines full stop.
So was it? The answer, in short is heck yes.
I loved the way a slight twist of the wrist and angle of my hand could change the shape of my line completely. It allowed me to create a look that went from thick and bold on the lid, tapering off to the finest angled line at the wing area. It really did make me feel like a professional makeup artist – or even just an artist in general. I would say you still need a small amount of prior skill to be able to use the Dagger, but it will be much easier than a fine tip or brush. Just make sure that you pay attention to which way the tip is angled when you start. In short, the Dagger Tattoo Liner is the perfect liner to practice your moves if you're a novice, or experiment with effortless wings and new sultry shapes if you're already a makeup maven.
Available from Sephora.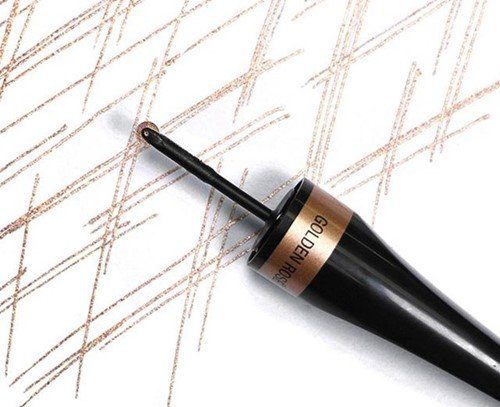 Nudestix Rock N Roller Eyeliner
Our final liner is a completely design again; instead of a felt tip or brush, the applicator here is a little roller disc. Picture the cutest, tiniest pizza cutter.
The Nudestix brand was created on the philosophy of quick makeup on the go, so this new design is supposedly super quick and easy to apply. However, the brand's focus on no-makeup makeup looks leads me to think that maybe it won't be able to provide as dramatic a wing as the other two brands.
Whereas the other two liners have ink coming through a tip, the Rock N Roller Easy Eyeliner Ink requires the applicator to be dipped into the liquid, mascara-style. I gave it a quick roll on my hand to test it and the tiny wheel moves really smoothly to create a precise fine line. It's nice and dark too.
I try it on my eye next, and find the wheel makes the little wing flick quite easy; the not so easy bit was creating smooth curves around my lash line. With a pen, you can slightly change your grip to use the flat side of the brush to navigate eye curves. With the little wheel, you can only hold it a certain way for it to draw a line, so it got a bit awkward around the lash line.
But that could entirely be because I like a thicker line and this applicator only allows a fine line. I feel like if you love your eyeliner to enhance your natural features rather than to create your own drama, this would be perfect. It is actually remarkably easy to create a nice thin line, which will appeal to a lot of people. It's just not me.
What is incredibly cool about this liner is that it comes in Golden Rose and Bronze Patina colours, meaning you can add a pop of metallic.
Available from Sephora.