The Hidden Lanes is a festival that brings together the best of fashion, food, music, art, and entertainment all into the borders of our very own Fortitude Valley. As the namesake suggests the festival is tucked away in the ramblings of laneways in the valley, celebrating (and introducing) the secret spots that have popped up in recent times.
There's a lot to love with so much going on, there is literally something for everyone. Take a number of workshops to get your creative juices flowing or shop up a storm at markets featuring local unique artisan wears. Catch some demonstrations and meet the makers of various creations.
The Hidden Lanes Festival is returning for it's third year Saturday 14 August, taking over four laneways – Winn, Bakery, California and Lucky Lane plus The Zoo, Laruche, Suzie Wongs and Uh Oh Spaghetti-O, activating each nook and cranny to highlight the 80 businesses that call them home. There is plenty on offer this year with an impressive line-up of over 50 incredible musicians and over 60 sensational market stalls.
After a tough 2020, Hidden Lanes looks to support local businesses and the local music industry. The entire day-long celebration is FREE; families and music fans alike can catch amazing performances by emerging artists and wander through the markets meeting the makers.
The Hidden Lanes Festival brings together Fortitude Valley in a way like no other, showcasing the best of the precinct's distinctive and vibrant culture. Whether you're a regular to the Valley or haven't explored the streets in a while, The Hidden Lanes Festival is a celebration of everything Valley: Live and Local.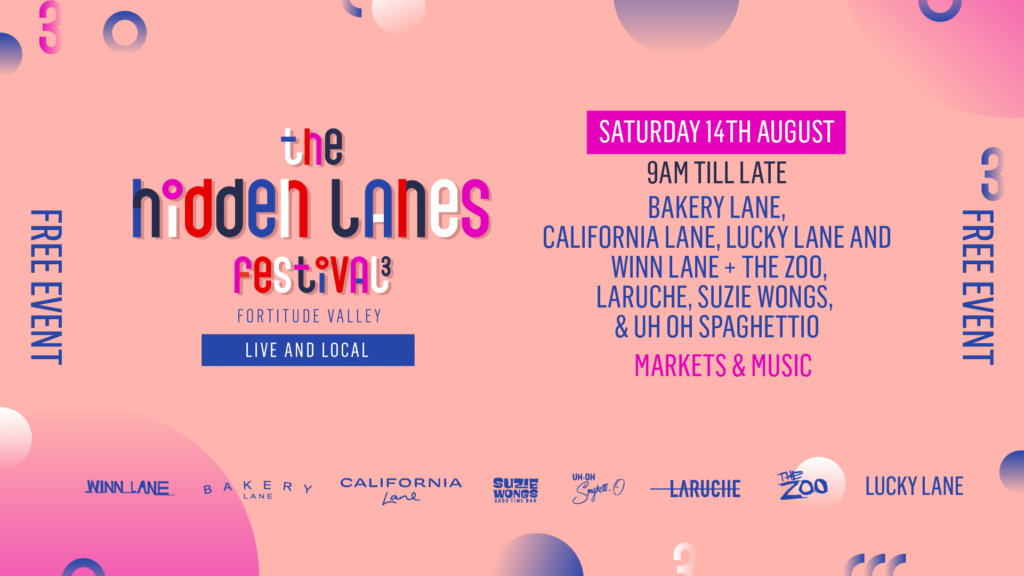 SAVE THE DATE:
THE HIDDEN LANES FESTIVAL 2021

FORTITUDE VALLEY
SATURDAY 14 AUGUST
FREE ENTRY

FACEBOOK EVENT HERE