Some people hear the term 'Op Shopping' and turn up their noses – sadly, they think it's all old man's mothballed coats and musty carpets.
While this may be true in some cases, there are far more charity shops that provide you with clean goods, hours of entertainment, and a wide range of varying items to choose from. As the name implies, these are opportunity shops where you can find things you'll love and if you're lucky, pick up delights you didn't even know you were looking for!
According to OpShop.org, there are nearly 200 op shops in the greater Brisbane area and over 600 statewide. Given that every op shop is selling bargain-priced second-hand items to benefit charities, a visit to any of them is surely a win-win situation!
You might pass an op shop or two on your commute to work or driving around on weekends and be curious about what's inside. I encourage you to open your mind to the possibilities that lay in store. Be warned though – Op Shopping is a little bit like fishing – you might sometimes go out and put the rod in without even getting a nibble, but other times you'll come home with the biggest catch and a great story about how it landed in your lap!
Please note – this story is focusing on a few small charity groups in and around the Northside of Brisbane. While I implore you to support the larger more established groups (we see you Vinnies, Salvos and Lifeline clusters in Geebung and Lawnton,) this is about the little shop in the back street where the couple behind the counter are volunteers who simply love to help their local community.
Here is just a small sample of what's on offer – feel free to add your suggestions in the comments below!

As the name implies, Be Uplifted Inc is, 'a unique breast cancer charity that seeks to improve the life of women, men and their families experiencing difficulty or disadvantage as a consequence of breast cancer.'
I was lucky enough to visit the Aspley store recently, and it was great timing indeed! Recently refurbished, it's now a staggering two stories high with a wide range of clothing and home accessories, as well as breast cancer merchandise. There's plenty of off-street parking on premises, the staff there are super friendly and knowledgeable; they even have an area for crafty supporters to sell their wares! It will be even more accessible when the elevator is installed later in the year.
Bargains I found – Season 3 of Will & Grace on DVD that finishes my collection for $6, and a gorgeous black and sequined silver top on the $1 bargain table upstairs – magnifique!
There are two Be Uplifted Inc stores on the Northside – B1 /194 Zillmere Road Boondall Queensland 4034 and 514 Gympie Road Strathpine Queensland 4500.

Founded in 1968, the mission of this organization is to "enhance the lives of people with low or no vision." If you've been here in the past it might look a little different; that's because they've extended the space into next door, which means more bargains for you!
From the moment you step inside you're greeted with racks of mens and womens clothing, as well as an arsenal of linen and kitchenware that changes daily, and with the expansion doubling it's size, it now includes a mammoth wall of books and DVDs in the second room.
I've been lucky on occasions to find NWT clothes in here (Lisa Ho playsuit thanks so much!) as well as some great bags of sequins for a craft project, even some wellies in my size for a wet weekend!
The amazing ladies who help you have been at the store for years, and they're always excited to share the next amazing find with you and their vast range of clientele. It's definitely worth a stop by!
Bargains I found – a bag of new necklaces featuring the hauntingly beautiful Kelsey Beckett style portraits on them – I was able to rewrap these and make them into gifts for girlfriends, plus a Brene Brown book for $3.
The Link Vision group have 9 stores throughout Brisbane with 5 of them being recently new locations. Check out their addresses via this link. The store I visited was at 2/35 Handford Rd, Zillmere.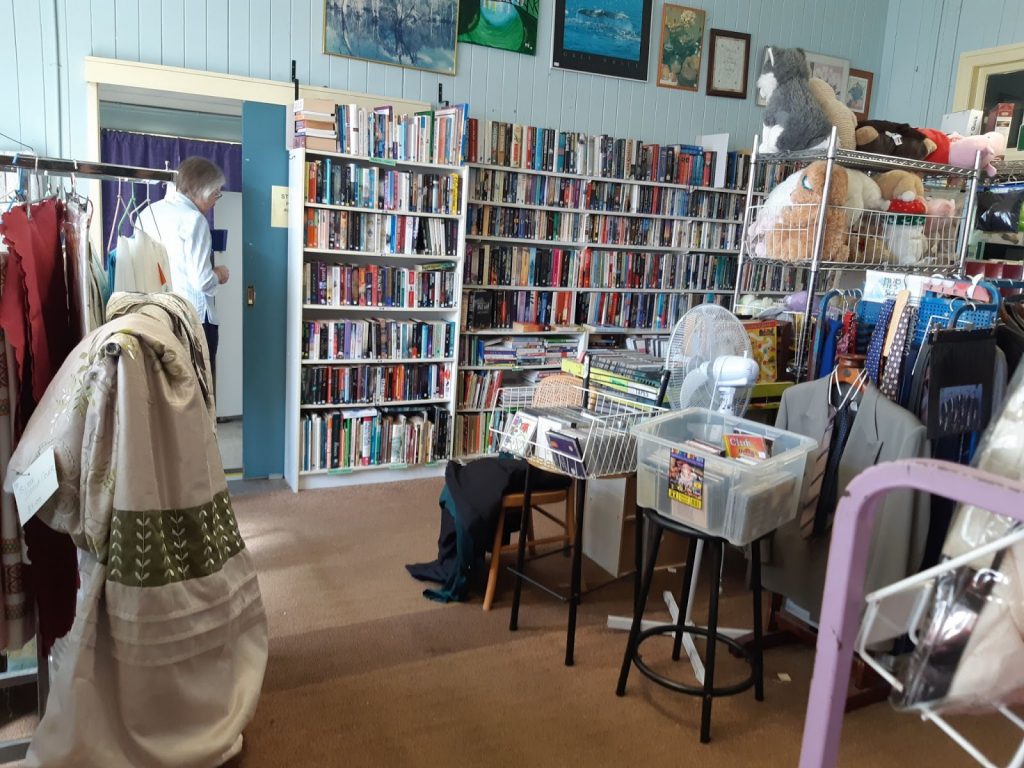 This is the cutest of our hidden gems, hidden behind one of the busiest arterial roads on the Northside! A quick turn off the main drag with off street parking, this place is part of the Chermside Kedron Community Church, so you know it's run with love and integrity!
The designated wheelchair access is a great start, and it gets even better when you walk through the doors! Clothes, homewares, linen, shoes, handbags, toys and accessories – it's not about how much the space has, and more about how much character one tiny space can fit within the walls!
There were 3 ladies helping out at my last visit, and every one of them were busily sorting, folding and labelling the most recent donations. It was a wonderful experience and I walked away with a smile on my face and a bag full of bargains!
Bargains I found – a NWT pair of black work pants from Cue, and an emerald green satin top on the $2 rack.
Grapples Thrift Shop is found at 21 Henry Street in Chermside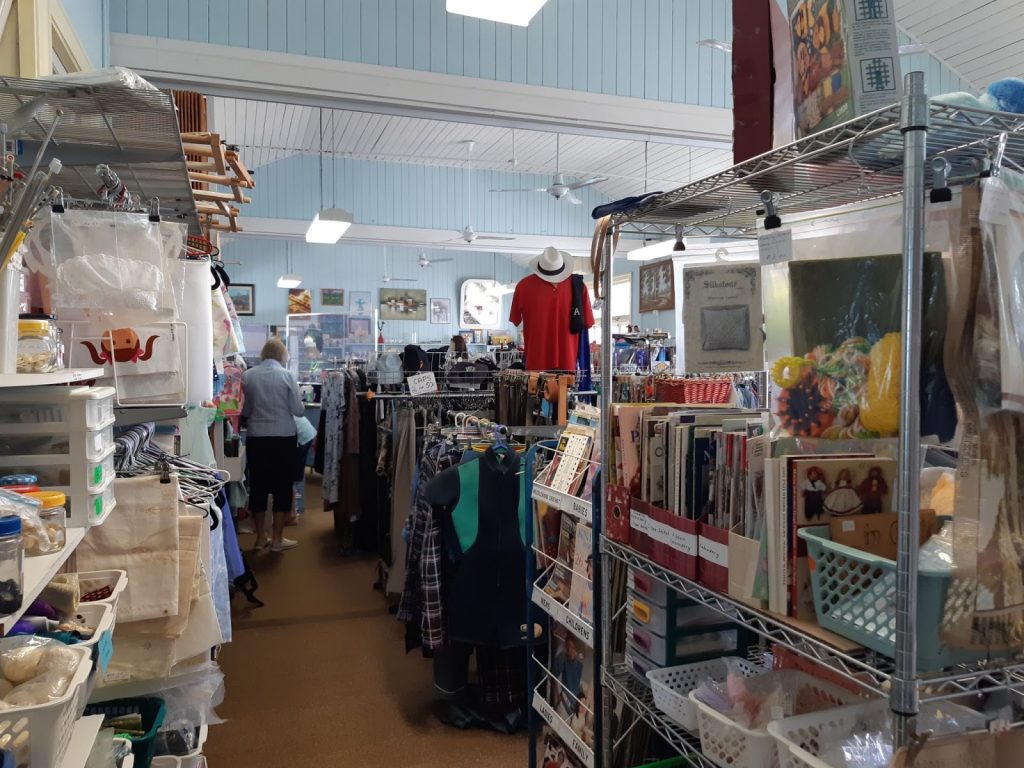 Bonus addition – Cystic Fibrosis Bookshop, Nundah
OK, so this isn't an op shop per say, but it's still a hidden gem that everyone should know about!
If you've ever parked at the Nundah train station or visited the Farmers markets there on a Sunday, you might already know about this place – or maybe you don't. Hidden in one of the back streets on Ryans Road next to the train station carpark, this is a space that sells de-commissioned books from the Brisbane City Council libraries as part of an arrangement with BCC and the Lord Mayor's Charitable Trust. Supporting families through the devastating condition known as CF, this place is a fabulous find!
While there's no clothes or glassware on offer, this is THE PLACE to buy all of your second-hand books, DVD's, comics, magazines, puzzles, even records. Everything is in sections and meticulously sorted by author or subject – fiction, non-fiction, large print, autobiographies, horror, religion – even a separate kids section where the little ones can settle in while you peruse the multitude of magazines.
Bargains I found – I'm always grabbing the latest Jamie Oliver cook-book whenever they land in here, and MAD mags for my teenage boys.
If you sign up for their newsletter or follow them on Facebook they'll let you know when their sales are on – and you don't want to miss out on $1 books and 50c magazines.
So that's just a teeny sample of the wonderful range of charities and community groups that are doing their part to support those who have been affected with illness or a disability. The only question left to ask is, if this is one way to support local business and help those less fortunate while also saving the planet (less landfill,) where shall we go next!?!!
Latest posts by Vicki Sinclair
(see all)