At Embrace Brisbane, we're all about bringing you the best that our glittering river city has to offer. So we've put our holiday caps on to bring you a Staycation Guide series of the best places you can relax like a carefree traveller right here in Bris-Vegas.
Staycation spot: Hotel Indigo, Brisbane City
Ideal for: a foodie staycation.
Make sure you: eat at Izakaya Publico. Seriously
You know how sometimes you have such a great meal and you're SO full, you just wish you could stop and drop right there? Well at Izakaya Publico, Hotel Indigo is just upstairs so it's the ideal place to eat your fill, maybe even have a few nightcaps at Bar 1603, then head upstairs to your plush room to take a load off and relax. It's the ultimate foodie staycation.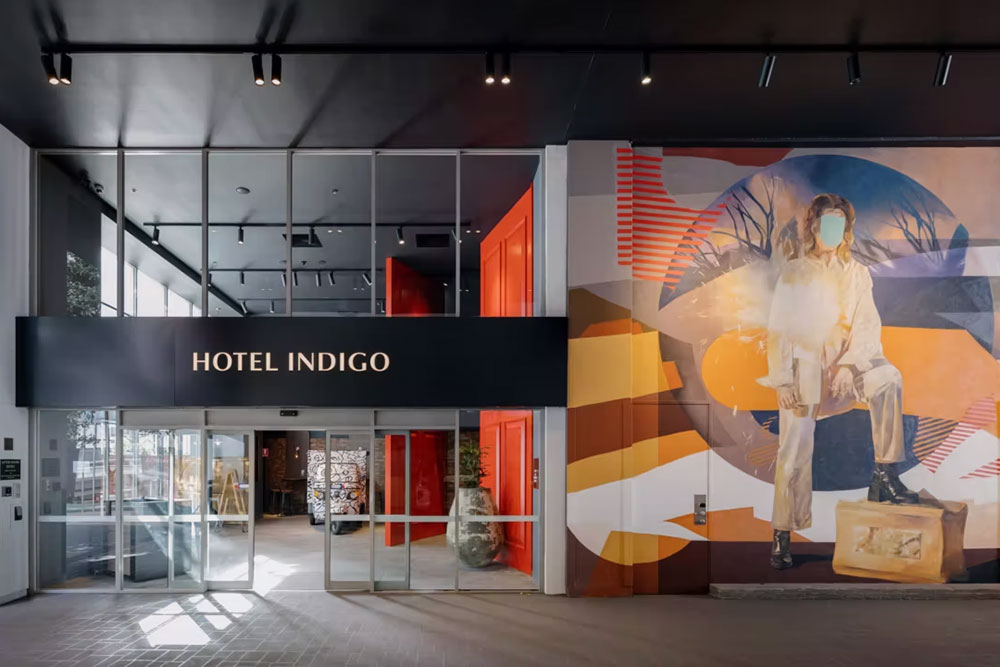 The Hotel Indigo experience
Hotel Indigo is a relatively new player in the Brisbane hotel soon and it's clear by their chic, unique decor that they did not come to play. With an incredible central CBD location on Turbot Street, Hotel Indigo is one of the IHG group's legendary neighbourhood boutique hotels, focused on quirky, playful design. It's moments from Queens Wharf development and the many restaurants, bars and walkways along Howard Smith Wharves.
The hotel is peppered with hand-painted artworks, sculptures, and suspended overhead installations that reflect the city's bold beginnings, and lead to 212 strikingly designed guest rooms that invite guests to look deeper for clues of Brisbane stories untold.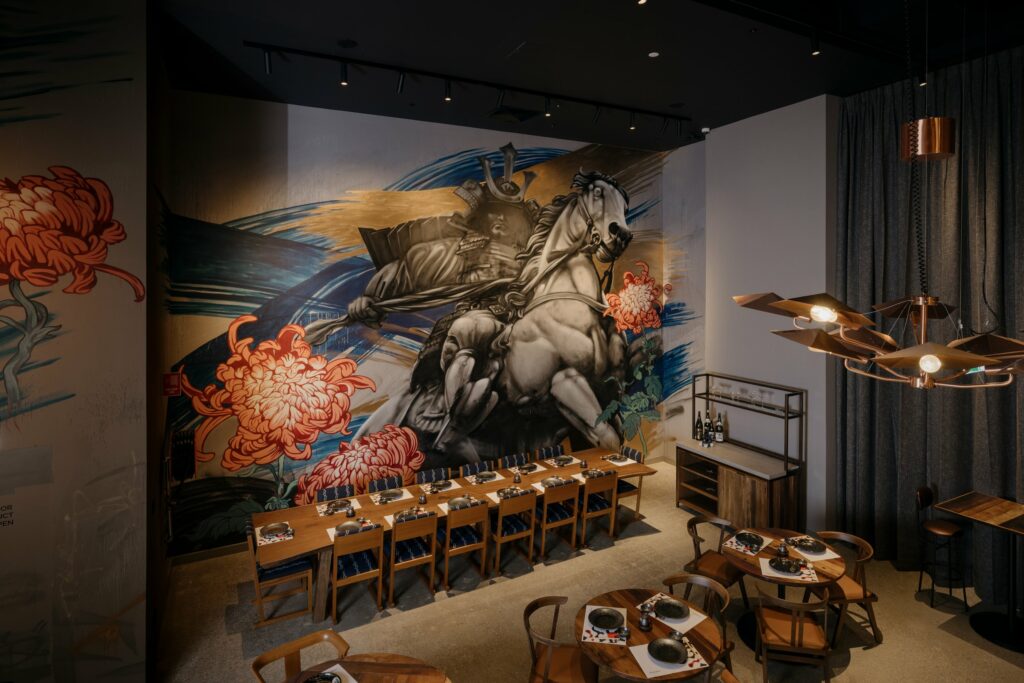 For those looking to entertain, celebrate or simply indulge, restaurant Izakaya Publico offers a delicious Japanese dining experience. The locally sourced seasonal produce ensures every dish showcases the best this region has to offer. Nearby is Bar 1603—a contemporary speakeasy inspired bar proudly offering local beer, wine and signature sake cocktails with a twist.
From the stylish street entrance, I head up to level one to check in and—as the check in is right next to the cosy, inviting bar—make a mental note to come back here later tonight.
The suite life
Gosh, even the hallways in this place are thoughtfully designed, with a playful butterfly motif adorning the doors and walls.
Opening the door to my room, I am immediately impressed with its size and layout. For a studio, it feels open and super spacious. All the fixtures, even the practical ones, feel artistic and stylish.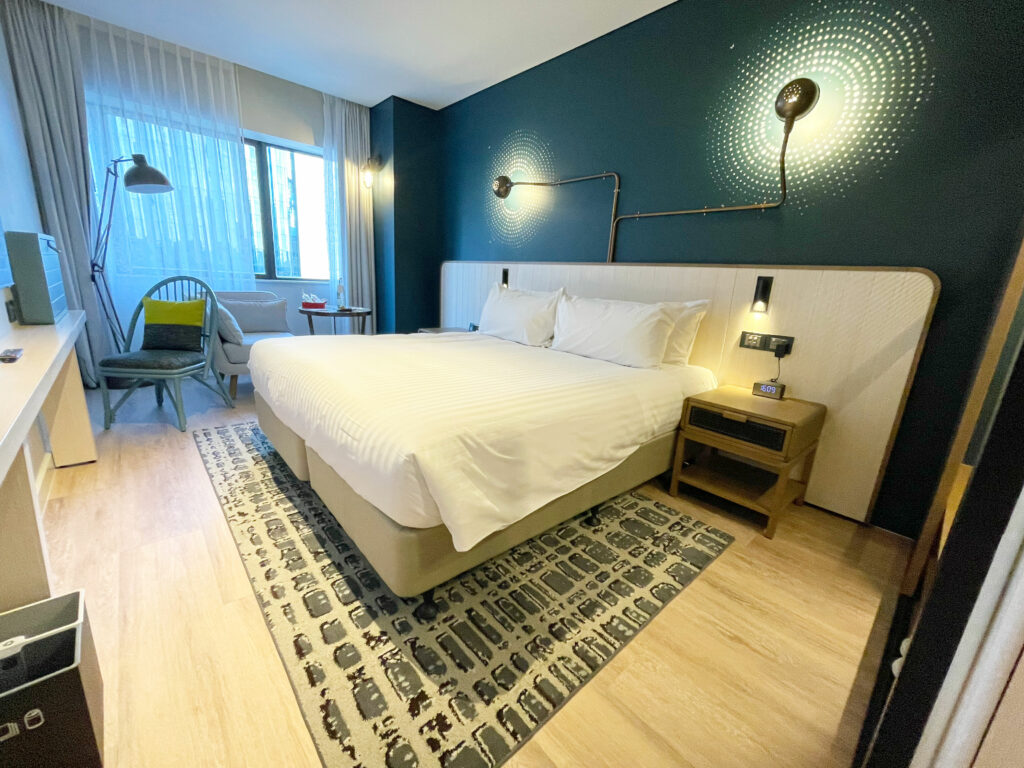 The room features a deep colour palette and rich brass fixtures that instill a sense of calm and sophistication, and how cool are the wall lights?!
I notice when I am taking my photos that the design on the wall gives me a halo and I can't lie, I love that for me.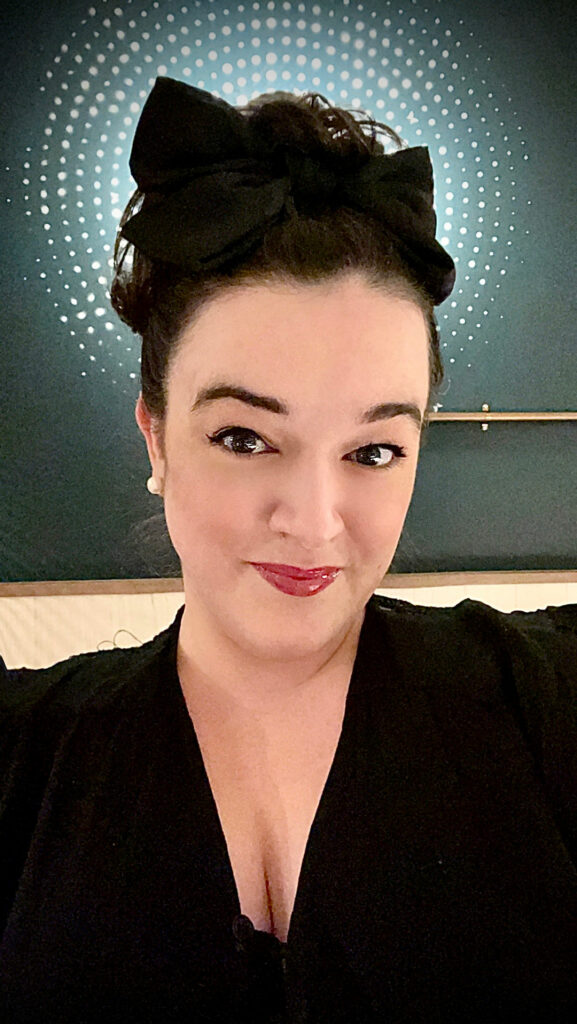 On exploration I see that the shower has a large rainfall head and I do a little celebration dance—LOVE a good rainfall shower. The shower itself is huge, and is its own little room, with the hand basin and mirror open plan leading onto the foyer area.
The views outside the window are lovely, and Brisbane certainly knows how to show off.
Need to work while you're here? Hotel Indigo has you covered with a cute pulldown desk where form and function collide. It even has a little light that turns on in the space when you open it up!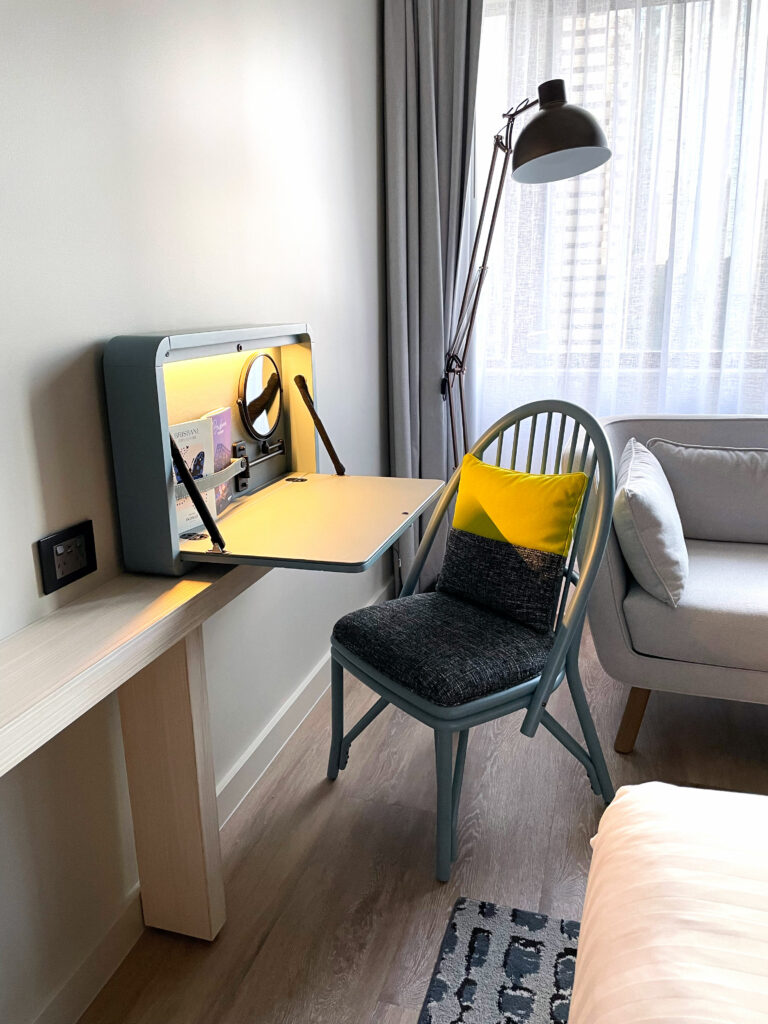 Then it's time to get ready for my degustation dinner at Izakaya Publico, so I step into that shower and it's just as heavenly as I expected.
Japanese food heaven at Izakaya Publico
If you love Japanese food, then you need to put Izakaya Publico on your must-visit list. I was lucky enough to be there on the launch of their new menu and it's IMPRESSIVE, especially if you love seafood.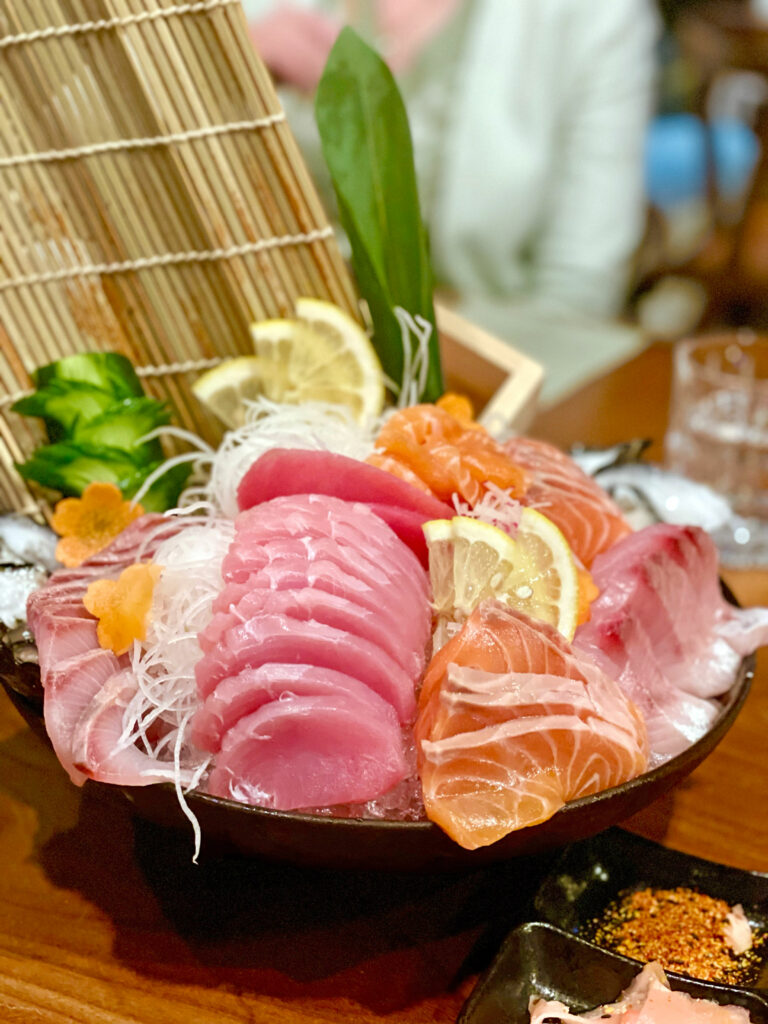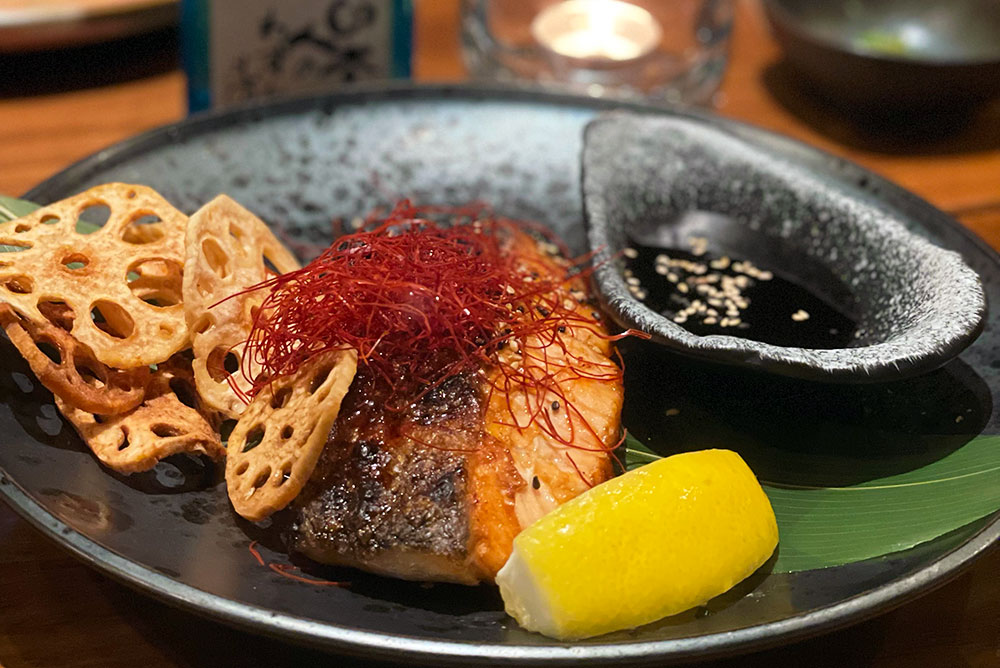 With an impressive entrance down a vast, curling staircase, the first thing that hits you when you walk into the restaurant is the artwork. The entire back wall is adorned with a massive colourful mural that immediately sets the mood and lets you know you're in for something impressive. 
The creativity doesn't stop with the decor—the food at this Japanese-inspired establishment is brimming with culinary creativity. One look at the menu and it's clear the chefs have a passion and flair for the culinary arts. Forget conventional pots, pans and stoves: the team here embraces all kinds of cooking including steaming, frying, cold fresh dishes and even the dramatic flames of a hibachi grill.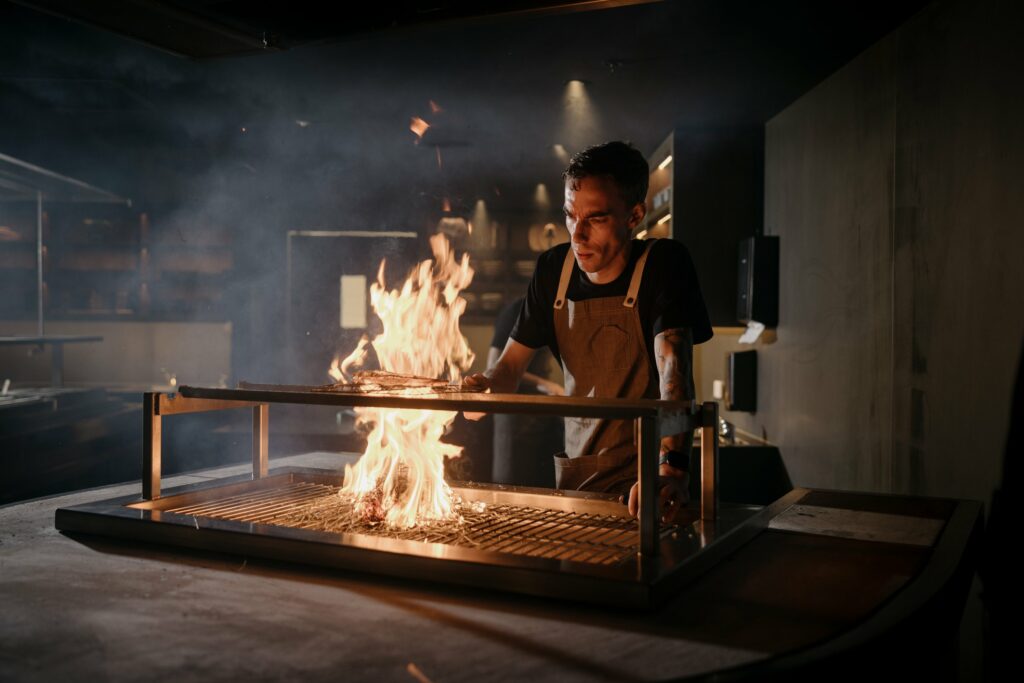 Menus are designed seasonally, with a strong emphasis on locally sourced produce. The menu is wide and varied, with a couple of set menu options should you want the full degustation experience.
My personal favourites were: the edamame with house togarashi and brown butter (the most flavoursome edamame I have ever had); the kushiyaka/skewers with pork belly and yuzu miso, and the chicken thigh with negi; and the hay-seared M5+ Wagyu sirloin and steak tataki.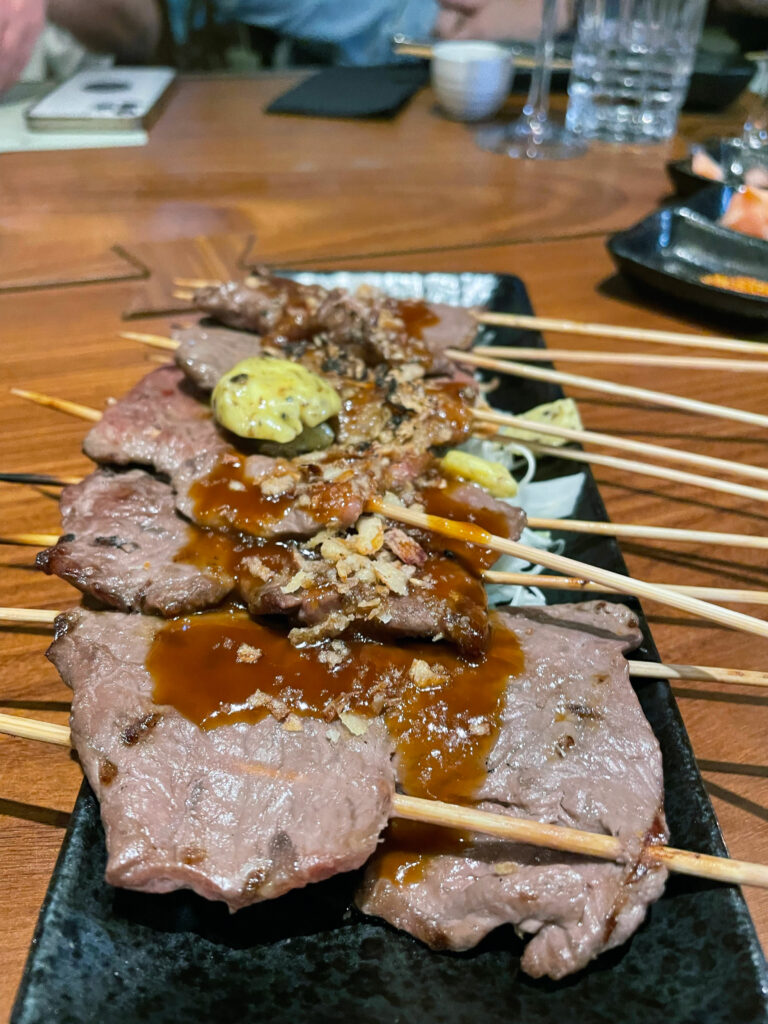 My dinner companion could not get enough of the impressive seafood including a platter teeming with delectable looking sashimi and pacific oysters.
Then pair that with wines and sake and dinner was QUITE the foodie affair. I was super glad to be staying in the hotel that night as I don't think I could have rolled myself back to my car after the banquet at Izakaya Publico.
I end up spending so much time at the restaurant that I don't make it back to the bar for my nightcap, but I did get to experience some of the cocktails in the restaurant and they're a strong recommend from me.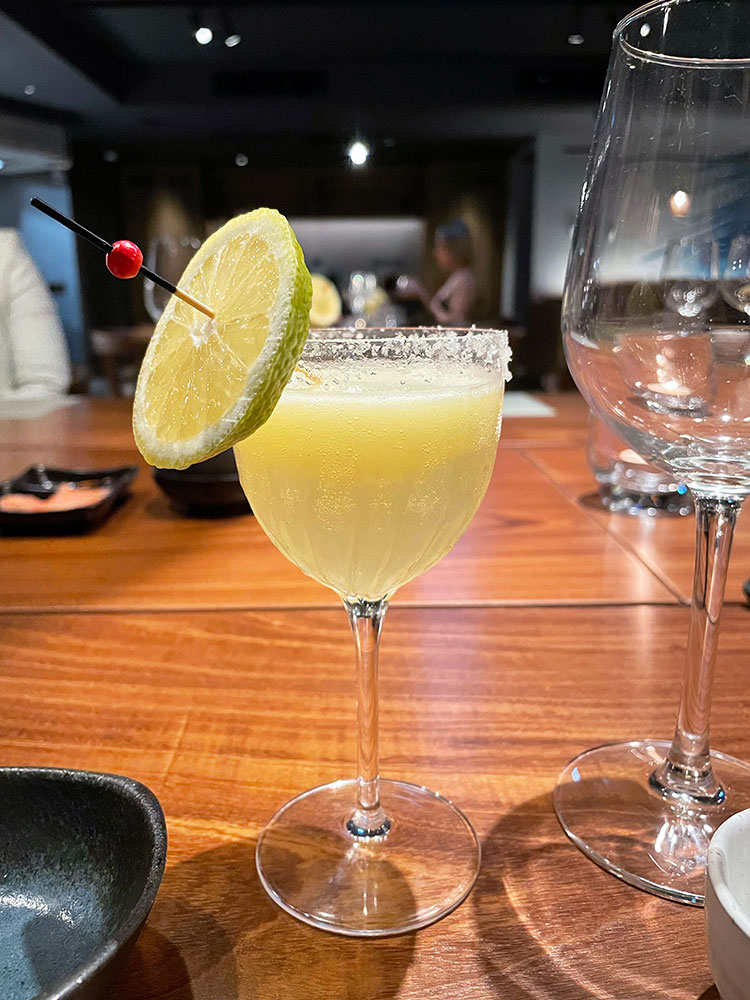 Breakfast buffet is the business
The next morning, I hardly want to get out of my soft, fluffy bed but I MUST because the buffet calls. After my SECOND shower of the night under that divine rainfall head, I settled in for such a good night's sleep on that mattress the night before. LOVE the fact that the hotel has an in-room Chromecast too, so I could catch up on my shows last night rather than having to watch free-to-air.
Back down to Izakaya Publico for brekky and the Japanese dining oasis has been transformed into buffet brekky heaven. It has all the hot dishes one would expect (eggs, bacon, hash browns) as well as a few Japanese extras. There's also a selection of yummy pastries, and cute individual glass bottles of juice. You can also choose cold cuts of meat and cheese, and a selection of fruit. God, I love a good brekky buffet and I wish I hadn't eaten so much the night before so I could fit more in. I take a cheeky croissant and apple back to my room for later.
When it comes time to check out, I feel really sad I haven't had a second night. I'd have loved to stay and check out the gym, definitely the bar, and have a little explore around my home city CBD. Oh well, I will just have to come back again, then!
Hotel Indigo, 27/35 Turbot St, Brisbane City QLD 4000 (07) 3237 2330