Who better to take relationship advice from than someone who is happily self-partnered? After all, those of us who are single (ready to mingle pending) save a lot of time on considering their relationship issues when there aren't any to consider at all. Instead, we can daydream romantic fantasies, warm fuzzies, the fun things we'd like to do to show our love and affection for those we care about. Which of course means we have plenty of interesting date ideas!
If you're not quite ready to leave the pandemic-free safety of your home, if you're preparing for the long-rumoured second-wave lockdown, or if you're simply just looking for a romantic night in, here are a few ideas for how to treat you and your loved ones to a special time, lockdown-style.
FOR THE LOVERS WHO LIVE TOGETHER
Lockdown is rarely someone's ideal situation, but it can be great to spend some extra time inside with your partner without worrying about wearing yourselves out. If you are living together, preparing a romantic candlelit dinner of something you've never tried before is a classic way to bond and expand your cooking repertoire, while still getting to indulge at the end of the evening. Stuck for ideas? A meal kit delivery box, like YouFoodz or Marley Spoon, might provide some inspiration AND you won't have to worry about groceries for a few more days. If you really don't feel like cooking, treat yourself to takeaway from a local restaurant (not Maccas!). Many restaurants have started offering takeaway and delivery, so ordering a fancy meal to share is a great way to support a local business and get a delicious meal!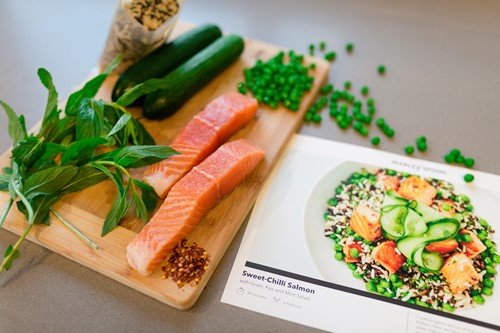 FOR THOSE NEW TO LONG-DISTANCE LOVE
For those who don't live together, this idea still works a treat! Connect with your partner over Skype or Zoom, or even call each other if you can. You can still share a romantic meal, with the added bonus that your partner won't try to pick anything off your plate! Maybe even go for the classic dinner-and-a-movie routine and watch a film together online or stay up to date on your favourite TV show. Is this not why Netflix Party was invented? If you want to really make a night of it, go the extra mile and get dressed up for your meal. It may seem silly to put on a tie or make-up to video call someone, but that's an extra laugh we can all do with.
FOR THE BEST FRIENDS
Whenever we're feeling down and out, it's our best friends who really have our back. They could be your old mate from school, a co-worker who just gets it, and they can definitely be your romantic partner too! No matter what, you know that they're there for your through thick and thin and now is the perfect time to show that you appreciate it, and hopefully brighten up their day! Why not surprise them with a care package of some of their favourite things, like snacks, bath bombs or books. Anything you know they'd be excited to receive! If you love this idea but you're not quite sure what to get your friend, Subscription Box Australia and CrateJoy have plenty of themed boxes to choose from to help you narrow down the options.
FOR THOSE WHO WANT TO TREAT THEIR FAMILY
Ahhh, family. We love them, even if they drive us crazy sometimes. If you do live with your family one of the best gifts you give them now is space. It's important for everyone to have time and space to themselves to rest, relax and recharge and this is difficult to come by when you're not supposed to leave the house! Sometimes the best thing you can do to show someone you care is leave them to themselves and focus on doing something you enjoy in the meantime.
Then again, doing something fun as a family usually makes for a great time! Get out of the house and find a local walking track nearby to get some fresh air and fitness. Or, if you are looking to treat everyone out to a special evening, pack-up the car with pillows and blankets and have a night at the movies. Sure, the cinemas are closed, but the Yatala 3 Drive-In Theatre and Park-In Pictures are screening some exciting new releases and some family favourite classics, meaning you can catch up on all the movies you've missed while still safely social distancing.
This isn't a set-in-stone guide to keeping the spark alive, just some ideas on how to help make sure the people you care about know you're thinking of them during a difficult time. Thankfully, it's looking like everything is going to be alright and soon we can go back to wining and dining, raiding the snack bar at the cinema, and hugging and holding close the people we love. But if you are looking to try something new, this little guide might just be some help to you! I mean, how fun does a drive-in movie sound, right?