The relationship between Australia and New Zealand has for some time been a friendly rivalry. We Aussies like to play at being offended by the sensible notion that New Zealand did not want to join us in Federation and thieve at New Zealand's cultural icons: Russel Crowe, Lorde and the pavlova. New Zealand teases us with their capable leaders, seamless integration of Māori language and culture into road signs and classrooms, and now, their innovative hybrid menswear-restaurant business model.
Arriving where fashion meets nightlife on Fortitude Valley's James Street is The Lodge Bar & Dining, transporting the freshest flavours of New Zealand to a city that could not appreciate its arrival more. A relatively novel concept, The Lodge was born in New Zealand, like its more popular older brother Rodd & Gunn. The essence of its home country is intricately woven into the fibres of each garment, with collections that draw inspiration from the natural glories New Zealand has to hold. In Rodd & Gunn, you would feel just as at home climbing the mountains and sailing across glacial lakes as you would during a work-from-home day or wining and dining on a Saturday night.
The Lodge certainly shines a light on New Zealand's culinary refinements just as Rodd & Gunn did for the fashion. Walking into The Lodge, Brisbane, it is clear how the commitment to encapsulating the brand's care for quality, luxury and the best New Zealand has to offer has entirely paid off in the establishment of what has quickly become a popular dining destination since its mid-May opening. Make your reservations now, rather than waiting in suspense to experience the treat that is The Lodge.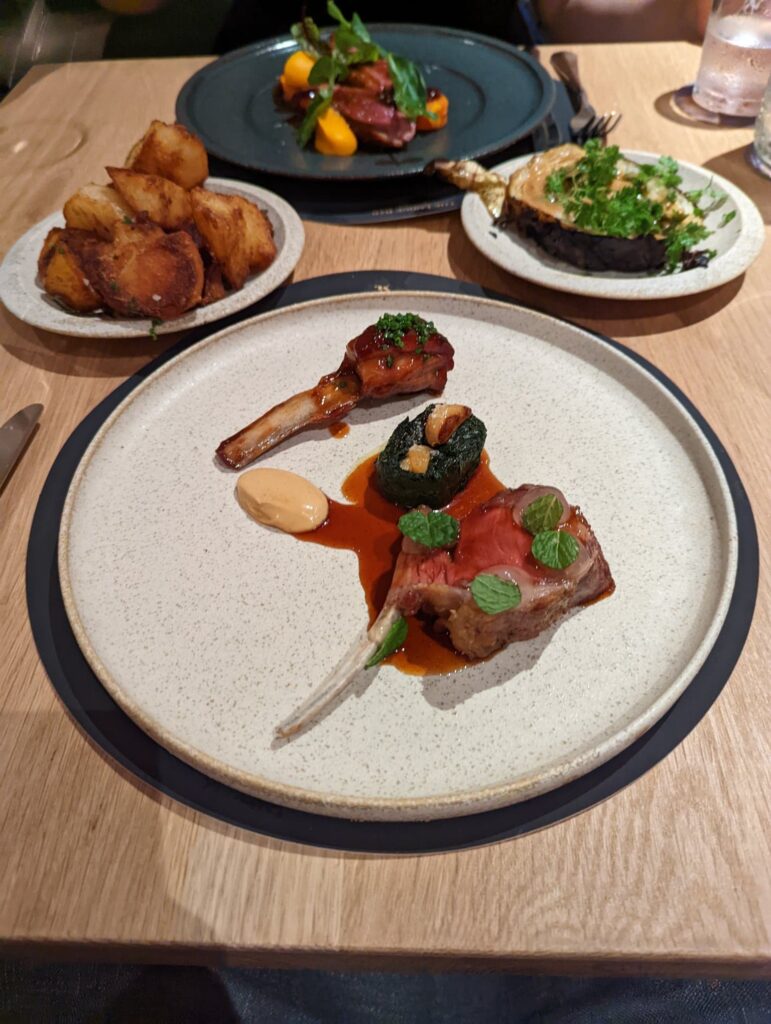 Having been to New Zealand some years ago, I was excited to relive some culinary adventures when I visited The Lodge last weekend. Executive Chef Matt Lambert has crafted an intricate menu to evoke the diverse flavours of home. By using local Australian produce, there is no compromise to quality in well-spent efforts to recreate a unique array of touchstone dishes. The sea trout tartare and wood roasted cuttle fish arrive prepared to perfection for the tongue, yet provide a sensation that they have fished straight from the clear, crystal waters of cool New Zealand shores. A classic pork terrine is accented by the exciting and harmonious tastes of sauce gribiche and cornichons.
For the main course, I was able to try the incredibly rich Muscovy duck breast, which it will be difficult not to order upon a second visit. Sampling the Magra Lamb loin quickly evoked the comfort of warming up by a fire on a chilly Winter night. Master Sommelier Cameron Douglas has curated a wine list with perfect accompaniments to the meal of choice. However, if you have a preference for sweet drinks, some delectable cocktails are available to sip away on while you enjoy the ambience and good conversation with the friends you share this experience with. I won't reveal too much of dessert. Only that it is well-worth ending your night with a sweet treat, highlight the excitement embedded into this new venture by Rodd & Gunn.
The Lodge could not have come soon enough. For years, New Zealand has been the destination of choice for Australians embarking on adventure and seeking the thrills and wonder of the environment, magnified tenfold. The shorter span of sea between our home and theirs seemed greater given that it has been for a time completely unbridged. Now, with the return of travel after so long, it is only natural to be anxious as well as eager. The Lodge fits nicely into this new space between two worlds, providing us an opportunity to redevelop the connection through a uniting and comforting love of food. The Lodge is ready for reservations, and you must surely be ready for adventure – so book your table and make the journey down to James Street for a night of fine dining you won't regret. 
Latest posts by Brianna Dunigan
(see all)