Buying makeup without trying it makes me NERVOUS; I am and have always been an avid in-store swatcher. But lately, thanks to a kibosh on the ol' sampling in-store thanks to Covid and the rise of buzzworthy brands that have yet to hit our physical stores, online colour makeup matching is on the rise. But does it really work? I decided to try it out for the first time, with Trinny London's Match2Me quiz and virtual consultation.
Trinny London is the new makeup brand from Trinny Woodall (of Trinny and Susannah fame), featuring "stacks" of little pots of colour that are designed to make makeup fast and easy. Created to enhance your natural features, the range relies on a Match2Me quiz to recommend colours that will complement the user's complexion. If you're still unsure, you can book a virtual consultation with an actual person who can check to make sure you've made the right choices, and show you how to apply the products.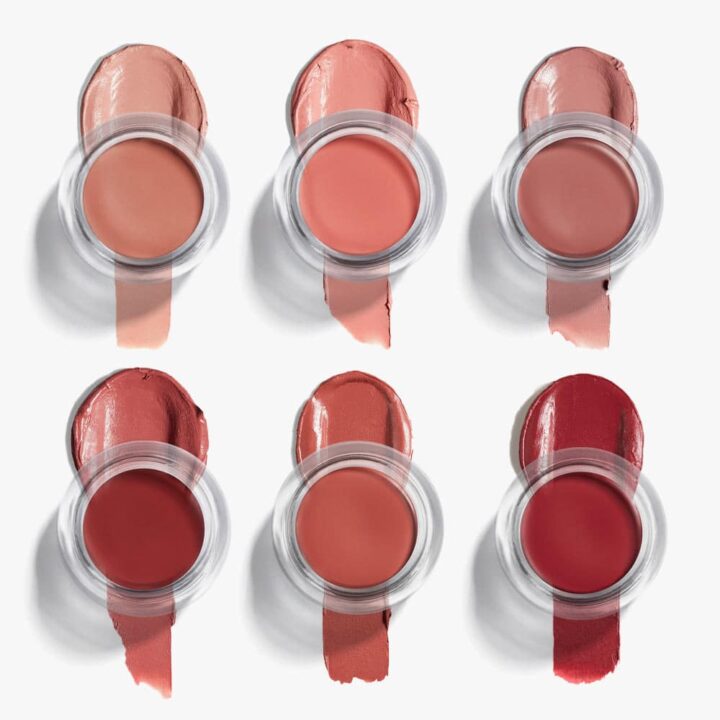 Trinny London's Match2Me Quiz
When I first heard about this quiz I was both nervous and sceptical. I am SUPER fussy when it comes to my foundation shade because I have a strange skin tone that doesn't seem to match anything sometimes. But since it's my job to try things for you all (you're welcome!) I decided to put my face on the line to try this quiz.
First, you select your eye colour; so far so easy. Then it's on to hair colour, and tone. The next is skin tone, and here's where it gets dicey for me. Sometimes I feel so pale I am translucent but sometimes I look almost olive-skinned, so do I pick lightest or light? Or light-medium? After I select one, a bunch of faces flash up and it asks me to select which ones match me best. This is hard and I have to google "How do you know what your skin undertones are?" before I click and land on my Match: Porcelain Olive.
After I've been matched, the site has a handy toggle that you can turn on, which makes sure only the products curated to match my complexion show up. And there are SO MANY gorgeous looking colours and products I want to add to cart that I can already hear my credit card whimpering in the corner. But I am still a little overwhelmed with where to start (and worried that
I somehow beefed up the quiz) so I decide to book a virtual consultation.
The Virtual Makeup Appointment
A Trinny London virtual appointment costs $45 and is redeemable against the cost of the product at the end of the session. I am keen to see whether the makeup artist thinks I matched myself properly and can help me with what products do what, and what I need to buy.
My consultant Sasha thanks me for choosing a room with lots of natural light so she can see my complexion and we are on our way. We do the quiz again, but this time I feel reassured that someone is holding my hand through it. She explains what I need to look for in my own complexion to answer the questions properly. Lo and behold, I get the same results as when I did it myself – Porcelain Olive – but this time I feel reassured I didn't mess it up somehow.
The rest of the consultation is full of application tutorials, both swatching and applying the products that suit my skin tone so I can see how they look. Amazingly, it's so much more reassuring to be able to see someone swatch in real life, rather than under studio lights.
Sasha explains to me which products do what, and gives me tips on how to apply them to best effect. She also points me to Facebook, which is filled with videos from Queen Trinny herself – little how-tos for every product. By the end of the appointment, I am super excited to try out looks with my new products and I actually feel like I know what I am doing.
But will the colours match when they turn up on my doorstep? Time will tell.

Was the Makeup Matching Accurate?
I was pleasantly surprised with how fast the products arrived, being that they had to wing their way from the UK in the middle of a pandemic. And my little heart soars when I open up the package; those little T-Pot Stacks are so cute and definitely vanity worthy. But all of that is worth nothing if the colour isn't right.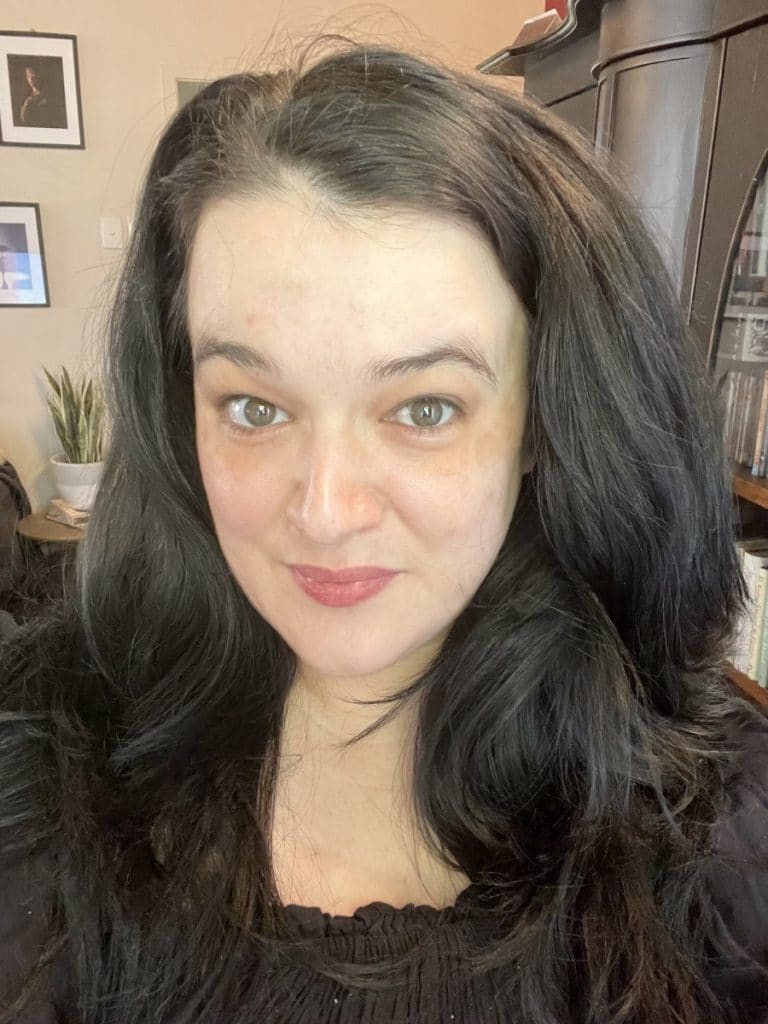 The first products I want to try are the ones that need to match my skin tone most: the BFF Cream, BFF De-Stress Tinted Serum, and the Just A Touch Concealer. The BFF Cream is designed with micro-pigments to even out skin tone and tone down redness, as well as hydrating. Similar to the De-Stress Tinted Serum, it's not designed to be full coverage; rather, it goes on and blends with your natural skin tone to even everything out.
AND IT MATCHES. Yes, both of these applied look like my skin exactly, and kind of give me a glowy, dewy filtered effect. Now the most crucial match… the concealer. Concealer HAS to be an exact match or it doesn't conceal anything, just draws attention to it.
I open my Just a Touch (in the shade Alexandra) and it doesn't look right. Maybe a bit too yellow for me? I gingerly swipe my finger in the formula and dab it to try to conceal my latest maskne pimple and… IT IS A PERFECT MATCH. What is this sorcery?! It's a complete and total match and I am over the moon.
Now that the tough part is over and everything is matched properly, I try some of the colours on to create looks suggested to me by Sasha.
They all compliment me, but in a nice no-makeup makeup look. It's like each colour enhances what my mama gave me. Each routine takes me five to ten minutes to apply, and I am really pleased with the result.
It's not full coverage, but just makes me look like a slightly filtered, better version of me, you know? I start to get very excited thinking of the time this will cut down getting ready in the morning. Not to mention it's perfect to pop on pre-Zoom call so my colleagues don't think I am a sleep-deprived banshee.
In both looks, I am wearing BFF Cream in Light, De-Stress Tinted Serum in Claire and Just A Touch in Alexandra. I also popped on some eyeliner and mascara, you know, to finish it all off.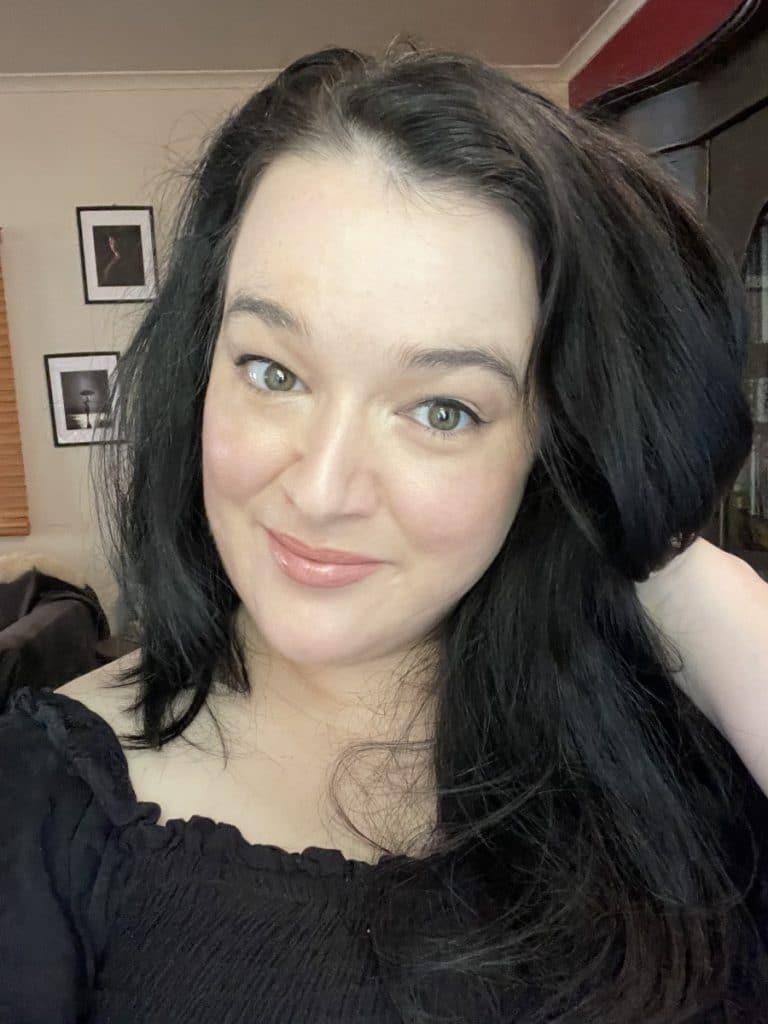 The first look sees me wearing the Eye2Eye shades of Wisdom, with a pop of Virtue on my inner corner and the centre of the lid. My cheeks and lips are both Lip2Cheek in Lady J, with a pop of Starlight highlighter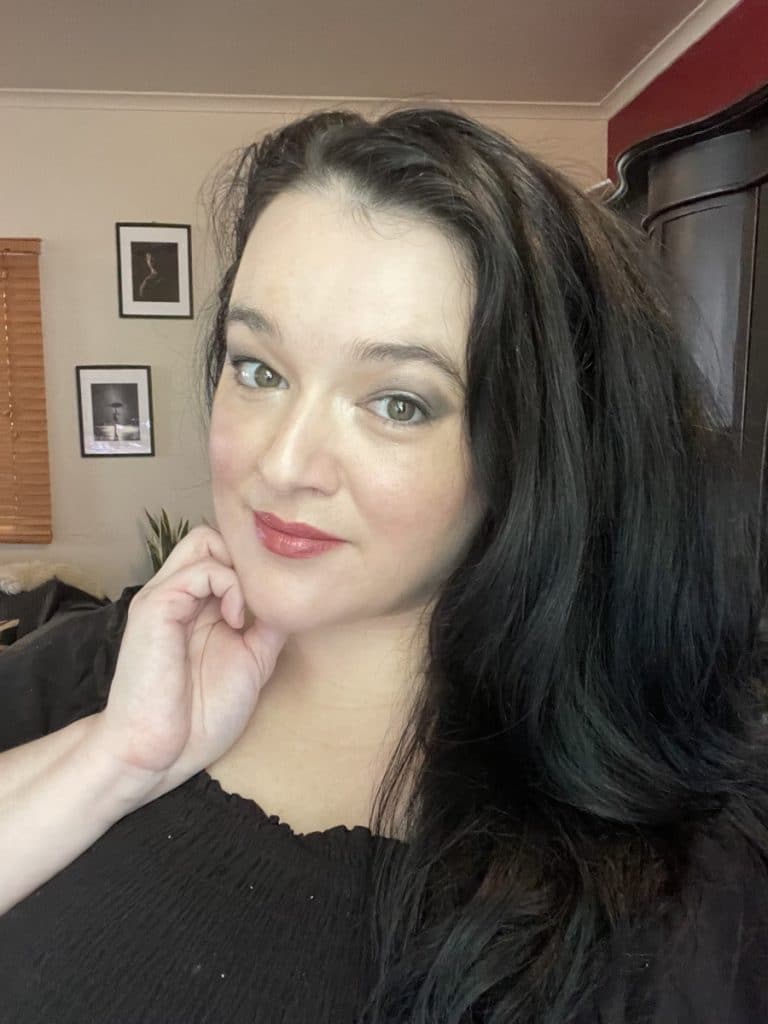 This second is more of a night look, featuring Eye2Eye colours Mystery and Universe, with a bit of The Right Light Highlighter in Starlight. Then the Lip2Cheek colour I selected for this look was the darker Freddie. The colour is highly buildable, and looking at the photos I would probably build the colour up a bit more for a bolder lip.
All in all, I am super pleased with my haul. I NEVER buy anything without swatching but this has given me confidence that some matching services, Trinny London specifically, can actually work.