Have you ever wished someone who wasn't selling anything could give you good, solid advice about what the heck to put on your skin? That someone could look on the back of the many pretty bottles and tubes and tell you what ingredients are a load of crap? That someone could come with you when you were shopping the long and confusing aisles of Sephora or Mecca and help direct you to products that will actually help you reach your skincare goals?
Well, my beauties, I've found her. Dr Michelle Squire of Qr8 is all about helping people figure out what to include and what to leave out of their beauty routine. "I have been researching the science of skincare and designing personalised routines for friends and family for nearly 20 years as a side hustle to my academic career," Michelle explains.
After hearing her friends rave about how much her advice had changed their skincare life, she decided she realised there was a huge gap in the market. Most dermatologists and beauty therapists have products to sell, brands they need to promote. Sure, they can give you a rundown of what your skin might need, but how much of that is motivated by what they need to sell. Michelle doesn't sell anything but her expertise.
"I realised that people want simple, honest, independent, science-backed advice about skincare that actually works, curated into a routine to meet their individual goals and budget. Globally, this is a unique service – Qr8 isn't affiliated with particular brands, so we can choose the best products for each client based on the latest and most robust science."
Before I sit down for my consultation I'm told to forward a list of the products I use for analysis. On the one hand I am excited to know if what I am using is working. On the other hand, I am scared to know whether what I am using was essentially a decorative paperweight. And the news, when I get to my consultation, is, well, mostly good.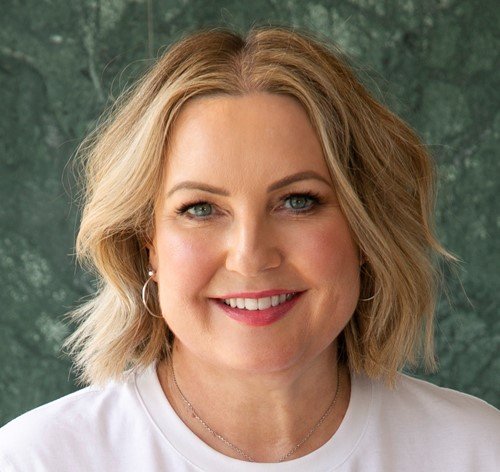 While I am praised for my choice of cleanser and day cream, I'm told the most expensive product in my routine, which shall remain nameless, is essentially water. "You're not allowed to go shopping alone if this is what you're buying!"
She mentions one of my creams in the "good" list has effective ingredients but she's not a fan because it's in a jar. "Jar creams get exposed to the world every single time you open the jar, which could mean they're less effective and more susceptible to bacteria in the jar," Michelle explains.
We have a good look at my skin in an analysis contraption, which is very confronting, and she prescribes a routine for me that surprises me. Rather than a lot of the potions I have been picking up in store, she advises me to visit my GP for prescription retinol to try to freeze the aging process.
My Vitamin C not sinking in? She can help with that too: it's all to do with the formula and there's a brand she loves that has patented its delivery system and has science papers to prove it. And of course she hooks me up with a holy grail sunscreen that is good enough to also moisturise my face, negating the need for a whole step in my routine.
I consider myself an armchair expert on beauty, having written about it for years, but coming out of that consultation I realised I knew nothing compared to Michelle. I feel educated, empowered and ready to do some shopping!
Michelle charges $120 for an initial consultation (which is worth every cent) and redeemable off the cost of a membership to Qr8. Once you are a member, Michelle will set you up with a skincare routine and point you in the right direction for what products you need. She will monitor your progress, answer your skincare questions via text, even come shopping with you if you need her to smack your hand away from the shiny but largely useless products.
I haven't stopped raving about her to anyone who will listen. If you would like some help with your routine, and recommendations on what's right for you, with no brand or marketing agenda, Michelle is your new best friend.
" I especially love it when my clients tell me they love what they see when they look in the mirror. Healthy skin is such an integral part of self-confidence and I feel honoured that people trust me with their skin," she says.
Dr Michelle's Top Tips
Everyone's needs are different, depending on your age, sex, skin type, lifestyle, genetics, overall health, budget and skin goals – what works for your flatmate, work colleague or someone on social media isn't necessarily the best product for you.
The latest product isn't always the best – there are proven ingredients and formulations with more than 30 years of science supporting their effectiveness. Many products are brought to market with very little clinical data to back them up (but loads of social media hype!)
The least sexy but most effective anti-aging product is SUNSCREEN – 70-90% of the signs we associated with aging skin (deep wrinkles, pigmentation, skin laxity, broken vessels, coarse texture) are caused by UV damage.
I see many people who create problems for themselves simply by over-cleansing or using cleansing products and devices that are too harsh for their skin. They then spend a bucket load of cash to fix either their 'dry' skin or their 'oily but dehydrated' skin, without ever finding a solution. Often something as simple as reviewing someone's cleansing products and methods can be a game changer.