Montana Sharp has released a new EP Blood Moon and to celebrate she has shared her top 5 summer playlist songs with Embrace Brisbane.
1. Solar Power (Lorde)
Some say it sounds like an artistic departure, some say it sounds like a Gilette women's razor ad, but either way, you can't deny it sounds like summer. The fun and cheerful instrumentation and melody makes me want to make sandcastles and wear SPF 50. It's a whole body experience really. Solar Power? More like So-Lorde Power. I will see myself out.

2.  All Too Well (Taylor's Version)
What's a summer vibe without a summer fling? This song screams summer fling, a temporary flame. My roommate (diehard Swiftie) knows all the words back to front and likes to sing it with strangers at KFC, this has happened. Taylor connects people of all backgrounds through chicken.
3. Get Into it Yuh – Doja Cat
Look… I don't really know what I'm getting into exactly… but Doja makes me want to get into it nonetheless (Yuh). I love watching TikToks of her performing this, I'm in awe. Girl knows how to perform. This song brings out the inner Doja goddess in all of us. If this comes on at the club, covid-permitting, I'm dancing.
4. Strange – Celeste
It's a recent find of mine, but if you're in the mood for some summertime sadness, listen to this song. It comes with a guarantee of ugly crying, and honestly it's just gorgeous. Her voice starts so delicately, and then the song swells into beautiful string instrumentation, and the lyrics stab you in the gut. Pass the tissues.
5. Dreams, The Cranberries
This song is a classic, and it still goes off. I've probably heard it a million times, but it never fails to make me feel like I'm in the back of a car with the roof down and a slurpee in hand, living youthfully. I miss Dolores, she was a spark gone way too soon from us, but I'm glad we can remember her through amazing songs such as this one.

Montana Sharp's debut EP, Blood Moon, will be released on February 11 .
The overriding theme of Blood Moon is the immense period of growth that occurs during one's early twenties; listeners can track Montana's mentality shift throughout the tracklist as she grapples with heartache and personal development, as she describes, "We start the EP with songs such as Whiffler and Power, written from a protective and unconscious place. We then move into songs Greenhouse and Enough which is the very raw soul searching and painfully honest conversations with our egos and fears. We then arrive at the Blood Moon, which ties together the story of how falling apart is very key to falling together. For me, this succession of songs is really a time capsule of my early 20s – the battle in removing my outer shell, and all the unanswered questions that pop up in that tumultuous time."
The EP has it all – breathtaking singles Power and Greenhouse, where Montana's vocal and production prowess is in full, mighty form, passionately punctuating various life-changes, while softer, more introspective offerings Enough and Blood Moon allow audiences to lose themselves in Montana's beautiful, cinematic world.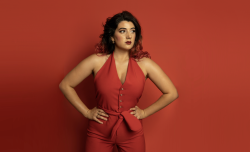 Latest posts by Montana Sharp
(see all)