This week, for Dementia Action Week Australians are being encouraged to #shareAsong and tap into the memories that music can trigger from the soundtrack of your life.
Which songs make up the soundtrack of your life? The teen memories at your high school dance. The song that was playing when you met your first love. The tune you screamed with your best mates on that road trip. The whole crowd singing that rock anthem together at your favourite festival. When strong emotions are evoked music can be intrinsically linked to those memories.
Supported by some of the music industry's biggest players – Universal Music Group, YouTube, Jaxsta, Amazon Music, AIM, ARIA, Facebook, Aussie icon Jimmy Barnes and comedian/actor/author/radio presenter Matt Okine to name a few – #shareAsong aims to change the conversation around dementia and brain health.
How can you get involved? Jump on your socials, share a song with a family member or friend and reminisce about the music that defined a shared moment. Celebrate the memory together, use #shareAsong and maybe even by choosing to donate to families impacted by dementia.
Annabelle Herd, Chief Executive Officer at (ARIA) Australian Recording Industry Association wants people to highlight the amazing role music plays in our memories while helping to champion an important cause. "On behalf of everyone at ARIA and PPCA, we're asking the nation to please #shareAsong from this September 21, and support an incredible initiative raising awareness for those suffering from dementia. We all have one song that holds a special place – for me it's Kylie Minogue's 'Can't Get You Out of My Head'".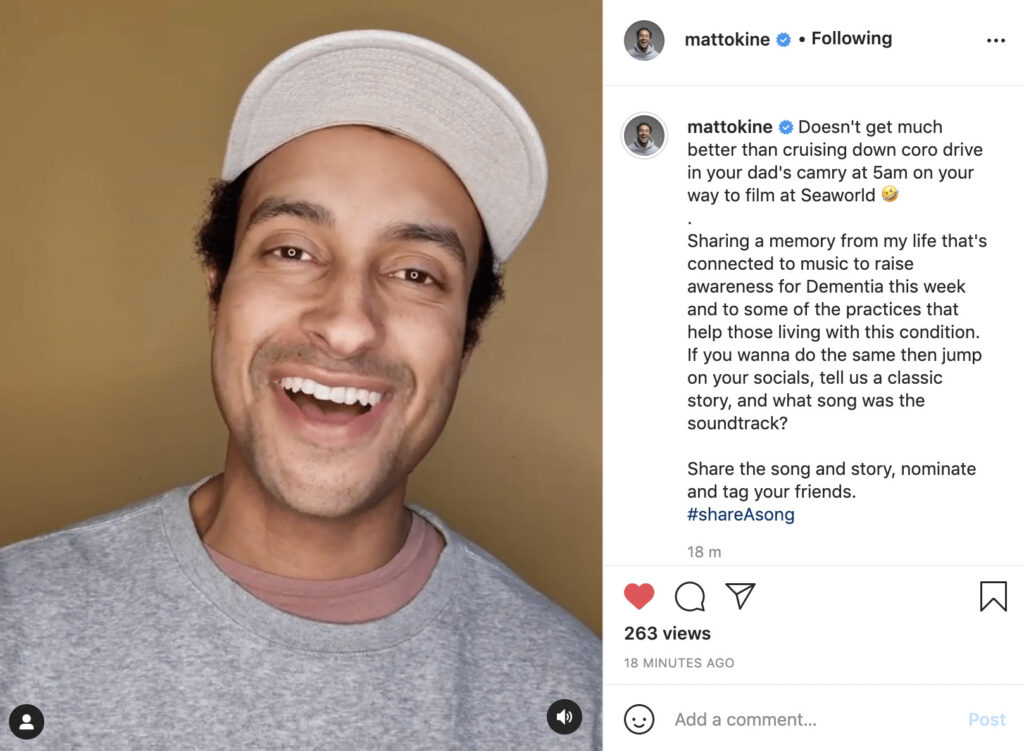 Jimmy Barnes is also supporting the cause. "Like so many families, ours has had to deal with losing loved ones to dementia. Music seems to be one of the few ways of still reaching them as they slip away because we all make such deep connections with the songs that we love.  There's nothing like music to lift our spirits so get behind #shareAsong and send some good feelings to the people you love."
 
Dementia affects half a million Australians and 50 million people worldwide, with nearly 10 million new cases every year. In Australia alone there are 1.6 million caring for people living with dementia. The number of people with dementia is set to double in the next 25 years. Despite these numbers, there are still a lot of misconceptions about this condition and those living with it often face discrimination.
 
People who have dementia can live active, fulfilling lives many years after diagnosis and music is a powerful tool to maximise their wellbeing.
"There is no other stimulus on earth that simultaneously engages our brains as widely as music does" Brian Harris, Neurologic Music Therapist at Spaulding Rehabilitation Hospital.
Music can calm the mind, improve mood and trigger memories. It activates parts of the brain that are responsible for processing emotion, memory and language, providing a great mental workout for people who are experiencing a decline in brain function.
 
Low levels of dopamine are often linked to dementia, depression and mental health issues. Listening to the music you love increases the levels of dopamine and other neurotransmitters in your brain, which helps control both emotional and behavioural functions. The right music, at the right time, can help to keep our brain healthy and active.
One of #shareAsong's main sponsors is Vera, an AI-powered wellness app. With more than half the world's music available from a partnership with Universal Music Group, Vera's mission is to provide a user-friendly tool to help ward off the effects of brain ageing, enabling people to stay independent, healthy and happy for longer. Vera acts like a personalised radio. It finds which artists, genres and songs the user loves and connects them back to memories, thereby becoming a powerful stimulant for the brain.
 
Music connects and unites people like nothing else. #shareAsong from 21 September, celebrate the music and the memories and help lift people up, through music.  
#shareAsong is proudly supported by Vera, Dementia Australia, Universal Music Group, YouTube, Jaxsta, Amazon Music, AIM, ARIA and Facebook.
For more info about how to share a song – check out the video below.