Click here for film reviews by Shannon Griffiths

Renowned filmmaker, Woody Allen continues his established tradition of periodic romance adventures with Café Society – a comedy mixed drama, at its heart a bittersweet love story. Set in 1930's Los Angeles and headlined by Jesse Eisenberg with an exceptional supporting cast, this is an open love letter to the golden days of Hollywood, sparing no expense in recreating an authentic atmosphere. Saturated with bright colours and attention to detail, adding nostalgia to its novel-like flow, this is a charming tale rich in interesting characters with a simplistic narrative, helping make Allen's third film to open the Cannes Film Festival one that's definitely worth a viewing.

Bobby Dorfman (Eisenberg), youngest son of a Jewish family in New York City is tired of life on the East Coast. Discontent with working for his father as a jeweller and craving something more inspired, he decides to move to Hollywood where he finds work running errands for his Uncle Phil (Steve Carell), a big shot talent agent specialising in clientele of the movie star kind. Quickly exposed to the glitz and glamour of 'La La Land' in all its beauty and fierceness, Bobby becomes a part of the vibrant world of Café Society – a world in which regular patrons of top tier restaurants and fashionable nightclubs socialise with one another all the while stroking their own egos.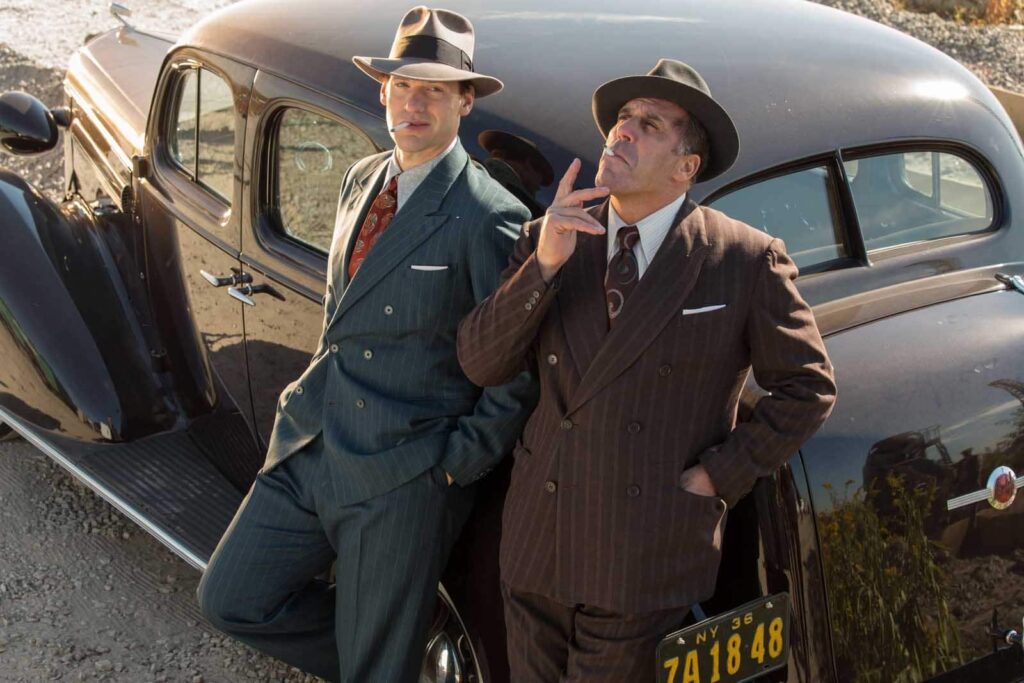 From film actors & actresses, politicians to playboys and even gangsters, he's given a taste of the life he could lead and from then on there's no turning back. Soon falling in love with his Uncle's secretary Vonnie (Kristen Stewart), we follow Bobby and his family on a journey of self-life and learning going back and forth between Hollywood and New York as the mystique of his new found existence make for an exciting and charismatic portrait reminiscent of the age it displays.

In their third film together after Adventureland and American Ultra, Eisenberg and Stewart complement each other perfectly as our two central characters Bobby and Vonnie, displaying pure energy in their great chemistry with one another as their casual friendship blossoms into a beautiful romance. As the only American to have ever won the César Award (the French equivalent of an Oscar) there's no question she's a remarkable actress who chooses unique project after the next, matching her beauty with her excellent acting in this to make Vonnie one of the most interesting and appealing characters Woody Allen has ever put to screen.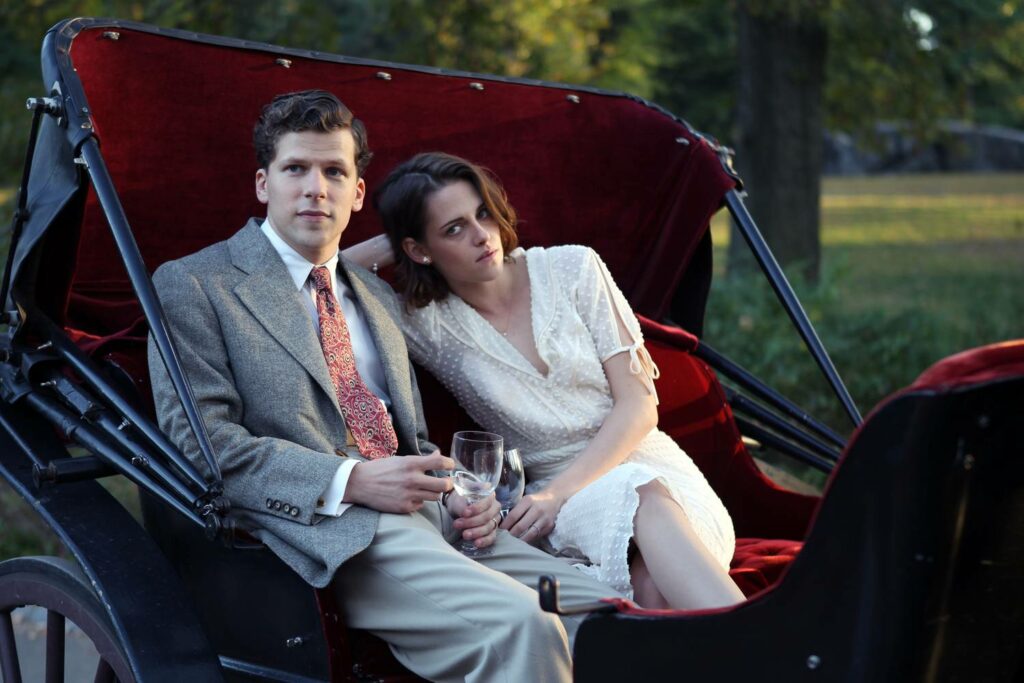 Steve Carell is damn excellent as Phil Stern, the high-powered, all powerful, high-ranking studio agent who takes a new liking to his nephew. In a role originally meant for Bruce Willis (and even shot with him until he was subsequently fired), He brings his well-known humour to a great part that after witnessing you can't imagine anyone else in. As the well dressed, well spoken and somewhat paranoid mentor to Bobby, Carell is simply magic to watch as his supporting role takes on an unexpected arc of its own, benefiting from having such a universally loved performer where his presence alone becomes greatly appreciated.

Blake Lively adds elegance to the fold in her surprising entrance half way through as a beautiful young woman Bobby encounters, with Parker Posey dashing us with a little extra pinch of flare all too briefly as a socialite appropriately named Rad. Familiar face Corey Stoll also gets a role (with hair!) as Bobby's older brother Ben, a notoriously dangerous, yet family orientated gangster back home who's really not all that bad.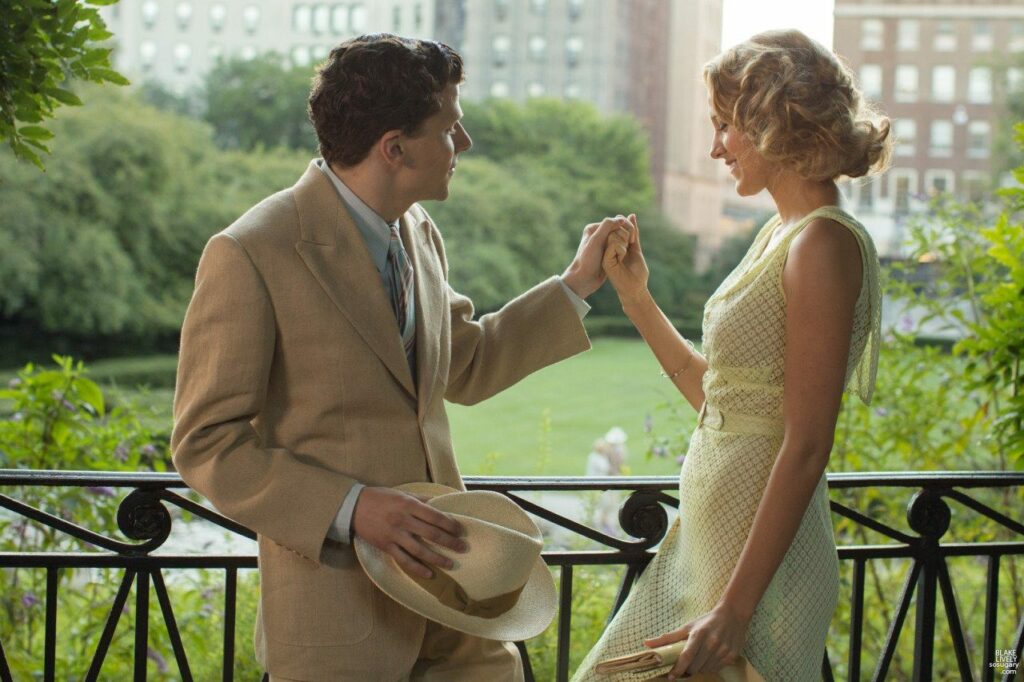 With richly detailed sets, costume design and everything in between capturing a real sense of 'the good old days' as it were, the time and effort put into the writing and direction by Allen pairs itself naturally with the mesmerizing soundtrack consisting of time accurate jazz musicians to bring about a touching look at lost love which you'll find lost in yourself. A fine picture that works as both the most ideal of date movies or a lazy Sunday matinee, this is Allen's best film since Midnight in Paris and one that's deserving of your eyes, ears and face as the beautifully shot visuals will transport you to a time before.

Anyone who is anyone will be seen at Café Society, will you?
Latest posts by Shannon Griffiths
(see all)