Today I got to try Dutton Park's hidden gem: Bellis Café. I also had the pleasure of interviewing head staff member Renee about the emerging café – It's fresh and flavourful, and you'll always get a smile from the friendly staff.

Concealed in Brisbane's Highgate Hill / Dutton Park region, Bellis has been open for almost a year now, and customers are slowly cottoning on. They offer a range of dishes, from traditional café favourites like eggs benedict & Avo smashes, to exciting Katsu curries and dumplings.

I myself got the dumplings.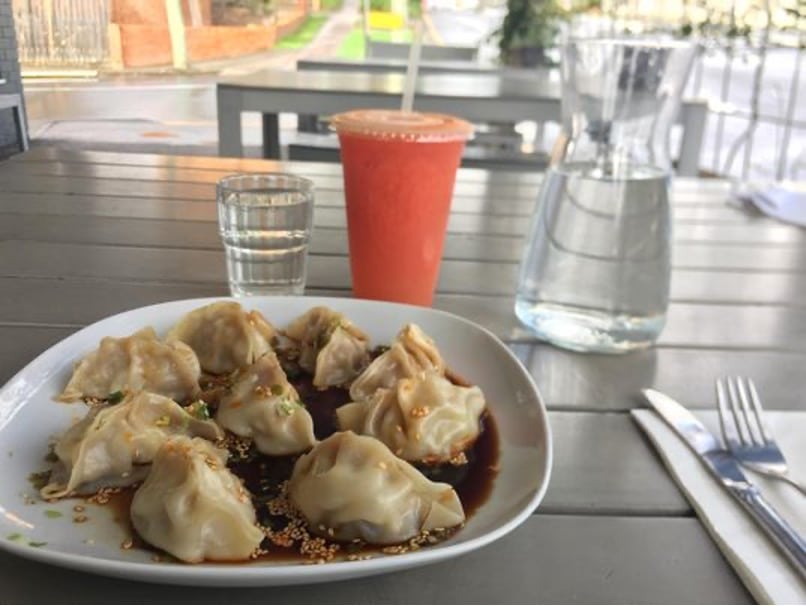 The order is made, and they get to work on the food. I had no idea that Renee made it all by hand. Pork, cabbage and spices are rolled in a thin helping of dough, and it comes with fresh spring onion, sesame seeds and soy sauce on top.

If they ask whether you want spicy, for the love of god say YES. This will net you a healthy dash of chilli oil on top, and you're welcome.

As of the time of writing, they have a lunch special running too; Between the hours of 12 and 2, you get a free juice with each set of dumplings. Treat it like a Happy Hour, but for food.

The size of the juice differs depending on the number of tasty morsels you buy; 3 gets you a small, 6 gets you a regular, and 9 will reward you with a large juice. The savings on this deal are astronomical, as each juice is usually between $5-$8, and freshly squeezed. You get to see the fruit itself go into the machine and the juice come out. You can even keep the rinds, if you'd like to cook with them or put them on your garden – just ask.

There's a variety of flavours to choose from, but I went with the Thirst Quencher – featuring watermelon, orange, lime & mint. It's just so damn refreshing and compliments the beautiful dumplings perfectly. They also have many other flavours, including immuno-boosting ginger & turmeric blends, many mixes with oranges and apples, and even some beetroot flavours. The spinach and Kale green juice is also a favourite of mine – so sweet and bursting with flavour! It's not just about juice though, they also do smoothies, milk shakes & frappes.

It isn't just about juices when you ride the train to Beverage Town, as they also boast an incredible range of delicious coffee beans. I myself am partial to a long black, but my housemate kept harping on about the fancy milks and milk-alternatives they have at Bellis. So I had to try it for myself. I'm just going to say that their oat milk is so goddamn organic, that it's almost a rich brown colour. Thick and sweet, it is the perfect start to a frosty morning.

I was lucky enough to pick the brain of Renee, the OG staff member and master baker:
Embrace: So then, what is the best item on the menu, do you think?
Renee: "#6: The Avo Fix!"
This item oozes with avocado, feta & tomato on sourdough, and comes with a choice of 2x poached eggs, bacon and/or haloumi.


Embrace: I've been curious, where does the fruit and veg come from?
Renee: "It is locally sourced – sometimes from market, sometimes local distributor."

Embrace: Have there been any difficulties over the last year with The Ronies?
Renee: "There is more takeaway, but less customers in-person."


Depending on the time of day, I still see quite a few customers in-store. But this humble author would like to see more! Every aspect of the menu is top-notch, and absolutely delectable. The juices are freshly squeezed right before your eyes. The food is prepared to order using the finest quality ingredients. And most of all, the muffins & cakes are all baked in-house! If you're an early riser, you will be able to smell the incredible apple and cinnamon scent for miles down the street. Do yourself a favour, and try Bellis Café – whether it be in-store or takeaway. Just try it though! Bellis has everything you could ask for – quality, flavour, reasonable price & the best staff in the world.
Location:
FB: https://www.facebook.com/Belliscafe2020/
Website: https://www.belliscafeduttonpark.com.au/
Price: $3 – $18
Latest posts by Hayden Mills
(see all)