Last night I had the opportunity to try out the treats and eats around the Eagle Street Pier. Let us recount our tale, and I will illuminate what makes each pitstop along my journey special & unique, starting with the latest edition to the precinct; The City Winery.
City Winery
City Winery is Brisbane's first micro-winery and is the first time Brisbane has housed an inner-city winery in almost 160 years. Open since May 2021, they serve Australian wines sourced from all around the country, and also brew their own wines in barrels that are aged right in front of you! They offer tastings of these wines in their unfinished states, which can provide quite an interesting flavour experience. Of course, they also serve these decadent wines once they are properly aged, and each house wine is created using ingredients sourced locally from the South East QLD region, all sourced within three hours of Brisbane.
They also offer a range of accoutrements, including cured meats, such as Stanthorpe pastrami and house-made mortadella, as well as fluffy homemade sourdough and mouth-watering olives. They offer delivery for all their wares, as well as in-house tastings and events.
The selection of wines we tried included a tarty-yet-fruity White Sav Blanc from Gerler, made from Adelaide Hills grapes; a floral Rose Grenache; and a Red GSM, sporting a blend of 80% Grenache, 10% Shiraz and 10% Mataro. The GSM is multi-regional, sporting ingredients from Barossa Valley and MacLaren Vale.
All this was served under the knowledgeable eye of venue manager Isabel Yon, a veritable font of wisdom and insight. Under her wing, you are sure to have an incredible night filled with swilling and sloshing until you are as red in the face as the glass in your hand.
Website: https://www.citywinery.com.au/
Ph: (07) 3854 1392
Address: Shop 7/45 Eagle St, Brisbane City QLD 4000
Rico Bar + Dining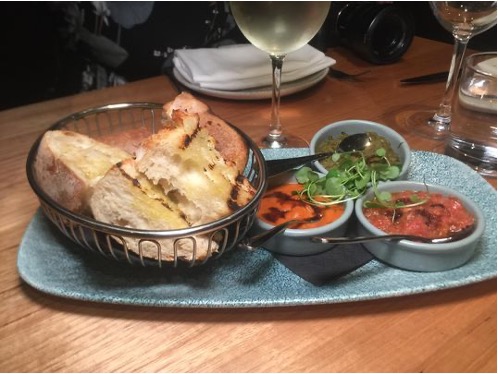 Boasting unrivalled river views and unrivalled flavours, Rico Bar + Dining provides the ultimate dining experience. Be it their incredible menu and Latin flavours, or their exquisite wines and friendly staff, Rico will never disappoint.
In between sips of a peachy Eden Valley Riesling, I was lucky enough to try their house bread, pictured above. This dish is the Pan de la Casa, served with a trio of dips; the romesco, tomate molido, and the cebolleta & puerro tapenade.
These sauces feature a variety of South American flavours, prepared from the finest of local ingredients. The brilliant thing about this little dish, is that it is so simple, and yet so powerful. The flavours of these dips are indescribably good. So good that they must be tasted to be believed. It is a testament to the chefs that something so small can make such a lasting impact on the minds and tastebuds of their customers. My companions were raving about these dips for the remainder of the night, and you will be too after just one taste.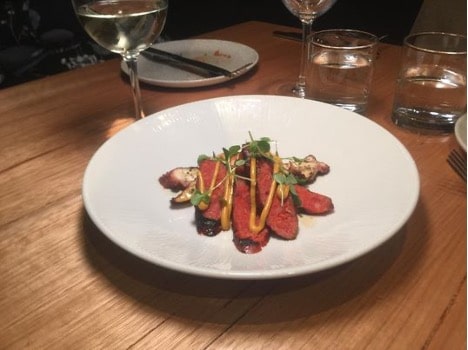 Next, we supped on the Octopus Y Chorizo, from their tapas menu. The calamari here is chargrilled to perfection and dissolves in your mouth. It is so delicately soft, and is complimented sublimely by the tang of the pimento dressing. The next offender in this traditional Argentinian dish is the chorizo. It provides the sea salt contrast to the octopus and you can still taste the sizzling grill as the pair swim together in your mouth.
Rico is committed to their customers and strive for memorable experiences. This really shines through when you sit down and take it all in; the view, the atmosphere and the quality ingredients all come together to create unforgettable flavours and memories for each and every customer.
Website: https://ricodining.com.au/
Ph: (07) 3188 1444
Address: Eagle Street Pier, 45 Eagle St, Brisbane City QLD 4000
Coppa Spuntino
The next leg of our journey took us to the prestigious Coppa Spuntino. At Coppa, they specialise in luxury pasta, fine wines and exquisite mains.
We were lucky enough to try their Agnolotti del Plin, which was bursting with pork, in a chicken bone broth. The first thing you notice about this dish is the scent. It ensnares your mind and fills your nose completely. The filling is a combination of Goondiwindi pork and mortadella sourced from Fortitude Valley's Saison Salumi. The broth had tiny flowers throughout, which gave it hints of anise. There were also tiny droplets of green oil across the top, and the whole thing came together to create an incredible explosion of melt-in-your-mouth goodness. My only gripe is that I wish my bowl could never end.
This meal was contrasted perfectly with a Vicious Vino Nebbiolo red. This 2017 vintage is of a Northern Italian Piedmont style, the same heritage as our delectable main. The grapes are sourced from a South Australian vineyard, and is a full-flavoured red, sweet but tangy, with tannin overtones.
Coppa Spuntino offers a range of dishes and both Australian & Italian wines. The flavours are top of the range, and the service is second to none. You know it's a good place when your only complaint is that you want more. And more. And more.
Website: https://coppaspuntino.com/
Ph: (07) 3236 0187
Address: Eagle Street Pier, 1 Eagle St, Brisbane City QLD 4000
Fatcow Steak & Lobster
The final stretch of the night's quest saw us staggering over, gorged and flushed, to Fatcow Steak & Lobster's whiskey bar. Here they stock over 150 whiskeys from around the world, including Scottish, Australian & Japanese fine whiskeys. Ask for Ammar here at the bar, he will be more than happy to give you a smile and depthless knowledge on any and all whiskeys they provide. Apart from wisdom and great service, he will also store any bottle you purchase and you may return to drink it again and again over the years at any time. You don't just have to buy it by the bottle though, let's get into the nips and drams.
We first wet our whistles with the Melbourne's Starward single malt, an award-winning blend at the World Whisky Awards of both 2019 and 2020. This whisky is aged in red wine barrels for 3 years, and has a cherry finish.
This was a perfect pairing with dessert. This comprised of three individual parts; the first of which is a rich mud slice with cream icing, adorned with a tangy raspberry. It is thick and heavy with hints of honey. Next is the gooey merengue, blowtorched to a sticky consistency, riding atop a strawberry. This dish is delicate and soft, and compliments the whisky well. Finally, we arrive at my personal favourite. The cheesecake with cherry on-top. I'm not normally one for cheesecake, but this one is different. It is paradoxically thick, but light, and the cherry is not at all overpowering.
Next, we tried another Victorian whisky, this time the Solera Rye. Hailing from The Gospel, Australia's only rye distillery, it is made from 100% Australian grain, from a farm in the Murray Mallee region, and was served on ice, with a slice of orange rind. This whisky was so fruity and flavoursome that I can still taste it the next day.
Do yourself a favour and see Ammar Kassrawi and pick his brain for the best whisky on this side of city and beyond. They also offer an incredible kitchen menu, boasting more than just fat steaks and glorious seafood. Fatcow is the place to be if you want fine food and champion service.
Website: https://www.fatcowrestaurant.com.au/
Ph: (07) 3123 5325
Address: 5/45 Eagle St, Brisbane City QLD 4000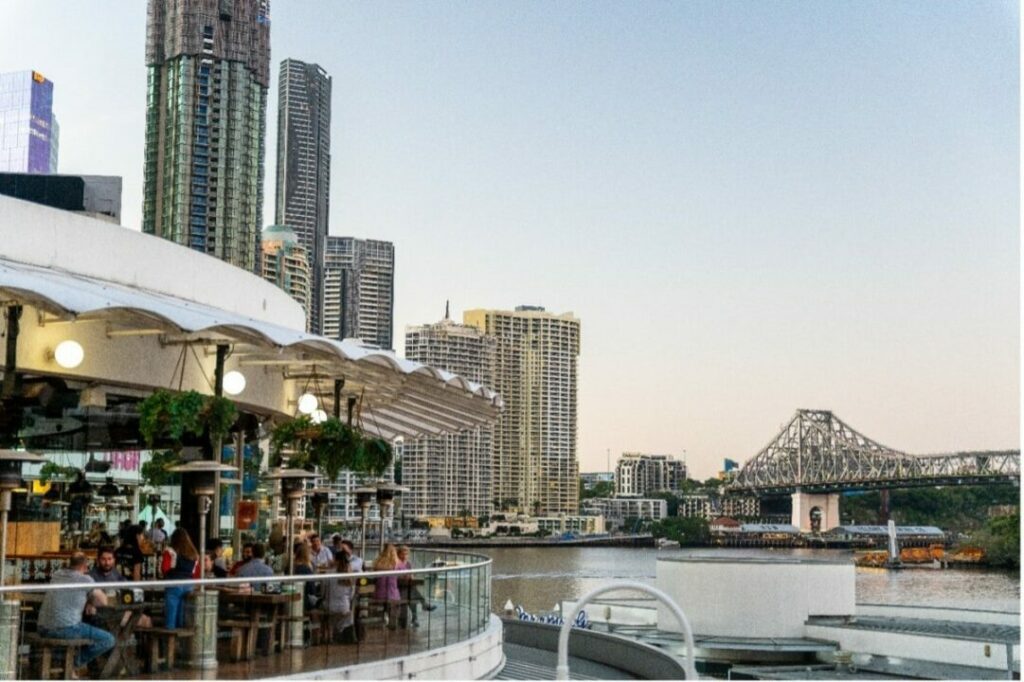 Eagle Street Pier is home to 15 restaurants, casual dining locales and entertainment hotspots. For more information on Eagle Street Pier and what is available, visit: eaglestreetpier.com  
Latest posts by Hayden Mills
(see all)