There aren't enough people who know of the arsenal of talents Eddie Perfect keeps up his sleeves. Singer. Songwriter. Pianist. Comedian. Presenter. Actor.
Many know him as Mick Holland from the Australian TV show Offspring, a character that charmed the nation with his fun, likeable, and sometimes dorky larrikin attitude. Or in his presenting role on children favourite Playschool. Eddie constantly has his hands full of creative projects. In fact, one of the main similarities between Eddie and his alter egos is their love of creating music. "My character," Eddie says, referring to his Mick Holland persona, "was a good opportunity to take up, but then being able to write the songs added something extra. I wanted the songs to be music-theatre style, yet contemporary and fit in with the show. It was a fun challenge and all about choosing the right song for that moment."
But there is much more to Eddie when his passion for music and composition is the driving factor behind his success today. Being able to utilise his talents in Offspring was an advantage for the composer who is particularly passionate about his musical craft. Yet, the toll of his art often calls for much hard work and dedication. "Everything I do goes through cycles," Eddie reflects. "Sometimes, it's just me and a piano, or me and a laptop. Things come to a point and the pieces come down. That's how showbiz works. But we keep fighting the good fight." Work can be so all consuming and with music often an isolated discipline, the songwriter often finds himself wrapped up in his own world of scores and compositions. "I have to seek the light of day – get out and about a bit," he reveals, "Sometimes it's all sunshine and lollipops. But sometimes writing is part of the dark process.".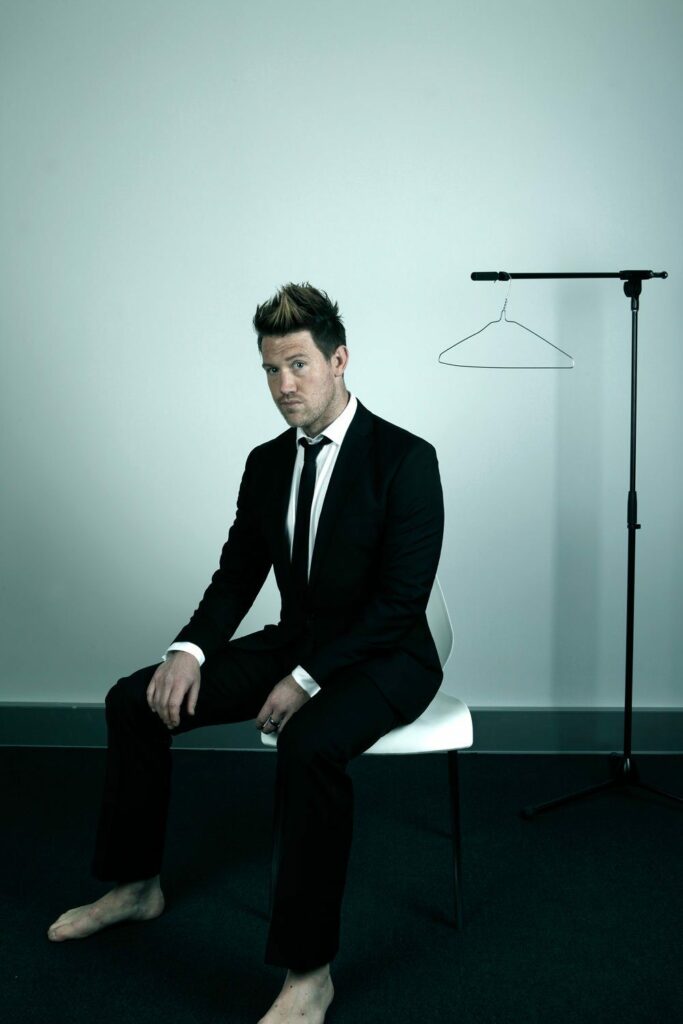 Dark humour resonates as one of the driving forces and where Eddie finds his strongest inspiration. His creation of Shane Warne: The Musical is a testament to the famous Australian cricket player and his controversial lifestyle choices over the past few years. Warne's hairy positions made for excellent inspiration for the composer who has a knack for finding humour in bizarre situations. "I was in Brisbane and saw a billboard of Shane advertising hair replacement," Eddie remembers. " I thought, someone has to write a musical on this guy – his life is just too funny. You have to ask," Eddie muses, "how can he be an unparalleled genius on the field and yet so disastrous in life?" What was initially a crazy idea by taking the significant events of Warne's life and turning them into theatre, Eddie was able to demonstrate what it meant to be a chipped Australian hero through art. "I wanted to ask why do we worship our sport heroes?" he quizzes. "And why do they have to apologise for doing the things they do? His life has everything," Eddie maintains. "Success, failure, love, lost. It was perfect for theatre." For future aspirations, the man of many talents has a diverse list to work through. "I'm developing a play for a TV series and I might write a movie musical," he offers.
It is his dark approach to humour that works as a sound foundation to Eddie's portrayal of characters. He will have plenty of inspiration to draw upon, staring as The Baker in Harvest Rain Theatre Company's October production Into The Woods. Here, Eddie will showcase his singing and acting skills, while adding his own wicked twist to a fairy tale where 'happily ever after' doesn't necessarily mean everyone gets what they really want. "I ask myself how dark I can go with my character," Eddie outlines. "The more messed up he is to start, the better it is for me to act him. Every time I do a role, I like finding the secret that propels the character, the secret the audience doesn't know but the character does – because it flavours everything and adds a dimension of perplexity."
The opportunities ahead will allow Brisbane to see more of this man of many talents – and for him to see more of Brisbane. "I love Brisbane," Eddie affirms. Indeed, why wouldn't he, when we inspired such a unique musical of a chipped Aussie sporting hero?
"It has the weather and outdoors of Sydney and the quirky personality of Melbourne," he states. "Brisbane has a really strong culture. It's a really happening and interesting place with a great atmosphere."


Photographer: Julian Kingma
Latest posts by Grace Ryan
(see all)