They say they good things come in threes and Flour and Chocolate opening their third bakery is testament to just that.
If you aren't familiar with Flour and Chocolate, where have you been?
Just kidding.
This husband and wife team opened their flagship bakery in Morningside in 2012 with such a flourish of success, they opened a second bakery in Northgate. They have now decided to spread their magic even further and open a third bakery on the seaside esplanade of Redcliffe. Renovations have been underway for some months now and the locals of the bustling seaside town are awaiting the grand opening.
If you have been to either of these bakeries you would know they are often so busy, people que just to get in the door. Upon entering, you are immediately hit with French patisserie feels and the savoury scent of freshly baked artisan bread. Honestly, what could be better?
Expert pastry Chef's craft authentic pastries that rival some of the best in the world. They have an extensive selection of flaky croissants, the cutest mini cupcakes you have ever seen, specialty celebration cakes in just about every flavour, steaming hot pies, silky smooth custard tarts, freshly baked focaccia and not to mention rotating specials of the day. Our Favourite is Thursday's special – Gonut Day (Croissant Donut).
What we love most about these bakeries is that they also boast a multicultural array of local and international pantry items. You can pick up anything from gourmet cheese and French butter to in-house preserves and dried Italian pasta. It really is a food lovers one stop shop.
While there isn't an exact opening date for the Redcliffe bakery, stay stunned and we will keep you up to date. Good things come to those who wait!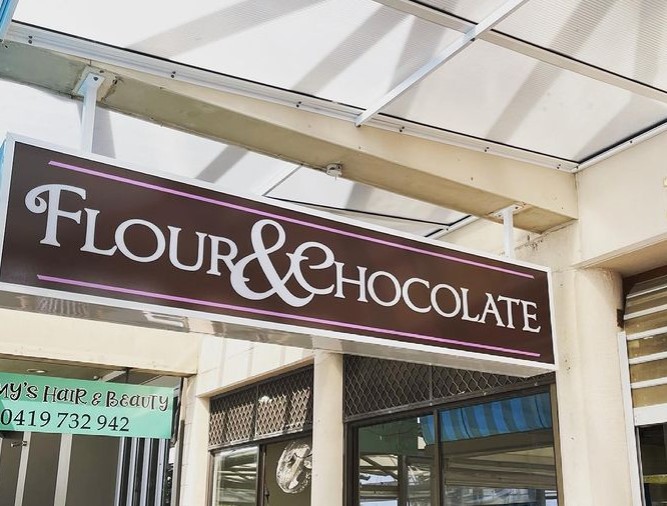 Flour and Chocolate Redcliffe
2/77 Redcliffe Parade
Redcliffe QLD
4020