Some of Australia's best artists are set to Rock the Bay with a festival from the team at Wynnum Fringe Festival (which kicks off 16-21 November) .
Some people may think that the Bayside is a bit calm and quiet, but October 8 it's gonna rock – and the good news is that tickets are still available, so that you can join the fun on the hill at Iona College, Lindum.
Who's playing Rock the Bay?
Rock the Bay is headlined by internationally renowned singer-songwriter and Eurovision queen Kate Miller-Heidke, Aussie music icon, Cold Chisel founding member and guitarist Ian Moss, legendary singer-songwriter and former Little River Band frontman Glenn Shorrock and rocker Sarah McLeod of The Superjesus and solo fame.
Kate Ceberano and Bachelor Girl will join the one-day concert remotely to perform an exclusive virtual set of their most-loved songs.
They join local artists Luke Kennedy, Mark Sholtez, Women in Docs, Ella Fence, Lucid Safari and Yulu Burri Ba Dancers alongside hosts Tom Oliver, Johnny Balbuziente and Leon Cain.
Can I bring the kids to Rock the Bay?
Rock The Bay is now an all ages event! So you can bring your kids! Or leave them at home.. It's up to you!
Youth and Kids Prices
Kids under 12 are free ( must be accompanied by an adult)
Age 13 – 17 are $55.
What else should I bring to Rock the Bay?
Please bring your camping chairs and picnic blankets and enjoy the food and drinks from all the delicious food vendors and licensed bar.

Don't forget that masks are mandatory for all persons that attend Rock The Bay in case you are unable to physically distance yourself from people outside your household.
Must Bring:
Can Bring:
Standard sized camping chair (back of chair no higher than 100cm). You are permitted to bring a supermarket sized cooler bag into this area. High back (deck/camping) chairs are permitted, however they must be positioned at the rear of the venue.
Sealed plastic bottled water (still or sparkling) up to 1.5L in size. Empty translucent plastic bottles can be brought into the venue to use at free water stations.
Food – there is also a selection of food available for purchase.
Sunscreen and a hat! Please note: there are limited sheltered areas with trees – come prepared for rain or shine.
Can't Bring:
Alcohol
Illicit drugs
Hard eskys
Glass
Umbrellas
Shade tents
Metal cutlery
Beanbags
Animals (except in accordance with legislation)
Fire/fireworks
Video and audio recording devices, including GoPros (other than mobile phones and tablets)
Professional still cameras
Selfie sticks
Any items prohibited by law.
We look forward to seeing you on Saturday!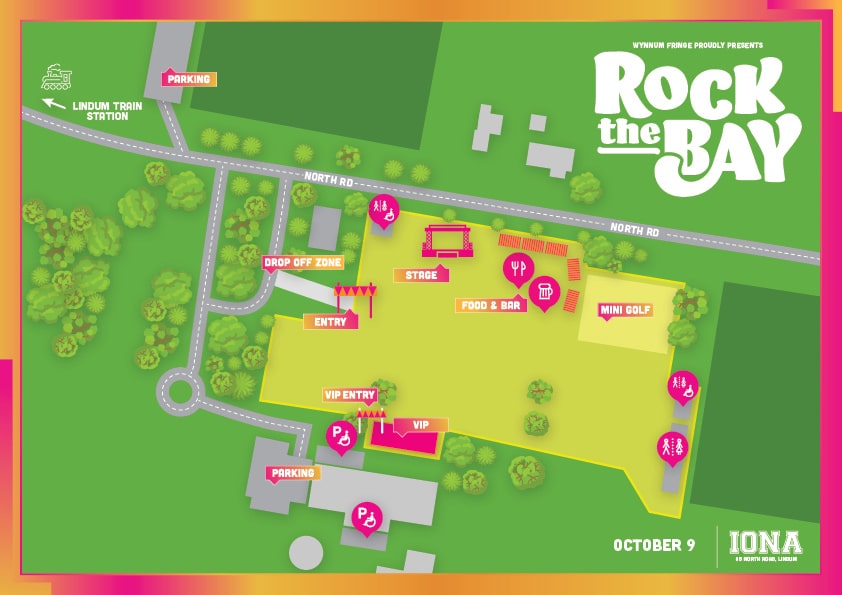 The Rock The Bay Concert 2021
on Saturday October 9th
1PM to 9.30PM
Iona College
North Rd Lindum