The legendary glam-tastic musical Rocky Horror Show has hit The Star Gold Coast, marking the show's 50th Anniversary.
The Rocky Horror Show is one of the world's favourite musicals and the only contemporary rock musical to celebrate 50 years on stage. In that time, it has been seen by over 30 million people worldwide, performed in over 30 countries on every continent, and translated into more than 20 languages.
It's likely you have seen the classic movie musical, or have seen it on the stage before, "The Rocky Horror Show" is a cult classic musical created by Richard O'Brien in the 1970s that revels in camp, science fiction, and rock 'n' roll. The story follows the innocent and engaged couple, Brad and Janet, as they seek refuge in a mysterious castle during a rainstorm, only to find themselves ensnared in the outlandish world of Dr. Frank-N-Furter, a self-proclaimed "sweet transvestite from Transsexual, Transylvania." As the night unfolds, Brad and Janet are seduced, witness the creation of Frank-N-Furter's muscle-bound man, Rocky, and encounter a host of eccentric characters, culminating in unexpected betrayals and revelations. The musical is an audacious blend of humour, horror, and sexuality, set to catchy tunes and accompanied by iconic dance numbers, such as the "Time Warp."
The Gold Coast production has some true star power behind it with David Bedella (Jerry Springer: The Opera, In The Heights and & Juliet in the West End) playing the role of Frank N Furter and Nicholas Hammond (The Sound of Music, The Amazing Spiderman and Once Upon a Time in Hollywood) in the role of The Narrator.
The vocal performances in "The Rocky Horror Show" are nothing short of electrifying. Each character, from the audacious Dr. Frank-N-Furter to the naive Janet, has brought their A game here. The songs range from the iconic rock anthem "Time Warp" to sultry ballads like "Touch-a, Touch-a, Touch Me," each executed with precision and flair. The vocal prowess on display is complemented by harmonies and melodies that linger long after the curtain falls, ensuring audiences are humming tunes as they exit the theatre.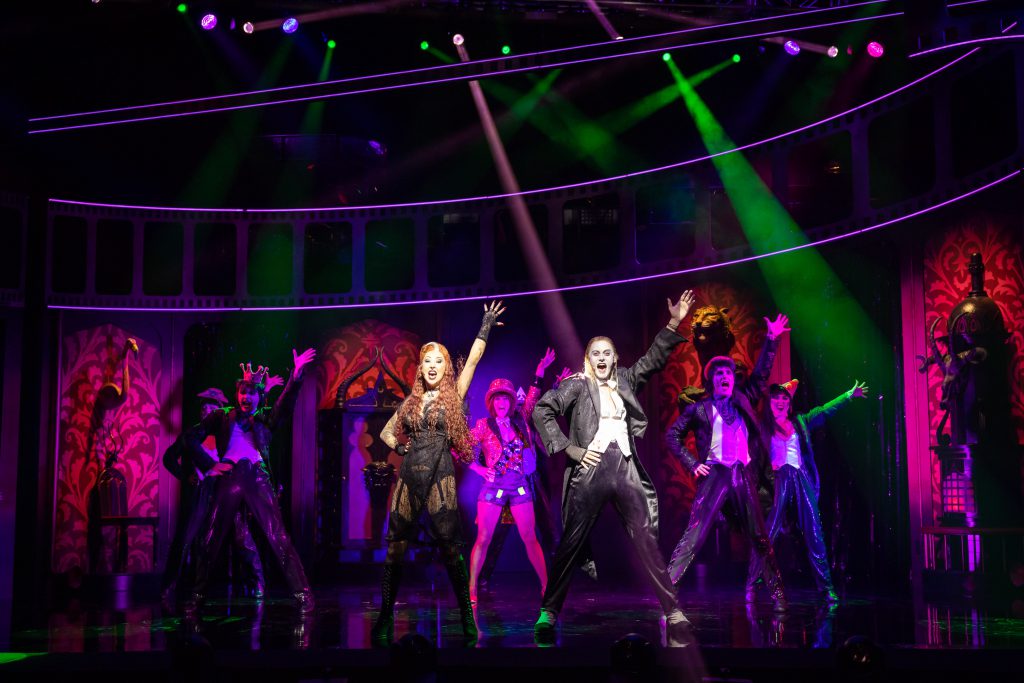 In terms of stage production, "The Rocky Horror Show" is a visual feast. With its perfect balance of gothic charm and kitschy extravagance, the set design effectively transports audiences to the whimsical and eerie world of Dr. Frank-N-Furter's castle. The lighting is evocative, accentuating the dramatic highs and lows of the narrative, while the costumes are a celebration of excess, decadence, and a touch of risqué. Choreography, too, plays a pivotal role; whether it's the group ensemble bursting into the signature steps of the "Time Warp" or the more intimate moments shared between characters, the movement is always purposeful and compelling. The stage production, in all its flamboyant glory, is an integral component that truly brings this cult classic to life.
Audience participation is a hallmark of "The Rocky Horror Show" experience. Over the years, audiences have developed traditions of shouting callbacks at the narrator, and dressing up as their favorite characters. These interactive elements transform this into a communal celebration, breaking down the fourth wall and allowing attendees to become a part of the spectacle. For many, attending "Rocky Horror" isn't just about watching a performance; it's about joining a rite of passage, a shared experience where everyone is encouraged to let loose and be unabashedly themselves. This participatory culture, nurtured by dedicated fans worldwide, has been instrumental in cementing the musical's cult status and ensuring its enduring appeal across generations. Some handy hints are found at the website https://rockyhorror.com.au/about/
Tickets are on sale now with shows until September 23
Latest posts by Embrace Brisbane
(see all)