Click here for more film reviews by Shannon Griffiths

Aside from a few television appearances here and there, it's been thirteen years since we've seen David Brent. 2003 was a time where Shania Twain was still atop the charts, iTunes had just been invented, and Arnold Schwarzenegger had just become the Governor of California. When the BBC mockumentary series The Office came to a halt at the end of said year, so did too the character of Mr. Brent, or so we thought. Quickly gaining cult status after its conclusion and later becoming one of the most successful and revered comedies in British history, it remained in reruns for the better half of a decade, obtaining new fans each year and propelling writer, producer, and star Ricky Gervais to new found heights of fame. Spawning a reinterpretation of the show in the form of the American version headlined by Steve Carell, where Gervais again served as creator, this became extremely successful itself.

Now back in the spotlight and flexing his writing muscles once again, Gervais returns as the most famous character of his career in this hilarious and unexpected anything-can-happen type of film that whilst a comedy has the pleasure of benefiting from not being genre specific. Stylised again in the form of a mockumentary much like the aforementioned series, it's important to know this isn't 'Office: The Movie' but much rather a spin-off featuring the character in a different light than we've seen before, shedding new insight into the one of a kind interestingly stupid yet engaging man he is. Hitting the road across the country with the dream of being a rock star, the film is appropriately titled David Brent: Life on the Road and with Gervais also directing, this is one road worth travelling down.

Set some ten to fifteen years after we've last seen him, Brent is now working as a rep selling cleaning products. With a camera crew following up on him since his days as the big boss in a 'where are they now' piece for another documentary, he seems to be a happy man. Despite ridicule and general disapproval from the majority of his co-workers, he still hasn't given up on his dream of becoming the world's greatest rock star. Spending his spare time writing songs for his band Foregone Conclusion, of which he is the lead singer, he bands together a group of freelance musicians and a talented sidekick whom he calls a friend to be his backup. After cashing out pensions in order to self-finance a hopeful trip of a lifetime touring various locations across the British countryside, he heads out with a ragtag group of people who he thinks like him but in fact, really don't at all whilst aiming to get recognised and picked up by a label soon after. Hilarity, cringe-inducing laughs, quick wit and total Brent-isms are all part of the ninety-minute gag-filled adventure that follows.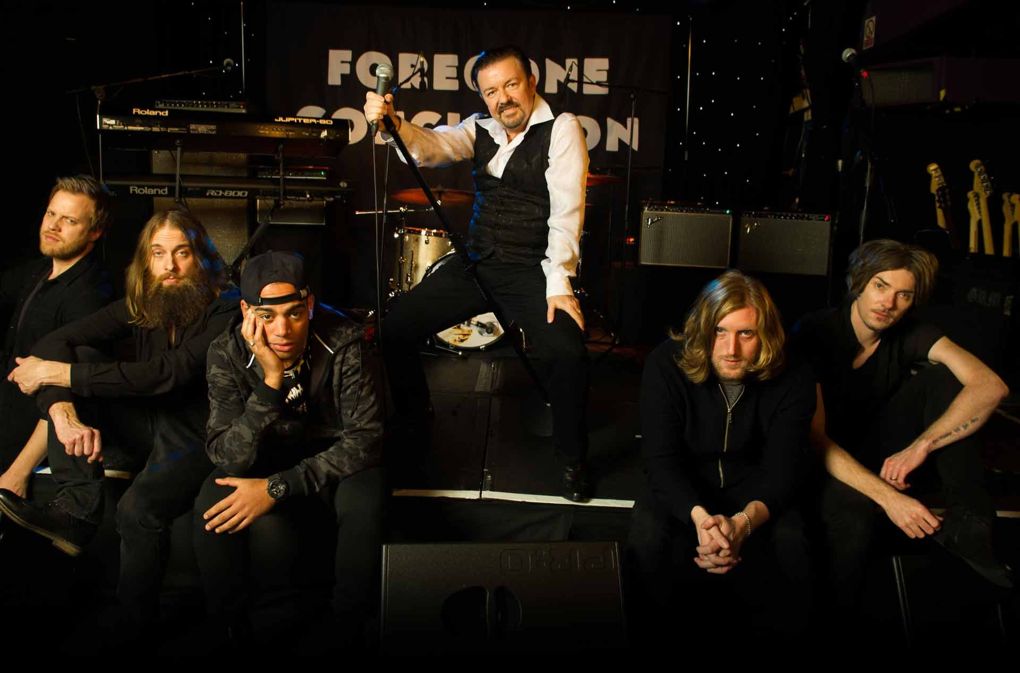 Gervais, undoubtedly the holder of the greatest laugh in the entertainment industry, uses this skill to full effect. Even when certain jokes miss the mark, the character's reaction doesn't. Able to switch between full throttle humour and subtle yet relatable moments of sorrow, he's able to engage the audience in a relatable and understandable way. As the everyman with a heart of gold, always up for a good time and just wanting to make a name for himself, the story of chasing fame or even chasing your dreams, has the ability to hit home hard when it wants to.

Admittedly the only big name in the film, Gervais manages to find a supporting cast as good as you could ask for. With Ben Bailey Smith's Dom Johnson standing out from the rest as the only tour mate who seems to appreciate Brent, the two share a unique bond between each other, transcendent of their age gap, which may have something to do with the two actor's real life friendship, where Smith even helped co-write a lot of the songs used in the film. Jo Hartley also fits her small role quite well as Pauline, a sympathetic co-worker of Brent's who appears to see through his always positive facade and who may even fancy him a bit.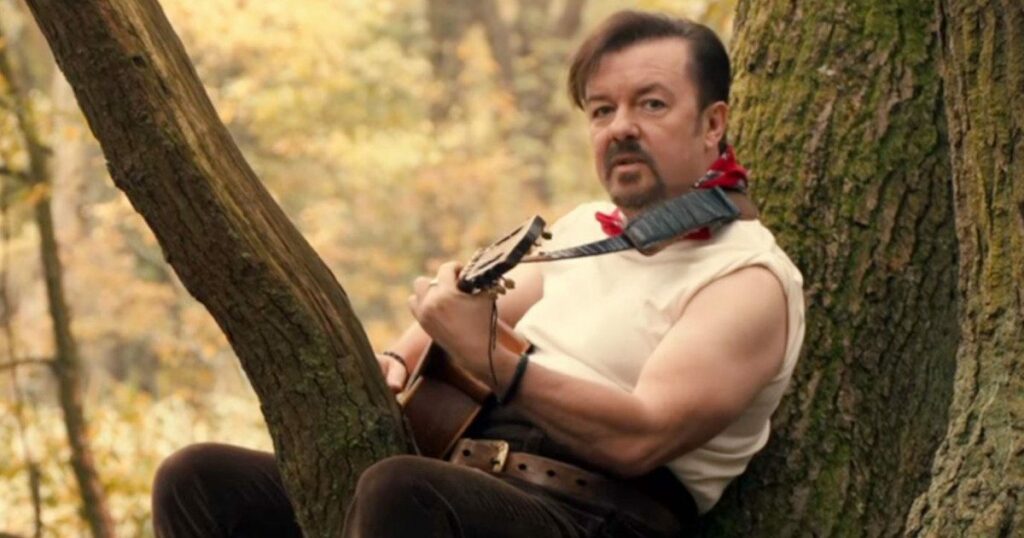 If you were ever in doubt on whether or not Ricky Gervais could sing, fear not, because he can. At least it appears so. One of the more surprising elements of the film happens to be just how good the songs the band plays are. With outlandish song titles from Equality Street to Please Don't Make Fun of the Disabled, the remarkably easy to listen to lyrics emoting from Brent's mouth may be controversial but that doesn't make them any less interesting. Hitting a stride with Lady Gypsy and Native American, the soundtrack becomes one of those 'so bad it's good' type of tie-ins, that's actually good enough you might even wanna buy it after viewing this film.

Not without its flaws but aware of them enough that it remains more of a satirical sub-genre film than anything too serious, David Brent: Life on the Road is an inherently funny yet endearing film that benefits from a great performance from its star and creator. A welcome continuation to the character's legacy and in all just decent value entertainment, loyal fans of the series that came before will love this, with a little bit of everything thrown in for new fans to enjoy.

David Brent still might not be a household name but he's definitely a guy you'd love to grab a beer with.