On the eve of what many call the 'last hurrah', the babymoon has become a rite of passage for soon-to-be-parents and the ever-growing bump. A little escape of luxury and relaxation before life changes forever and the hustle and bustle of parenthood begins. Whether you want to sleep, eat or adventure, we have the babymoon for you!
Tangalooma Island Resort
While an exotic island getaway sounds amazing, you may want to stay closer to home in case the unexpected happens. Tangalooma Island Resort provides a picturesque oasis just 75 minutes from Brisbane. Start your visit by unwinding at the spa, which boasts over seven personalised treatments, before heading out for a swim. Tangalooma is home to over 15 different shipwrecks, which have become a unique snorkelling experience, showcasing a myriad of tropical fish beneath its turquoise blue. Swimming in these amazing waters is the perfect low impact activity to leave you and the bump feeling fresh and relaxed. After a day out on the water, relax beachside at one of the beautiful cafes or restaurants, before joining in the sunset wild dolphin feeding experience.
Byron Bay
Byron Bay is one of Australia's most loved coastal cities. With a relaxed vibe and shoes optional, Byron Bay is the perfect spot to relax and embrace the inevitable swelling. The spot has become popular with expecting couples and has resulted in many spas offering personalised baby treatments, including massages for the mum and dad to be. After your treatment, relax and enjoy the local cuisine and world-renowned beaches.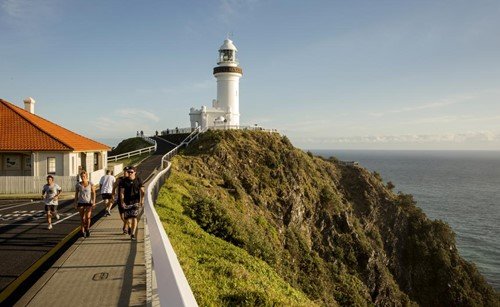 Nightfall Wilderness Camp, Lamington Park
If the beach isn't quite what you're looking for, we have the perfect rainforest escape for you! This glamping spot is a piece of pure luxury hidden in Lamington National Park. Relax in nature, snuggle up next to the wood burner and lay back under the stars. Get a massage, go for a swim or simply read a book in bed. You can't get more tranquil than this!
Noosa
If you want your last hurrah to be a little more glam, why not try Noosa on for size. With award-winning restaurants, a beautiful calm beach and plenty of walking tracks, it is the perfect place to swap from exercise clothes to glamorous kaftans from AM to PM. There is even prenatal yoga on the beach for soon to be mums, making it the perfect way to start the day and opportunity to meet other mums and dads.
Stanthorpe and Granite Belt
Want to relax and get back to the simpler things in life? Wake up to kangaroos bouncing across your front garden on misty mornings and indulge in some of Queensland's most renowned boutique food and drink. Explore Stanthorpe's cultural hub or get lost in nature on one of many easy bushwalks– we recommend the Dr Roberts Waterhole walk at Girraween National Park for an abundance of bird song and calm, crystal water in the heart of the Granite region. Explore lavender farms and apple orchards in the afternoon before indulging in one of the many spa packages offered by resorts in the area for the ultimate pampering. Whether you're in the mood to adventure or to simply relax in the great outdoors and watch the world go by, this inland gem is ideal for your pre-baby getaway.